Blockchain projects offer control, decentralization, security, and bear other properties that are already exciting the investment world. Still, there are trade-offs that must be made. For their decentralization, for instance, there arises the sustainability questions.
Bitcoin is an Energy Hog
Bitcoin being the most valuable is known the world over as an energy hog. The chipsets that powers this vast network consumes the same amount of energy as the whole of Israel according to a Bitcoin Energy Consumption Index by Digiconomist.
This, relative to other Proof-of-Work (PoW) or alternatives projects with varying consensus algorithms like Ripple, is huge and in the long term not sustainable. This could explain why Ethereum is shifting to another consensus system.
Still, for their transition, ETH and BTC—two projects above XRP as market cap rankings show, don't feature in Marc Blinder's list of projects that are environmentally friendly and sustainable.
Ripple (XRP) is the most Sustainable, same breath as Tesla
In his analysis in a recent interview with David Schwartz the CTO of Ripple, the AION CEO said Tesla and Ripple (XRP) are projects that exemplify sustainability without compromising quality while concurrently being friendly to the environment. With sustainability comes the mass adoption question.
"The problems with mass adoption are actually on the front-end user experience level. A quality experience for the average person will make the biggest impact. We need very efficient systems if we want to use blockchain for [a range of] different use cases in the future."
Like XRP, Tesla is a high quality project that has low carbon footprint just like the systems that power the XRPL network.
Studies done by the Department of Electrical Engineering and Computer Science in the University of Waterloo found that compared to BTC, XRP is 10 million times environmentally friendly and as such the most energy friendly.
XRP/USD Price Analysis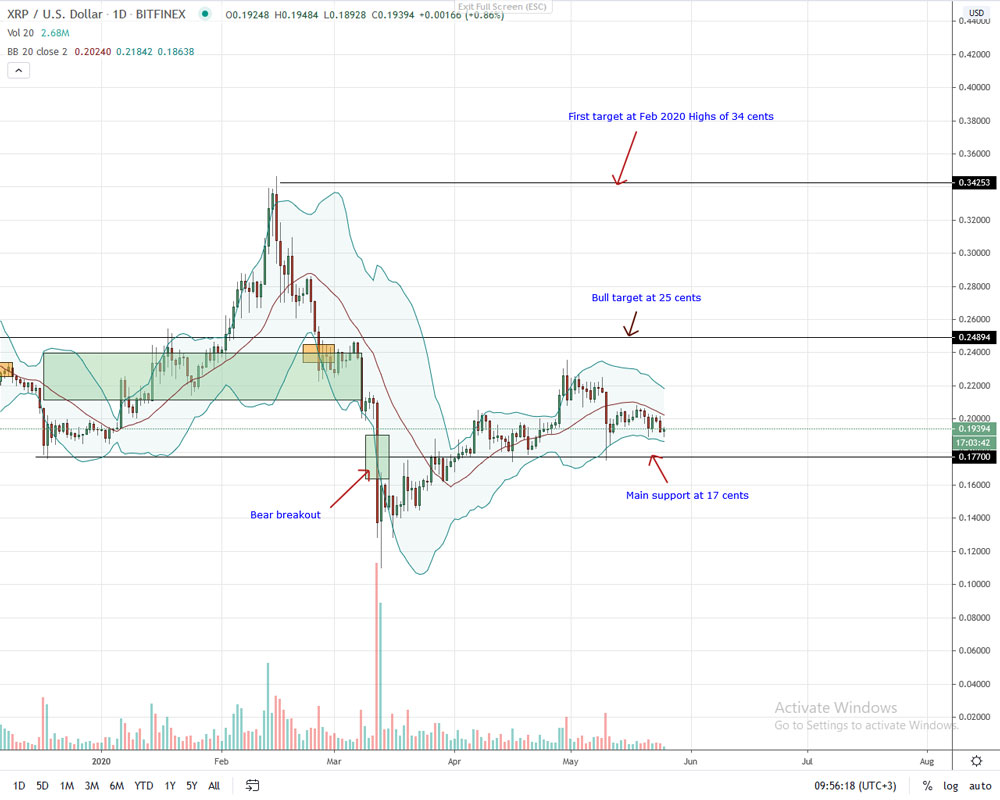 Week-to-date, XRP prices remain in range mode, changing hands at $0.193 and stable. In the daily chart, immediate resistance is at the middle Bollinger Band (BB)-or the 20-day moving average, and $0.208.
Technically, XRP remains in a bearish formation since prices are oscillating inside May 10 high low. It's a bearish bar with high trading volumes and is relevant as long as prices are trading within the bar's trade range.
From an effort-versus-result point of view, XRP bulls stand a chance if they edge past $0.208 and $0.216 at the back of high trading volumes. This will invalidate the bear continuation pattern XRP prices find itself in and could open doors for $0.25 and $0.34 which are medium-term resistance levels.
On the flip side, further losses below $0.17 could trigger a massive selloff to $0.111—or 2020 lows.
---
Disclaimer: This is not investment advice. Opinions expressed here are those of the author and not the view of the publication.