Ripple has evolved over time to suit the needs of their vast customer base. Initially meant to exclusively serve banks and financial institutions, Ripple, the face of Ripple as a whole ecosystem, is also determined to complement (or even muscle out) the likes of Bitcoin and similar currencies.
Battling out with Bitcoin and LTC
XRP, as a currency, is fast and its network has a high throughput. Although there are centralization concerns, Ripple has in place a decentralization strategy that will over time see the network cede control to third-parties validators.
With the payment scene lucrative and active since it is focused on retailers, recent reports reveal that the global remittance platform would soon develop an e-commerce product.
XRP for ecommerce
Already supported by Wietse Wind, the innovative founder of the XRPL Labs—a firm which receive funding from xPring, Craig DeWitt, the product manager of Ripple said is specifically designed to allow website operators to accept payment in XRP.
And it won't be the first product either. There is xSongs which was launched by DeWitt in late 2019 for creative—that is, musicians to sell their content with XRP as the accepted currency.
Through a Twitter post he said:
"Considering launching an e-commerce payments platform using Payburner, open to the world… the guts of xSongs already does this beautifully. Make it stupid simple to use so anyone can accept #XRP payments in their personal sites with a simple code snippet."
Payburner is an XRP wallet like MetaMask which facilitate payment in XRP without registration.
XRP/USD Price Analysis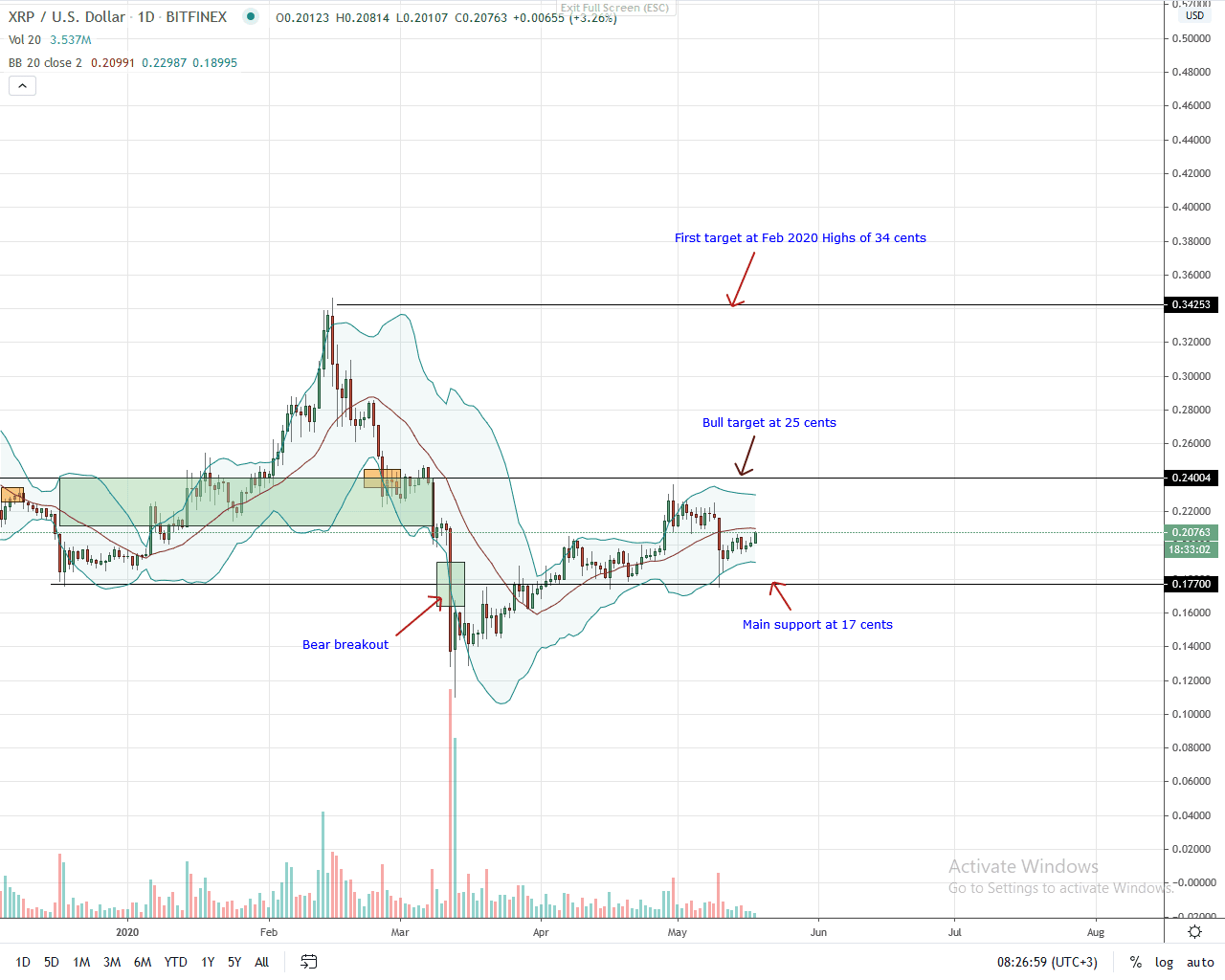 At the time of press, XRP price is up five percent in the last week as it stabilize above 20 cents.
Technically, buyers are in control and as long as BTC continues to edge higher, altcoins like XRP will likely benefit, a net positive for XRP bag holders.
From the daily chart, immediate resistance is the middle BB and the 21-22 cents zone of May 14-15 highs.
A decisive close above this mark at the back of high trading volumes ideally exceeding those of May 10 could propel XRP prices to May highs of around 25 cents.
Any break above 21 cents would shift the immediate trend and allow aggressive traders to buy the dips with decent targets at 25 cents.
On the flip side, the failure of buyers to breach 25 cents and reverse losses of May 10 means sellers, from an effort versus results point of view have an upper end.
As such, losses below 19 cents, which is the immediate range, will open up and allow bears aiming at May 10 lows and 17 cents to prowl.
Eventual losses below 17 cents, our main support line, may spur another wave of sellers that may force prices towards 12 cents.
Disclaimer: This is not investment advice. Opinions expressed here are those of the author and not the view of the publication.
---
If you found this article interesting, here you can find more Ripple news