The stream of partnership—Omni integration of XRP, Coil working with Bill and Melinda Gates foundation, announcement of Moneynetint use of xVia and Viamericas incorporation of xRapid mean XRP is fundamentally and technically bullish.
As such, traders should see any short of undervaluation in lower time frames as an opportunity to buy with a modest target at 80 cents and later $1.
Latest Ripple [XRP] News
The inter-web is awash with all the benefits adopting companies are set to get once they leverage on Ripple solutions and even XRP, the on-demand liquidity accessory.
And these are not shills because it has been demonstrated on that use of XRP can drastically cut down remittance fees as Western Union last experience shows.
Now, with xCurrent, an enterprise solution and one of the three core solutions already in use, the launch of two products, xRapid and xVia came as no surprise. The aim is to create this wholesome ecosystem where Ripple can promote use of XRP perhaps collapse all these solutions into one—Convergence whereby companies will find it irresistible to incorporate XRP.
During the super hyped SWELL conference done early this month, the company announced of the "commercial availability" of xRapid and with it three companies were the first to make use and experience the speed and efficiency of Ripple technologies.
Just recently, Viamericas announced their decision to be part of the larger ecosystem as they strive to use the platform to serve their customers spread in over 34 countries.
Apparently, this was not the only announcement that took center stage. Coil, a brainchild of former Ripple CTO, and The Bill and Melinda Gates foundation said they shall work together as they deploy Mojaloop.
The platform is ad open source project that is pushing towards larger interoperability and financial inclusion. As such, they identified RippleNet as a platform that is geared towards "pro-poor payment".
XRP/USD Price Analysis
Weekly Chart – Ripple price prediction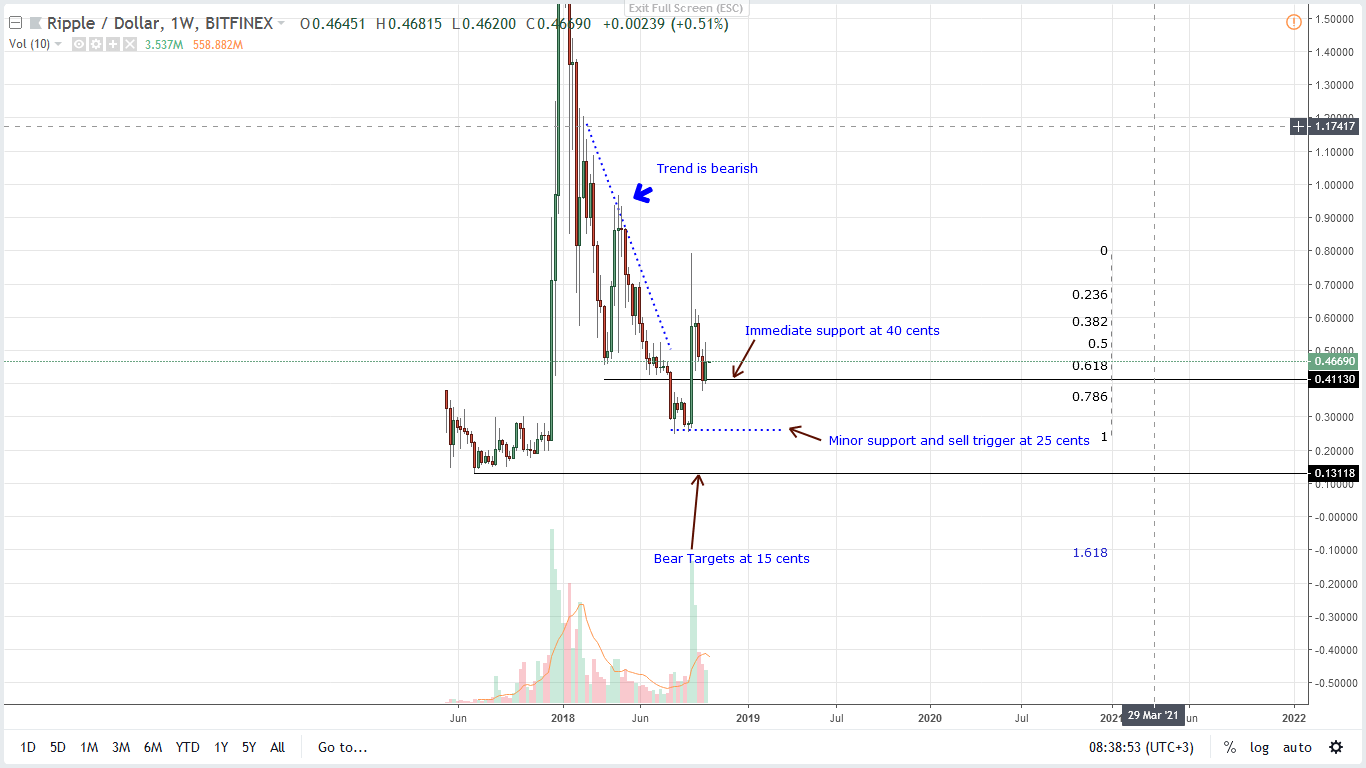 Technically, XRP is bullish and behind this reasoning is a plethora of strong fundamental developments in the last few months and of course the surge of price by week ending Sep 23.
Then, at the back of strong trading volumes, XRP jumped 3X at some point printing 80 cents. Needless to say, this happened at the height of strong bear momentum and thanks to that, XRP is overly bullish.
Moving on, the tepid price movement of last few weeks should not be interpreted as bearish for two reasons. First, prices are still trending inside Sep 2018 high lows. Secondly, bulls are in charge because though XRP is sliding lower, volumes are low meaning from an effort versus result point of view, buyers stand a chance.
The combination of these and Cory Johnson's comments about White House concerns about China's dominance on Proof of work mining is definitely boosting. However, for now we suggest conservative traders to wait until prices edge above 55 cents, our immediate resistance line and buy trigger line. Once that print, then they can buy on dips in lower time frames with first targets at 80 cents and later $1 as per our earlier reiterations.
Daily Chart – Ripple price prediction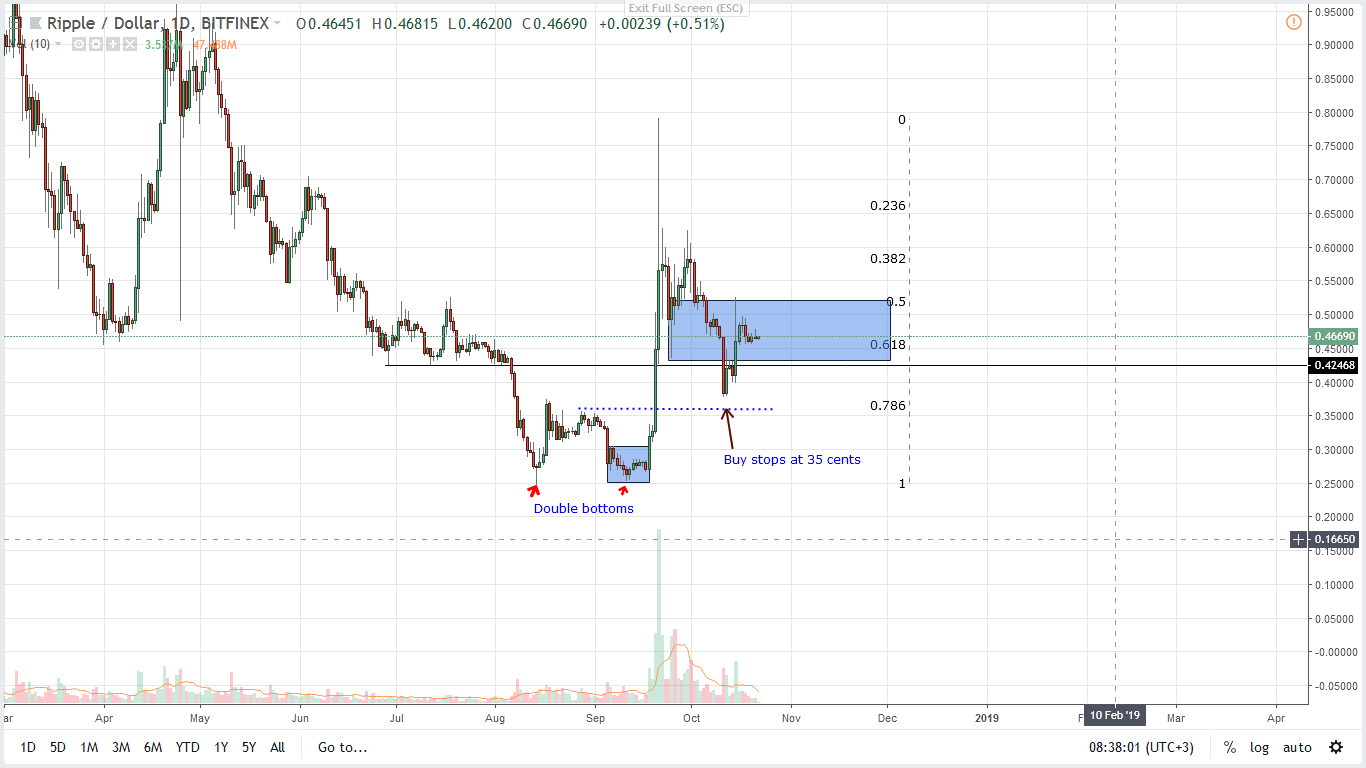 That's below Oct 15 lows where prices are currently confined in. Even with this upbeat projection, traders should note that any decline that will see our stops hit is negative for XRP and could lead to further liquidation towards 25 cents mark representing a 100 percent retracement of Sep 18-23 surge.
Disclaimer: Views and opinions expressed are those of the author and aren't investment advice. Trading of any form involves risk and so do your due diligence before making a trading decision.