At spot rates, the Ripple price performance is decent. There is a pullback but is perfectly in line with general expectations. After a strong, double-digit rally that saw the digital asset add around $0.11, a cool off is normal.
For everything, XRP gains are decent and price is technically undervalued given bullish development from the project's fundamental front.
On one end, Ripple lawyers are putting a spirited fight to quash the dark shadow the class action suit presents. On the other, there are a series of partnerships, a net positive for traders who were growing increasingly disillusioned by the lack of impact fundamental announcements had on price regardless of how juicy they were.
Q2 2020 Ripple Report
Trading at around $0.29, a Q2 report from Ripple revealed demand for XRP. As per their reporting, the for-profit company said the demand for their coin soared 1,700 percent in Q2 2020 from over-the-counter sales. The over 1,700 percent increase translated to $32.55 million via OTC sales. It should be noted that in Q1 2020, only $1.75 million worth of XRP was sold via OTC.
Often, OTC sales are the abode institutions keen on ramping purchases at favorable prices without affecting the order book as their humongous, often block sales tend to cause an imbalance, forcing prices to fall or rise against their order.
However, in this case, Ripple said the focus on OTC paved a way for ODL providers to further improve remittance through XRP. The coin is the main conduit used to move value cheaply, instantaneously, and safely via the transparent Ripple ledger.
Ripple Price Analysis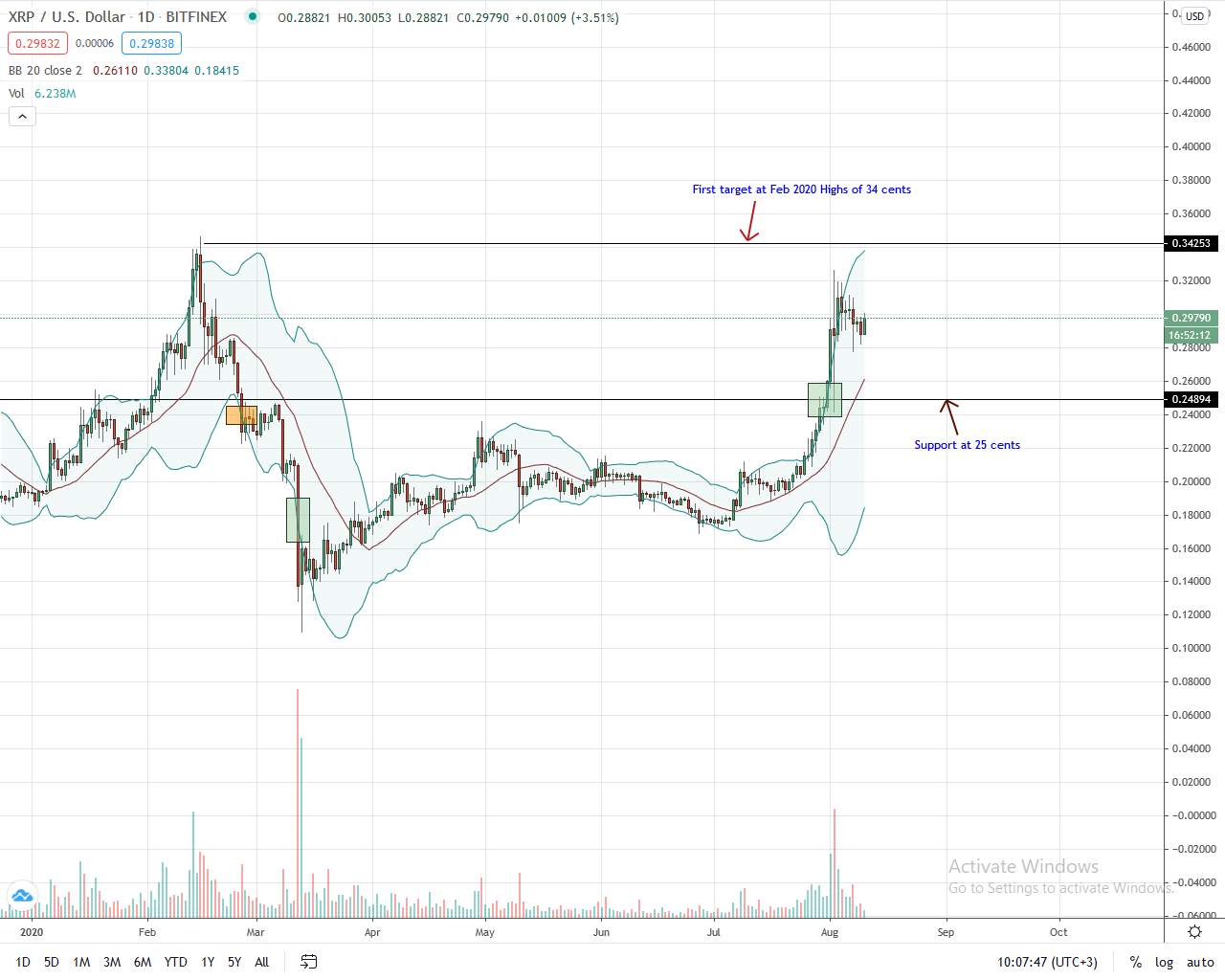 At the time of writing, the Ripple price was trading at $0.292, stable against the USD, but losing against ETH and BTC.
Even though the trend is firm and bullish, there are hints of weakness as per candlestick arrangement. There is a spike, but not only is volatility decreasing and participation tapering, but there are a series of lower lows visible.
Gleaned from price action, momentum is dropping and there are lower lows versus the upper BB. Additionally, that prices are still oscillating inside Aug 2 high-low with low trading volumes suggest bears from an effort versus results point of view.
Going forward, bear triggers will be at $0.25. Together with the 20-day moving average (middle BB), there will be a reliable support zone and a possibility of consolidation if bears fail to close below the support area.
On the flip side, any spike above $0.30 and $0.32 may trigger further demand as Ripple bulls aim at $0.40 or best $0.50.
Technical Chart courtesy of Trading View.
Disclaimer: This is not investment advice. Opinions expressed here are those of the author and not the view of the publication.
---
If you found this article interesting, here you can find more Ripple News