With Ripple, banks and individuals can cheaply and instantaneously send/receive money all. There are established, high volume corridors where funds can be sent thanks to the increasing role of on-demand liquidity.
The fact that most people are locked down and movement restricted due to COVID-19, more are using XRP through ODL as not only individuals shun hard money but also governments are advocating for digital currency.
Digital Currencies Are Inevitable, ODL Will Be Deployed By More Banks
That currencies will be eventually digitized is a question of when.
The World Bank and the International Monetary Fund (IMF) are urging central banks not to lag. It is their view that they should keep up with the rapidly shifting financial landscape so that when the time is right, they can introduce fitting solutions.
XRP and ODL have been a success especially in the South East Asia where SBI Ripple Asia, will this year plan to go to production—implementing XRP in their operations. Brad Garlinghouse, the CEO of Ripple, expects more companies and bank to roll out ODL and XRP going forward:
"I expect that ODL will probably move into widespread production this year and next year, and I expect that remittance companies whose growth has been restricted by pre-financing requirements will be much more flexible."
Whales are Accumulating
Meanwhile, Ledger.Exposed, a service created by Ripple and xPring innovator, Wietse Wind, indicate that high Networth XRP holders are ramping up their purchase of XRP hinting of a possible accumulation.
According to Wind, in the last few months, over 1.5 million XRP have been purchased by whales, a positive indicator that there is a high likelihood that XRP may correct higher in days ahead. In Q1 2020, XRP was ranked as the worst performing digital asset.
Ripple Price Analysis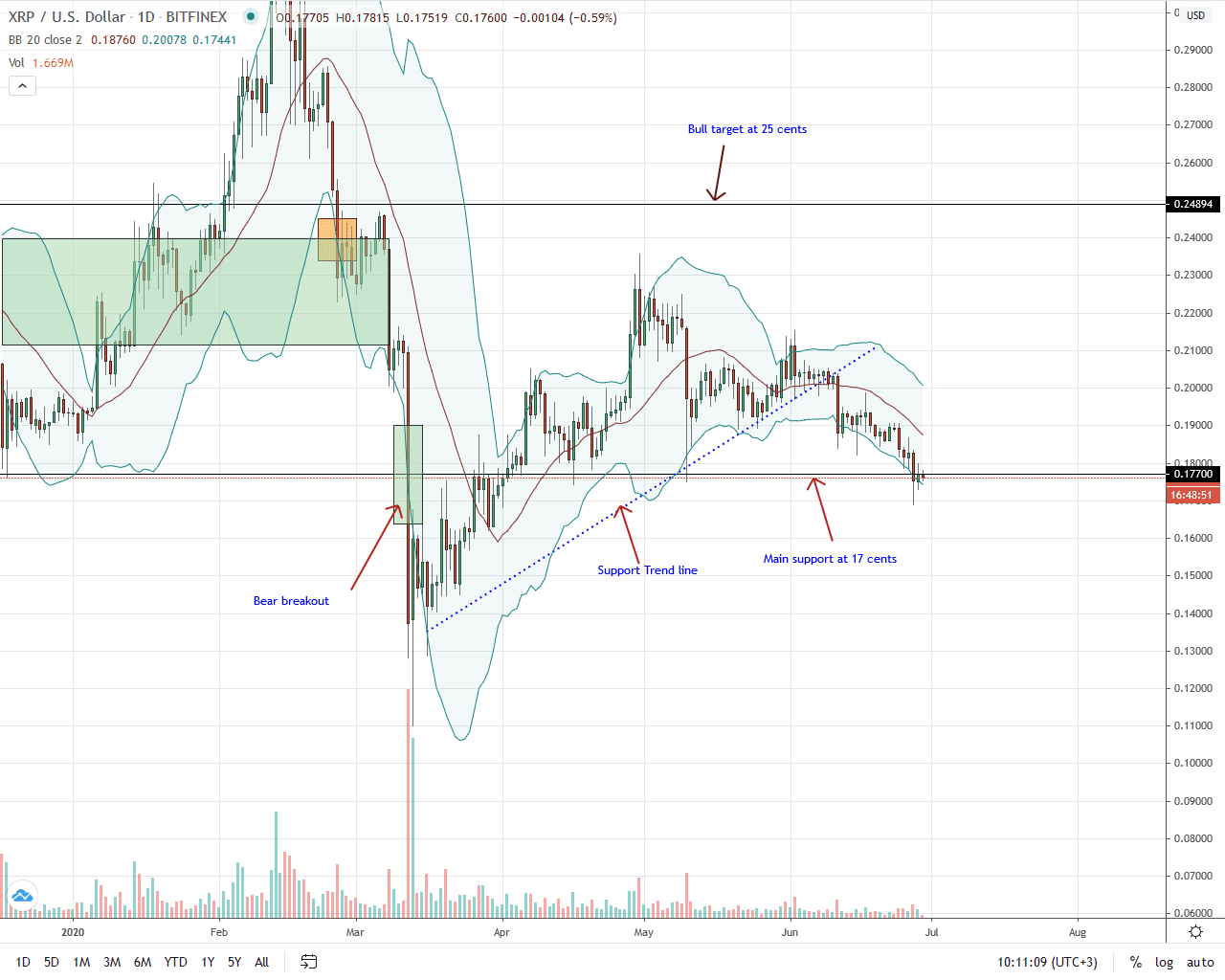 Ripple price is under pressure. It is down five percent in the last week against the greenback and losing against both BTC and ETH.
In the daily chart, candlestick arrangements suggest that the coin is under sell pressure. XRP sellers have retested the main support level at 17 cents but the failure of bulls to reverse stiff losses of last week could embolden bears aiming at 2020 lows of $0.111.
Technically, there will be hope for traders if prices reverse and close above $0.200. This will print a double bar bear pattern especially if accompanying volumes are above average. A close above June 11, 2020 high may see XRP soaring to $0.25.
On the flip side, the fact that bear candlesticks are banding closely along the lower BB hints of strong bear momentum. This development could be a bull spoiler alert, building a strong case for a likely bear continuation unless there is a sharp reversal from the main support level.
Disclaimer: This is not investment advice. Opinions expressed here are those of the author and not the view of the publication.
---
If you found this article interesting, here you can find more Ripple News