It was only last year when it was apparent that Ripple—through xRapid (now On-Demand Liquidity), Visa, and SWIFT will fight it out to offer clients the best experience in cross-border payment.
The latter are centralized solutions and the most dominant in their respective niches. SWIFT has being laying the foundation for banks to send and receive money through a vast network connecting over 11,000 banks.
Visa is a leading money processor with high throughput. Meanwhile, Ripple has a suite (RippleNet) and its executive are confident of toppling Visa and SWIFT to be a go-to platform for banks and individuals wishing to send funds cheaply, easily, and near instantaneously. XRP—as a liquidity tool, plays a critical role in making this possible.
Regardless, for the success of XRP and crypto, there must be synergy attainable only if companies complement each other and remain in the driving seat accomplishing their goals compliantly through strategic partnerships.
One major boost is the recent announcement of Visa revealing plans of offering Bitcoin, Ether, and XRP payments. In real sense, the payment processing giant will create—as per their roadmap, a bridge between the traditional finance world (being a major player) and crypto—by supporting XRP, BTC, and ETH payments, via a regulated crypto player.
They also seek to invest in building necessary infrastructure required for fast-tracking adoption. Concurrently, they want to get involved compliantly and have already tagged in regulators and government agencies who continue to hold tough stances against cryptocurrencies.
Ripple Price Analysis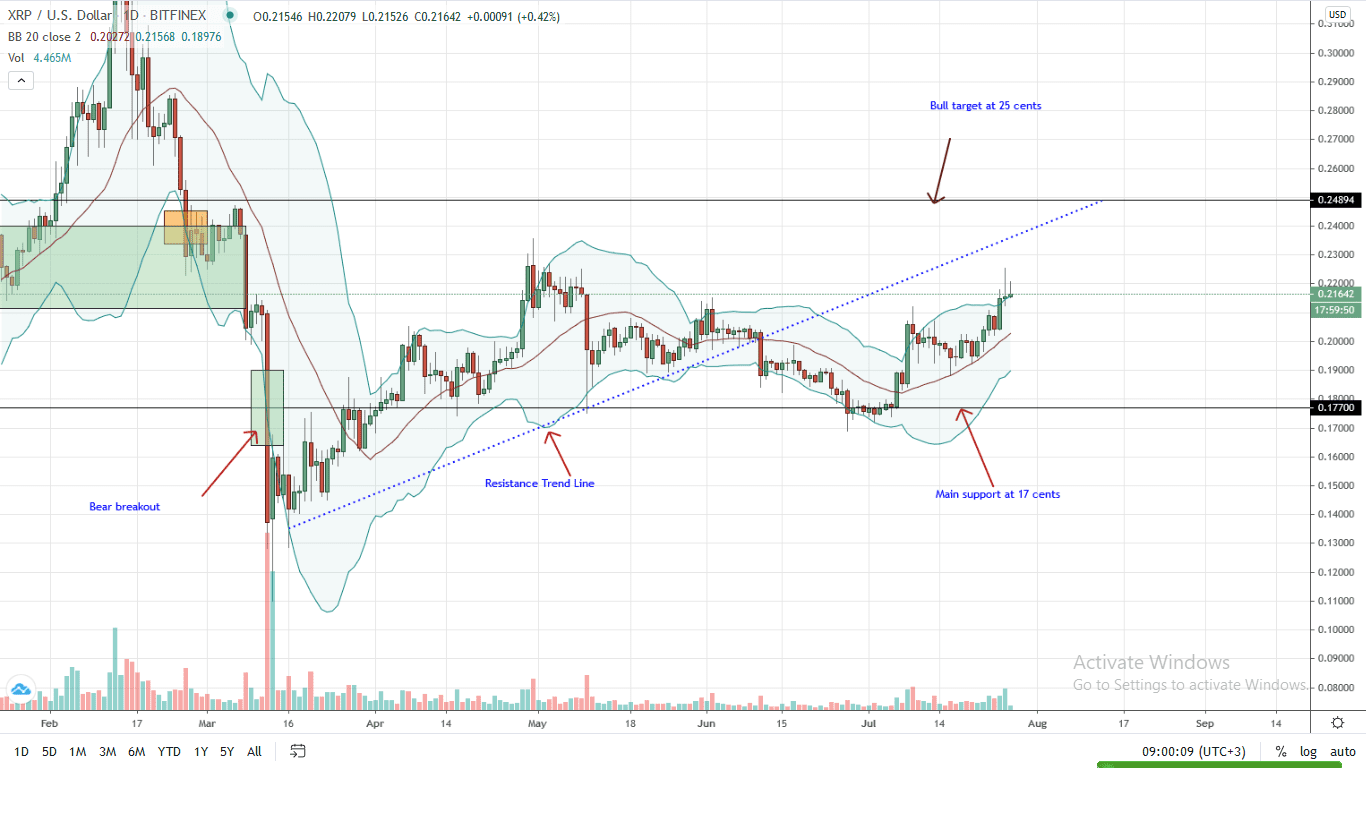 Week-to-date, the Ripple price is up nine percent against the greenback but still underperforms a resurgent BTC.
In the daily chart, there are hints of strength as XRP prices tread above $0.215 fanned by decent levels of participation—as trading volumes show. Building on July 25, 2020 uptick, volumes surged but fell on Sunday.
Notably though, the rally pushed the XRP price above July 9, 2020, highs in a bull trend continuation pattern. This further confirm bulls since prior to July 25 surge, prices were largely consolidating within July 8-9 range with low participation. Because of July 9, 2020 break above, it is likely that XRP prices will expand going forward.
Advising this leaning is the fact that bulls candlesticks seem to be banding along the upper BB pointing to underlying demand. Besides, the flexible support (the middle BB) holds despite fears of further drawdowns in the past few days.
At this pace, the first bull target should be at $0.25 or better $0.34 (in the immediate term).
Technical chart courtesy of Trading View
Disclaimer: Views and opinions expressed are those of the author. This is not investment advice. Do your own research.
---
If you found this article interesting, here you can find more Ripple News