Undoubtedly, Ripple is one of the top performing blockchain companies. It continues to innovate, determined to disrupt the financial industry. There is need of doing so.
First off, the industry lags. SWIFT, which in the face of disruption is now trying to improve their infrastructure and processes, is still expensive and settlement not instantaneous.
Bitcoin, when operating without congestion or disruption in difficulty settles faster even if its through put is just 7 TPS. Ripple on its part has their challenges.
The most glaring been their relationship with different regulators. Regulators are mandated to protect the consumer at all costs.
They have been successful thus far and by formulating, proposing, and implementing approved polices, most have literally squeezed blockchain projects.
Trouble with Regulators
The US SEC just recently said most tokens and coins operating as utility were in actual sense securities.
They, however, are convinced that the distribution and decentralization of the Ethereum platform qualifies their respective coins as true utilities with no center of control.
XRP on the other hand remains at a sticky position.
There isn't clarity, and investors are at limbo, undecided whether to ramp up and hold as Ripple, the independent company and the majority owner of XRP, attracts more banks, or be cautious and liquidate.
Ripple's CEO Accused of Selling XRP
New evidence presented before the U.S. District Court of the Northern District of California suggests that Brad Garlinghouse received and almost immediately liquidated 67 million XRP coins despite touting—and overstating, the coin's capacity to act a bridge between banks. That's a massive hole, a drain of confidence.
Nonetheless, the court case continues, and more details will be divulged.
XRP/USD Price Analysis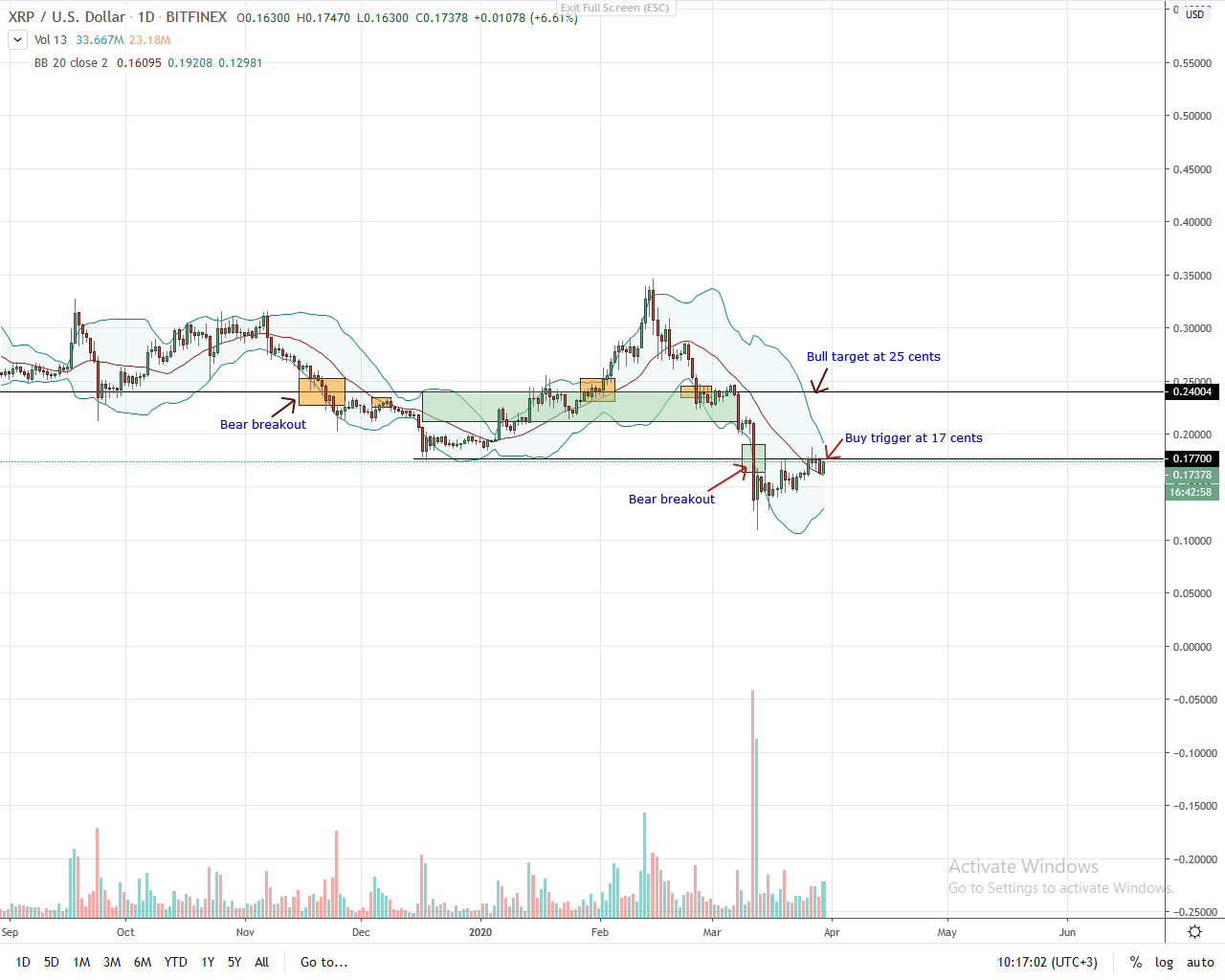 Meanwhile, XRP prices are flat as BTC and ETH stutter. The coin is up 13% in the last trading week but trading below the 20 cents and the 25 cents main resistance level.
Despite higher highs and attempts to reverse losses of Black Thursday, bears have a tight grip.
Of note, bulls are yet to completely reverse conspicuous losses of Mar 12. Also, prices are consolidating tightly along the H2 2019 lows, now resistance at 17 cents.
This therefore means there are odds of bears pressing lower confirming losses of Mar 12 and pouring cold water on the current attempt for higher highs.
However, for buyers to be in charge, it is vital for prices to close above 17 cents and most importantly 20 cents. In either case, the first wave of buy pressure should there be jump of prices above 17 cents will be set and the subsequent push through could reverse XRP's fortunes.
On the reverse side, losses below 15 cents would likely confirm losses of Mar 12 and trigger a wave of sellers aiming at 13 cents and 10 cents.
Disclaimer: This is not investment advice. Opinions expressed here are those of the author and not the view of the publication.