Ripple has built-and continues to add improving add-ons, a platform that will allow people-even those without bank accounts, to send money to all corners of the world, cheaply and instantaneously.
Towards their grand objective, they have struck deals with banks, payment processors and even individuals. Even so, the opinion of what Ripple Inc. represents vary. There are individuals that are against what Ripple Inc. stands for, claiming XRP is centralized and yet there are more the potent of XRP and what the future holds.
Libra and Ripple [XRP]
Ripple and XRP as it stands could counter the influence of Facebook's Libra, a stablecoin that is facing regulatory headwinds and being threatened in the US and Europe.
However, with Ripple Inc.'s approach and their links with the White House, recent events hint of smooth sailings.
They came to the rescue of Money Gram and now the payment provider has integrated xRapid meaning XRP is being used as an on-demand liquidity (ODL) digital asset facilitating the cheap conversion of different fiat currencies.
MoneyGram Wants Ripple to open more Payment Corridors
Brad Garlinghouse is positive and wants to further push xRapid and XRP on-demand capabilities to a global scale.
In an interview during the Fintech Week 2019, Brad Garlinghouse the CEO of Ripple Inc., revealed that he got a call from Money Gram's CEO, Alexander Holmes, inquiring how quickly Ripple Inc. expand XRP's use in different payment corridors.
"I got a call from the CEO of MoneyGram two weeks ago. And he's upset with us because we're not moving fast enough. That was an unbelievable [call]. He wants us to launch On-Demand Liquidity, formerly known as xRapid, in more markets more quickly because they're having such a good experience with Mexico that they're like, 'Look, we want to spread this more quickly, more aggressively."
XRP/USD Price Analysis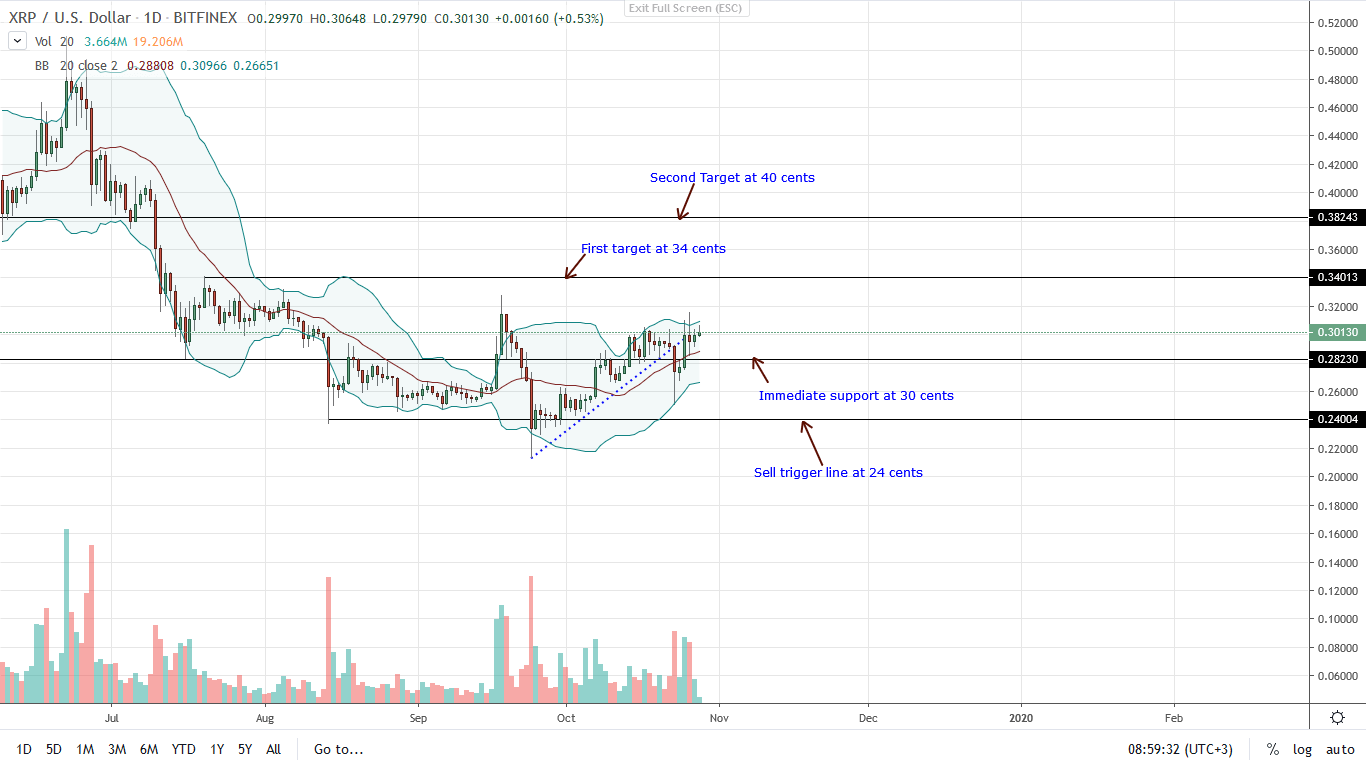 Unlike Bitcoin [BTC], XRP's price action is tepid. Good news is that the digital asset is treading above key prices and is therefore bullish.
From previous XRP/USD price analysis, it appears as if buyers are in control. Marking this is the uptick in trading volumes and the absorption of sell pressure as bulls flew back towards the end of last week.
Candlestick arrangement is hinting of bulls and therefore, the best course of action for risk off traders is to buy the dips with a stop-loss order at 25 cents or Oct 24 lows. The first target will be 34 cents and later 40 cents, these are key resistance levels visible in H1 2019.
On the other hand, risk-averse traders can wait for a high-volume break and close above 34 cents before buying the retracement with first target at 40 cents and later, 55 cents.
Chart courtesy of TradingView – Bitfinex
Disclaimer: Views and opinions expressed are those of the author and is not investment advice. Trading of any form involves risk.  Do your research.