XRP in the Green against BTC, ETH and USD
The performance of crypto assets in the last couple of weeks is dismal. However, as Bitcoin drags other currencies, Ripple, the independent company behind the RippleNet and Ripple Ledger, is full of good news for XRP investors.
While that is not the case in an ideal situation-considering that XRP and Ripple Labs, and Ripple Inc. are separate entities but with the same objective of easing remittance, XRP prices has been pumping. It is up against a majority of assets and the green back to be specific.
In the last week for example, XRP is up 4.41% versus the USD, and 8.52% against ETH and impressively, 9.38% against BTC.
BOA Testing Ripple's xCurrent?
Behind this stellar performance is news of Bank of America's test of Ripple's options. Ripple has three solutions-xVia, xRapid and xCurrent.
The latter is the most likely solution BOA will experiment given the uncertainty around XRP. There are no clarifying comments from the US SEC and there is stickiness on Ripple's majority ownership of XRP.
Talks of decentralization and their deliberate "dumping" for their profitable ends isn't boding well with investors and that is the cause of discontent in the XRP and Ripple circles thus far.
XRP Sales in Q3 2019 Shrink
In other news, Ripple Inc. sold $66.24 million worth of XRP in Q3 2019. The figure was a 73% drop from Q2 2019's liquidation and in line with their previous comments that it will slow down the sale of XRP.
XRP/USD Price Analysis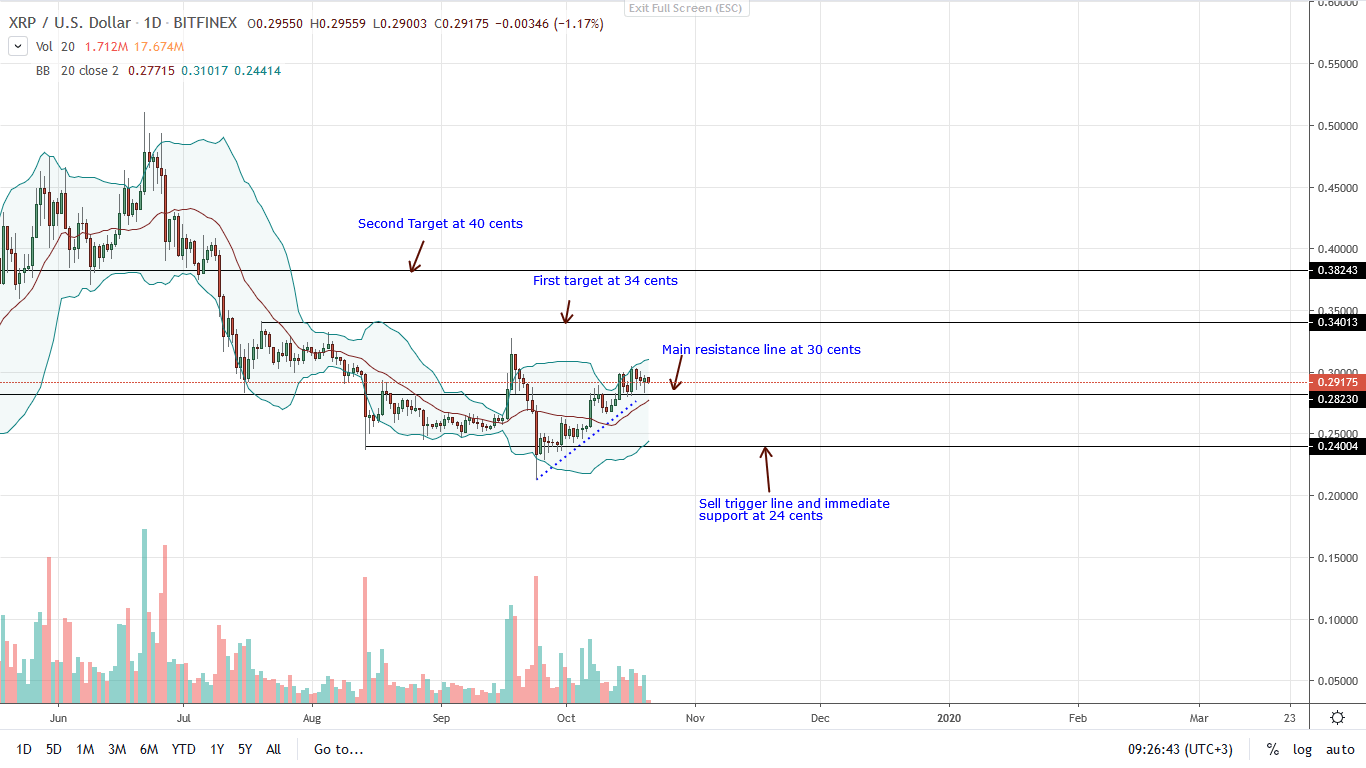 XRP is in a strong uptrend against the USD. Trading above Q1 and 2 2019 main support levels, bulls are firmly in charge and correcting following liquidation of late Q3 2019 and early Q4 2019.
As it is, buyers are in a firm position to add to their longs with modest targets at 34 cents and later 40 cents in days ahead. Behind this rationale is failure of bears to force prices below 30 cents in a bear reversal trend, reflecting sharp losses of Sep 24 and those of Q3 2019.
Risk-off traders can load at spot rates with stop loss orders anywhere between 25-26 cents with a first target at 34 cents for a 1:2 risk reward ratio. Strong gains above 34 cents complete with high trading volumes-exceeding $82 million of Sep 24, could lift XRP to 40 cents or higher by the end of the year.
On the other hand, any drop below 24 cents, the immediate support, could see XRP collapse to 17 cents or worse as mentioned in previous XRP/USD price analysis.
Chart courtesy of TradingView-Bitfinex
Disclaimer: Views and opinions expressed are those of the author and is not investment advice. Trading of any form involves risk. Do your research.