On Sep 12, 2019, Brad Garlinghouse, the CEO of Ripple Inc. held an interview with CNN's Julia Chatterley. After an insightful discussion, the interview ended up generating a debate within the cryptocurrency circles. After this it is easy to see why Ripple Inc., the independent entity that has the majority of XRP is under fire.
The controversy over the alleged Dumping of XRP
Criticism is so intense that there are some radical suggestion that its source code would be hard forked, creating another network where there is protection against dumps. Defending that XRP is a utility, Brad Garlinghouse said that XRP will deliver and that "Ripple is extremely and uniquely well positioned to solve that payments problem."
Addressing questions of XRP dumps he said:
"The point is that Ripple is the most interested party in the success of the XRP ecosystem. Ripple is very focused on how to solve problems they will Ripple believes. But there are other parties using the XRP ecosystem solving other problems using XRP, think of Coil."
Further adding:
"The accusations of dumping are not in the best interest of Ripple because Ripple is primarily interested in a healthy XRP ecosystem. In fact Ripple has taken steps to avoid dumping by locking up supply in escrow so Ripple cannot touch it."
XRP/USD Price Analysis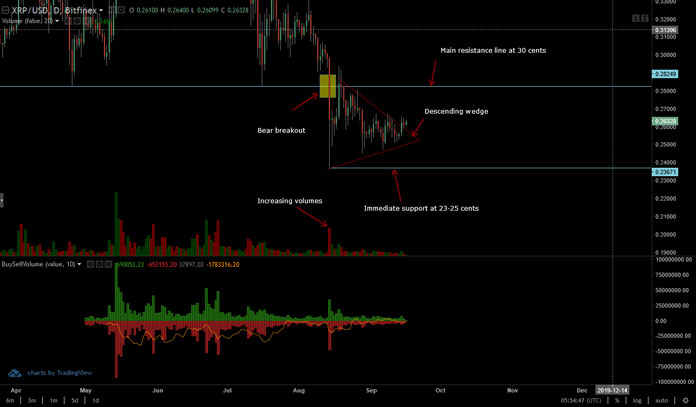 Chart courtesy of Trading View

From the chart, XRP has been ravaged. Underperforming against the USD, ETH and mostly BTC, prices are trending at a discount. After a sharp devaluation in mid-August, there seem to be some resuscitation.
Of note is the attempted recover of price after a period of noticeable consolidation and an up-thrust above a descending wedge at the back of above average trading volumes. On Sep 14, XRP prices broke above the minor resistance trend line with high participation volumes in USD terms-at $13 million versus $6 million of Sep 13. The result was a textbook three-bar bull reversal pattern off the support zone at around 23-25 cents.
Although bears are in command thanks to the domineering Aug 14 bear bar that bulls are yet to reverse, risk-off traders can buy the dips with first target at 30 cents, the main resistance line previous support.
In that case, fitting stop loss would be at Sep 13 lows. It would be vital that going forward, price revival is with increasing trading volumes ideally above the $5.8 million average. If at any time there is an uptick of volumes with a wide-ranging bull bar exceeding the trading volumes registered on Aug 14 of $82 million that would be sufficient sign that XRP bulls are back.
Disclaimer: Views and opinions expressed are those of the author and is not investment advice. Trading of any form involves risk. Do your research.