Ripple, Coinbase not so attractive for Employees, Plaid is
Investors are always on the search for the next big thing. That "big" thing is always measured in return on original investment, that is, on principal. Well, it appears that even though Ripple is on the quest of making the global payment experience as seamless as possible, not many employees are interested in working at the company.
At least that is what LinkedIn latest survey indicates. In a report published on Sep 4, Ripple Inc. moved to 28th from 3rd while at the same time Coinbase, the largest cryptocurrency exchange in the US slid to 29th.
Others as Gemini Trust Company and ConsenSys, both of which are cryptocurrency companies with the former offering custodial services, were nowhere in the list. Interestingly, Plaid, a software and Fintech company, was featured in the top 50 list of companies where employees would love to work with. Plaid offer their services to leading companies as Robinhood and a host of other blockchain companies.
Digital Assets Reduce Liquidity costs
While at it, Chris Larsen, an executive at Ripple is acknowledging that digital assets would mean nothing if a reliable blockchain doesn't exist.
In an interview with Ripple Drop, the member of IMF's High-Level Advisory Group, further said that even though digital assets like XRP slash liquidity costs, fiat would remain dominant in the foreseeable feature. That means, the two can co-exist for the greater good of the global economy.
XRP/USD Price Analysis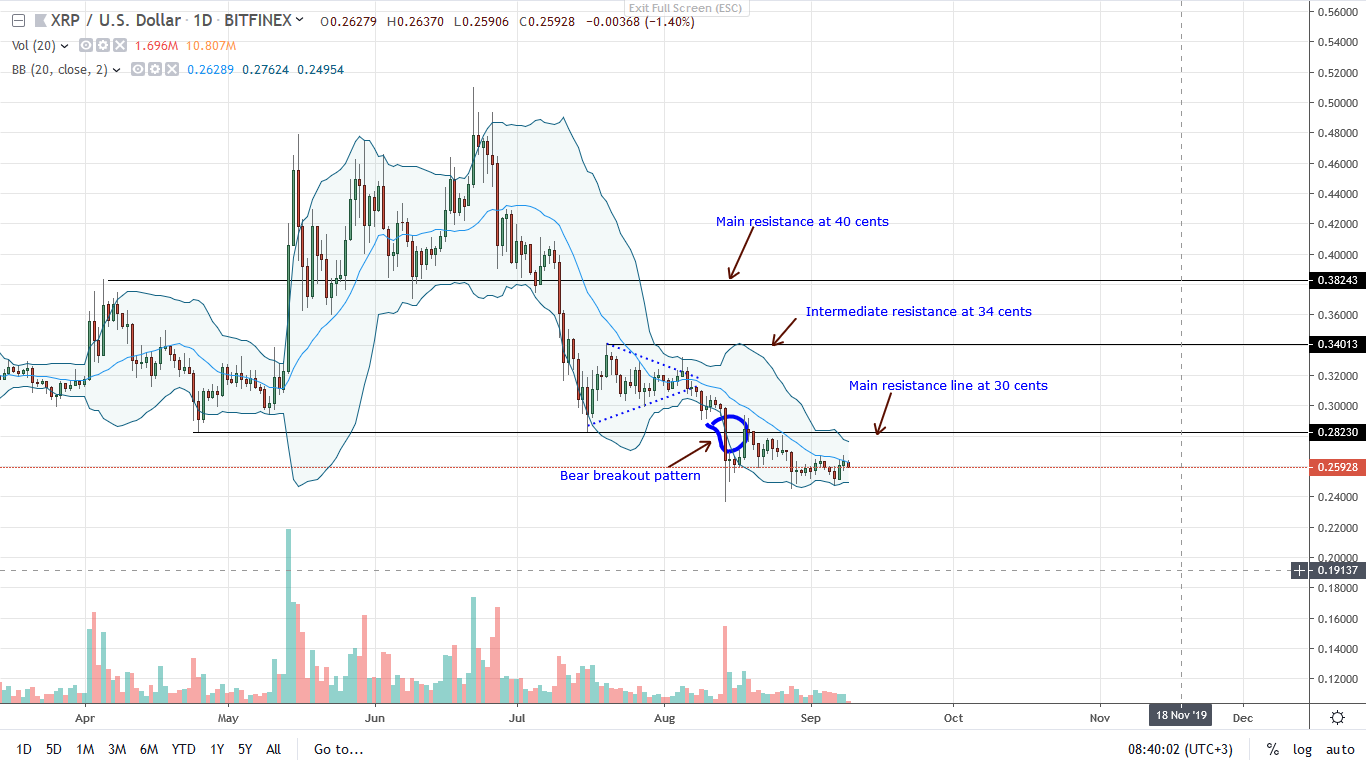 Because of the sharp losses of Aug 14, XRP is trading within a bear breakout pattern against the USD. Losing 12 and a massive 43 percent against USD and BTC respectively in the last month, bears are in control. Although prices are pulling back, accompanying trading volumes are light, averaging 9 million versus 12 million average by Sep 7 close.
Regardless, and in light of the above, every high is technically a selling opportunity with first target at 17 cents as mentioned in previous XRP/USD analysis. Unless otherwise there is a sharp move that will lift XRP above 30 cents at the back of high trading volumes preferably exceeding 82 million of Aug 14, odds are XRP will likely drop in days ahead.
In the meantime, traders can adopt two approaches when trading XRP. The risk off traders can sell on every pullback as Aug 14 bear bar and light volumes of the past few days point to low demand. In that case, stops will be above 30 cents.
On the reverse side, risk-averse but bullish traders can wait for a comprehensive, trend reversing close above 30 cents preferably with high trading volumes invalidating Aug 14 bar.
Chart courtesy of TradingView—Bitfinex
Disclaimer: Views and opinions expressed are those of the author and is not investment advice. Trading of any form involves risk.  Do your research.