Ripple is building a cheap, reliable, and safe remittance network backed by the blockchain.
Thus far, its solutions are battle tested. Ripple is determined and have taken a two-prong approach to improve utility.
On one hand, there is the RippleNet; a suite offering three services including On-Demand Liquidity which primarily uses XRP for cross-border payment enabling instantaneous settlement of transactions with negligible fees.
Most Banks Trialing RippleNet
Latest news is that 38 of the world's largest banks are already testing the technology with most keen on their messaging platform with end-to-end encryption, the xCurrent.
Even though most are interested with XRP and ODL given its advantages, most, it appears are yet to integrate and reap its benefits.
This could stem from regulatory pressures around XRP's classification and whether it is indeed a utility whose guiding nodes are completely decentralized with no control.
With Ripple as part of the entanglement, funding projects through XPring to expand on XRP—use cases, critics continue to blast XRP as a centralized asset which may be clipped by the SEC.
Throttling XRP and ODL Demand
Still, this isn't preventing investors and institutions who continue to pour and utilize the coin's capabilities.
According to Brad Garlinghouse, the CEO of the Ripple Company, there is overwhelming demand for XRP than they can muster.
To keep XRP liquid—since exchanges are part of the web facilitating smooth conversion of XRP to cash at end points, Brad revealed that they are now slowing down, even throttling the adoption of XRP and ODL.
Ripple Price Analysis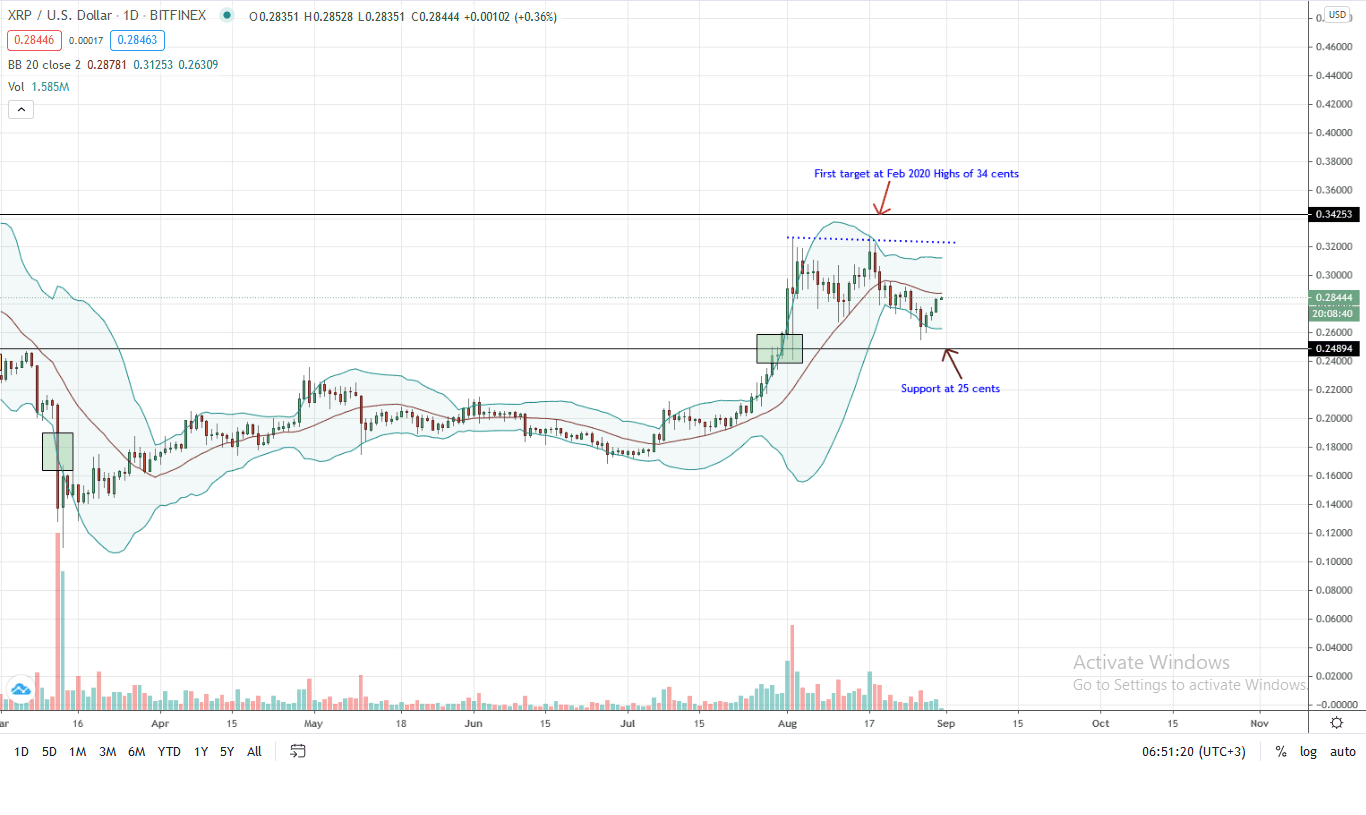 At spot rates, the Ripple price seems to be reversing previous losses, aligning to the main trend. The coin is nonetheless trailing the BTC, USD, and ETH in the last week of trading. However, the good news is that losses are in single digits.
From the daily chart, XRP prices are still trending below the middle BB—the immediate resistance line. While the uptrend appears firm, there are bearish pockets which will only fizzle out if there is a firm close above the middle BB and $0.30. Ideally, the sharp burst above this resistance level ought to be with high trading volumes.
As it is, the recovery is weak. The bounce back from around $0.25 is with light trading volumes—considerably lower than those of Aug 27. This, from an Effort versus Result perspective points to a feeble attempt by bulls.
Still, a close below $0.25 and Aug 27 lows will trigger a sell off. In the meantime, a rally above $0.30 confirms bulls aiming at $0.34.
Chart courtesy of Trading View
Disclaimer: Views and opinions expressed are those of the author. This is not investment advice. Do your research.
---
If you found this article interesting, here you can find more Ripple news