Perhaps the major highlight in the last trading day was the Ripple price ripping higher and proving critics wrong.
In less than 10 days, not only did XRP prices close above two major resistance levels at $0.250 and $0.30, but the third most valuable coin is not stable amid a wave of profit taking.
Technically bullish, volatility experienced over the weekend will likely wilt through this week. As it is, the trend has been set and buyers are in control.
China Is Ahead In Crypto Regulations
Sparking activity are developments from the fundamental front. Already, Ripple has interest in the South East Asia with strong alliances with SBI and businesses in the Philippines.
These zones—as explained in previous statements, present high potential growth areas and Ripple's major focus.
However, China is the ultimate seal.
Brad Garlinghouse, the CEO of Ripple, has said China is ahead when it comes to implementation of blockchain and crypto regulations.
China has been firm on regulating crypto and are particularly cold on projects with tokens that makes it hard for the PBoC to properly peg the Yuan against major pairs. Because of this, crypto trading in mainstream China is forbidden.
The Ripple Class Action Court Case
Talking of compliance of prevailing rules and news supportive of Ripple in the on-going court case is a boost for XRP and the $10 billion company.
Ripple lawyers, as per documents filed on the Northern California District Court, assert that the plaintiffs based their case on an "unsupported leaps of logic."
They further added that the lead plaintiff, Bradley Sostack, had artfully pleaded while studiously avoiding absolutes.
Ripple Price Analysis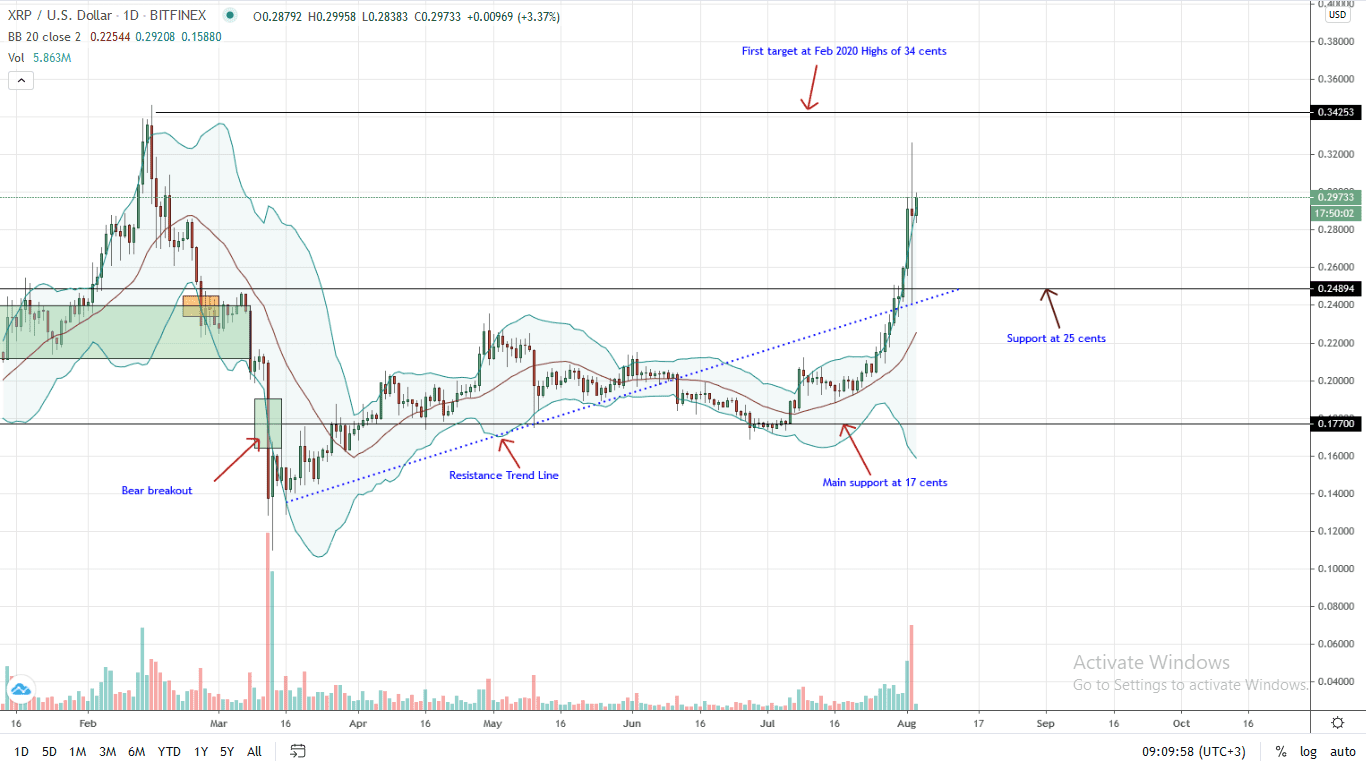 Changing hands at $0.29, the Ripple price is up 36 percent in the last trading week pushing monthly gains to over 60 percent.
As aforementioned, Ripple buyers are firmly in control. In the daily chart, candlestick arrangements suggest bulls.
As observed, XRP bull candlesticks continue to band along the upper BB, diverging away from the middle BB.
This divergence after weeks of consolidation (BB squeeze) points to volatility. The decisive higher highs in the past few days mean the break above $0.25 is sold.
In a bullish breakout, the surge towards $0.30 was also at the back of high trading volumes.
Even though there is a risk of over-valuation following yesterday's widely fluctuating bar, every dip above $0.25 is technically a buying opportunity.
The first target should be Aug 1 highs of around $0.32 and later $0.34.
Sharp losses below $0.22 and $0.25 support zone invalidates this bullish projection.
Chart courtesy of Trading View
Disclaimer: Views and opinions expressed are those of the author. This is not investment advice. Do your research
---
If you found this article interesting, here you can find more Ripple News