Success of blockchain projects is anchored on how vibrant its community is. This maze comprise active developers—since protocols are usually open source, investors/believers, and punters.
Most angle to profit from price swings. When prices tick from one resistance zone to another, big profits can be made. Amid the resurgence of crypto prices in the last trading week, XRP has been no exception.
Week-to-date, gains have been decent and behind this is announcement that Ripple Inc.'s product, the On-Demand Liquidity, is after all popular. Case in point, while XRP prices fluctuated in Q1 2020, it was revealed that ODL trading volumes nearly tripled.
To cap it up, programmatic sale of XRP dropped by 87 percent on a quarter-to-quarter basis.
Solid Q1 2020 Report
The dollar value of ODL jumped 294 percent in Q1 2020 and should be interpreted as bullish for XRP holders since the service is directly dependent on the third most valuable coin when facilitating fund transfer across various payment corridors.
Of note, Azimo's partnership with Ripple and the cost-saving benefits were highlighted in the report:
"Azimo launched its service to send payments to the Philippines and, within a few months, ODL saved the company 30-50 percent when arranging currency transfers between customers in the Philippines and those in the UK and Europe."
Partnership with Swiss Banks
Aside from this, Ripple announced their deal with two Swiss Banks: Swiss Sygnum Bank and Arab Bank Switzerland. Mathias Imbach, the co-founder of Swiss Sygnum Bank said:
"We were impressed by the excellent global performance of Ripple – they now have over 300 financial institutions in their global payment network RippleNet. The company's XRP-based solutions address the weaknesses of the growing $700 billion global remittance market."
XRP/USD Price Analysis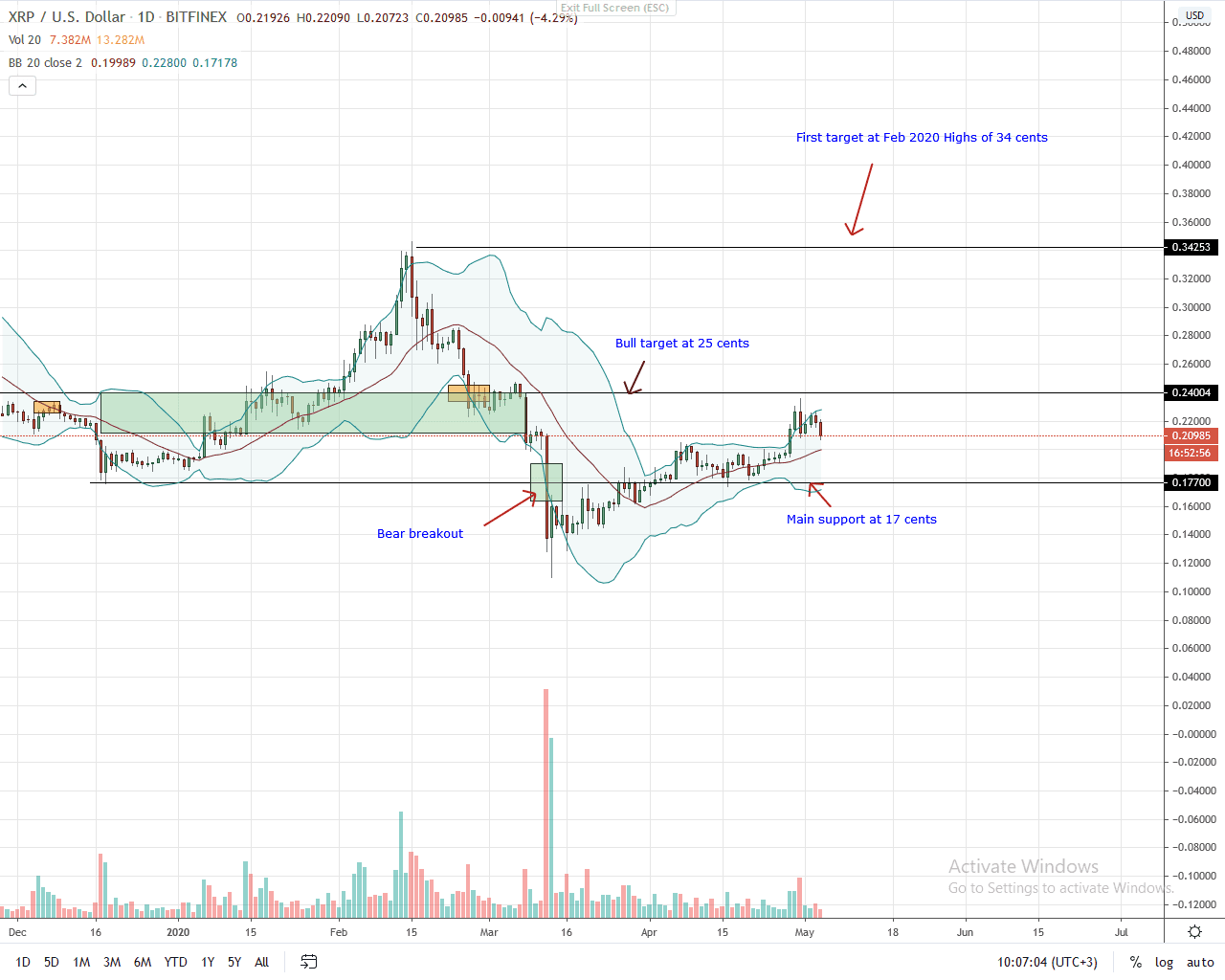 In the last trading week, XRP price is up eight percent as bulls cool down. With the main resistance at 25 cents, the path of least resistance if last week's price action is northwards.
Immediate support is at 20 cents. For aggressive traders, every low should be technically a buying opportunity as long as prices continue to hover above 20 cents. Since there is expectation of price gains ahead of Bitcoin halving, XRP as an altcoin may benefit.
However, for risk-averse traders, the only opportunity is once the price of XRP surge past 25 cents ideally with high trading volumes exceeding those of May 30.
In that case, the first target will be Feb 2020 highs of 34 cents.
On the reverse side, losses below 20 cents will confirm the double-bar bear reversal pattern and lower lows relative to the upper BB. This will feed bears and XRP could drop to 17 cents.
Disclaimer: This is not investment advice. Opinions expressed here are those of the author and not the view of the publication.
---
If you found this article interesting, here you can find more Ripple news