Ripple and XRP are closely interlinked. Yes, that's a tag that most supporters would not rather discuss.
However, truth is, it does exist. Before the decentralization debate caused disintegration, Ripple and XRP were interchangeable terms even before the great crypto rally of late 2017. Things are different now.
Ripple Inc. is planning for an IPO—a decision that ruffled feathers but has since been interpreted as positive, and XPring, the investment wing of the $10 billion company, continues to fund XRP centric projects.
XPring Funding XRP Focused Projects
Since inception, and being dubbed as an oasis, it has funneled over $500 million in XRP into several projects including Coil whose founder is Ripple Inc.'s former CTO, Stefan Thomas.
But there are grand plans judging from recent discussions. Chief amongst them is the possibility of linking Ethereum and Ripple.
Ethereum has smart contracting capability because of its computer layer. Ripple doesn't but Codius could enable that in the future. In the meantime, Ethereum is a market leader and base layer for DeFi application.
Ripple – Ethereum Bridge
DeFi or Open Finance, is obviously a revolution. Still, Ethereum is struggling with scalability and even if in transition, analysts are unsure whether it will be smooth.
The uncertainty saw CoinFloor, one of UK's oldest exchange pull the plug and delist ETH, citing added cost due to ETH 1.0 to ETH 2.0 transition.
The XRP-Ethereum Bridge was floated at ETHDenver, and XPring will fund the initiative according to reports.
XRP/USD Price Analysis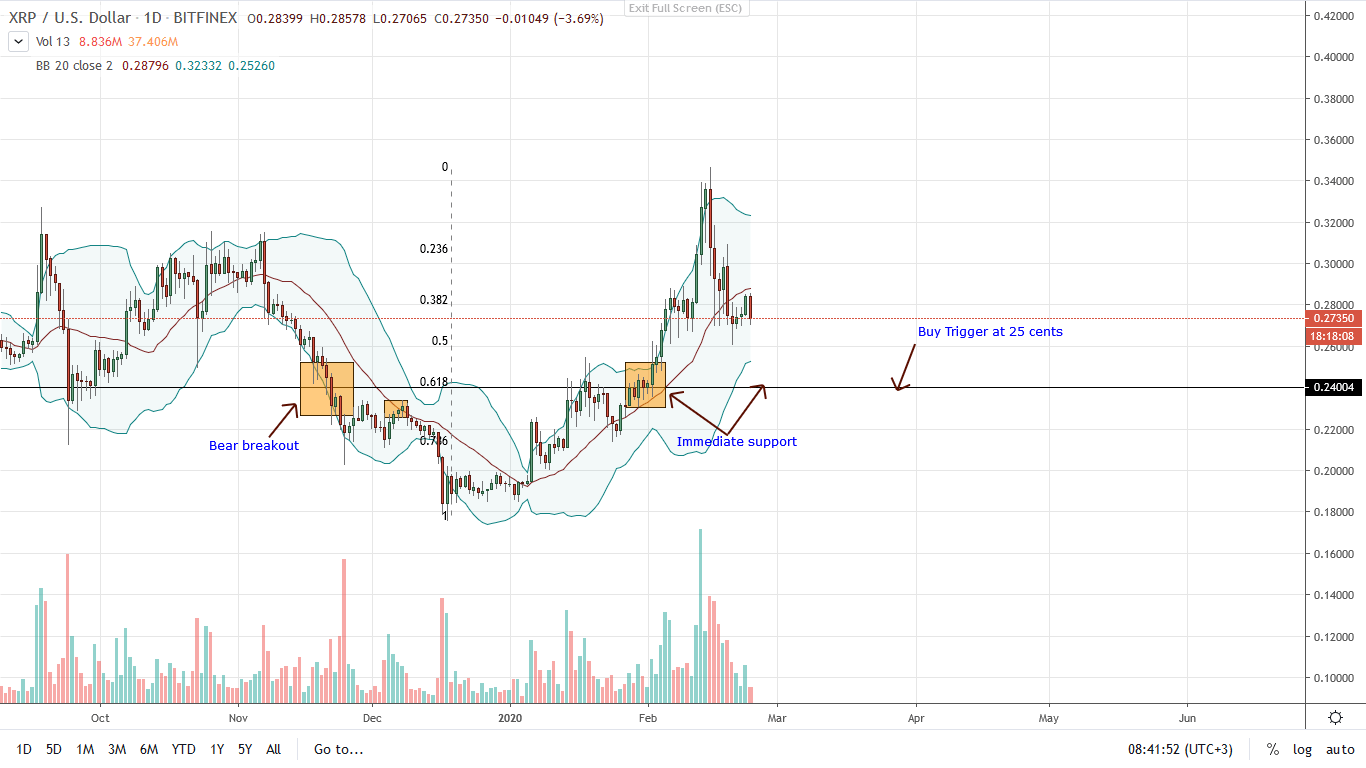 Price-wise, it has been a turbulent week for XRP and crypto in general. Over the weekend, prices snapped back but the rebound wasn't as satisfying. XRP is still in negative territory week-to-date, shedding 4%.
Technically, bulls are still in command. However, the fact that prices are oscillating inside Feb 18 bear candlestick is negative for bulls and could pour cold water on the current momentum.
Depending on how prices react this week, it will be ideal is bulls drive prices back above 30 cents and the middle BB. That will reinsert bulls and from an effort versus result point of view, strengthen buy signals.
If on the other hand prices fall below the 50% Fibonacci retracement level at 26 cents, confirming bears of Feb 15 and 19, odds are XRP may drop to 23 cents, an important support level in a retest before trend continuation.
Chart courtesy of Trading View – Bitfinex
Disclaimer: Views and opinions expressed are those of the author and is not investment advice. Trading of any form involves risk. Do your research.