Latest Ripple [XRP] News
Much has been said about Ripple [XRP], Ripple Inc and Ripple Labs. The latter is an independent company and the issuer of XRP, the native currency that powers the Ripple Ledger. But it is the controversy around their decentralization strategy and escrow that is at center stage. In a damning report by Coin Metrics, a blockchain analytics firm, Ripple Labs did under-report the amount of XRP in their escrow.
Given the nature of blockchain and most public ledgers, Coin Metric did a deep dive and found "several important discrepancies between what was publicly reported by Ripple and what was visible on the XRP ledger." These included ""escrow queue" which is implemented differently than announced, leading to a faster future release of escrowed funds compared to the announced schedule", "Other party/parties, potentially associated with Ripple releasing 55 million XRP from an unknown escrow address not connected to the main Ripple escrow account" and for "two quarterly markets reports they under-reporting the number of XRP released from escrow by a total of 200 million XRP."
If anything, this is a big blow for Ripple Labs which are controversy ridden. The report comes a few months after Messari reported that XRP market cap is over-stated by 48 percent. Besides, because Ripple Inc is a majority holder, there "could be significant, persistent sell-side pressure in the XRP market depending on the length and structure of selling restrictions placed on Ripple's market making partners."
XRP/USD Price Analysis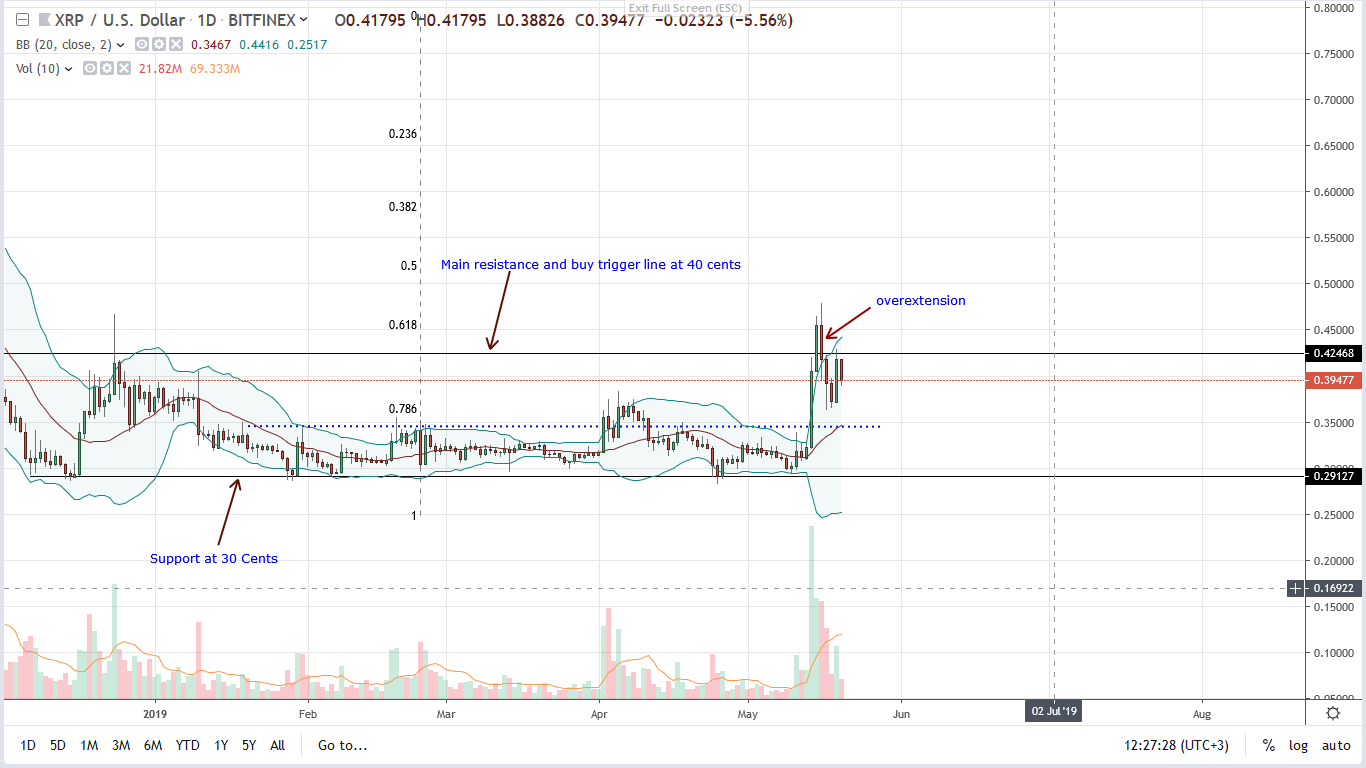 At spot rate, Ripple [XRP] is up 27.7 percent in the last week, shedding 2.1 percent in the last day. Although prices are in a strong bullish uptrend thanks to May-14 high-volume, wide-ranging upswing that pumped prices above 34 cents, our first level of resistance and buy-trigger, it is only once prices close above 40-43 cents or Q1 2019 highs that risk-averse, conservative traders can ramp up on dips with targets at 60 cents or 80 cents.
This is so because in spite of the last 5-6 months period of extended consolidation, the trend is already set by Sep 2018 bull bar from where prices are oscillating in. Therefore, it is from an effort versus result point of view that places bulls at a pole position. As a result, it is imperative that prices edge past 40-43 cents main resistance level.
Ideally, behind this close above should be above average volumes exceeding 187 million of May 14th. All the same, from candlestick arrangement, every low is another buying opportunity and aggressive traders can load up with first targets at 40 cents and later 60 cents depending on participation levels.
All Charts Courtesy of TradingView—BitFinex
Disclaimer: Views and opinions expressed are those of the author and aren't investment advice. Trading of any form involves risk and so do your due diligence before making a trading decision.