Latest Ripple [XRP] News
Of the many altcoins in the top-10, Ripple [XRP] aside from Binance Coin [BNB] and the main competitor, XLM, is the top-3 worst performing asset, retesting the main support line at Q1 2019 lows of 30 cents. To quantify, the asset is up 6.9 percent from last week's low but pretty stable in the last day.
Even so, despite efforts of recovery in the last 72 hours or so, analysts are not convinced that the asset is by designed meant to fluctuate. And that is true to some extent. If Ripple [XRP] is to be a settlement tool, a means of exchange, an Internet of Value facilitator and above all, an on-demand liquidity tool then it must be stable to encourage use.
If anything, it must be a stable coin, an alternative to "stable coins" as JPM Coin for example. It may be because of this that co-founder of Signal Profits and former US Army veteran, Jake Canfield is against investing in altcoins including XRP in the long term.
Nonetheless, there are other fundamental reasons supportive of Ripple [XRP] bulls. Firstly, it is the increasing partnership deals with banks with billions of asset. Their foothold in the Middle East is a big boost. Marking their dominance and Sharia compliance is their rather fruitful relationship with SAMA of KSA. So far, that has meant SABB joining RippleNet and xCurrent.
XRP/USD Price Analysis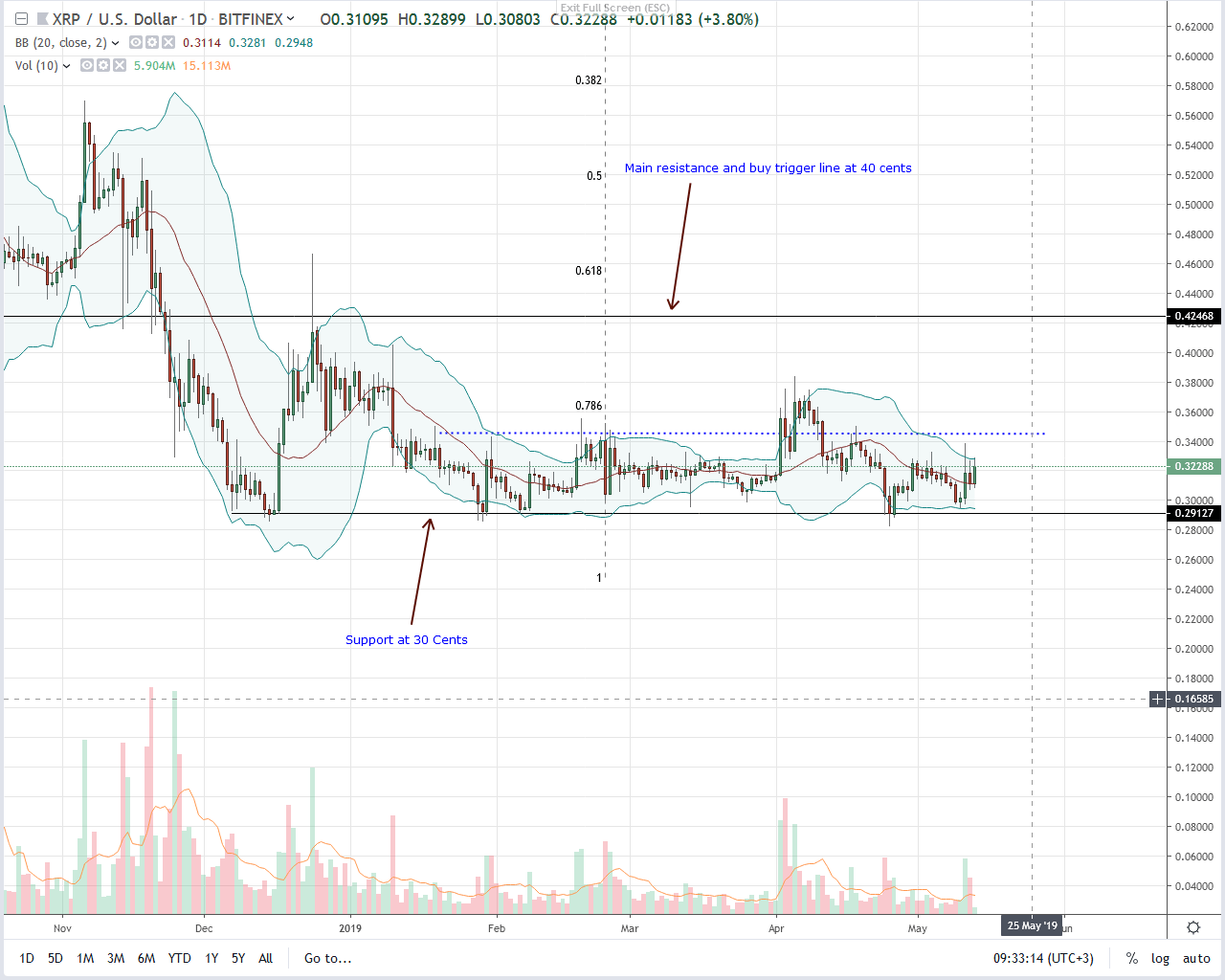 Price wise and it is clear that Ripple [XRP] is in a consolidation. This is the fifth month of a 10 cents accumulation with caps at 40 cents and floors at 30 cents. Although and in line with our XRP/USD trade plan, 34 cents is our first trigger ushering in the first wave of buyers, the risk-takers and aggressive type bulls, it is only after prices rally past 40 cents that risk-averse traders can load up.
Regardless, aggressive traders can still buy on dips thanks to May-11, high volume bull bar reacting from 30 cents. Of not is not the three-bar bull reversal pattern it prints but the surge in participation levels. May-11 bull bar has 47 million against 14 million averages meaning there is participation.
It also means the path of least resistance is upwards confirming buyers of Jan 30 and re-affirming the main trend set by Sep 2018 conspicuous, high-volume, wide-ranging anchor bar. First target is at 40 cents and should there be a breakout above this main resistance line with volumes exceeding 97 million of Apr-3, then first targets will be 60 cents and later 80 cents of Sep 2018 highs.
Chart courtesy of TradingView—BitFinex
Disclaimer: Views and opinions expressed are those of the author and aren't investment advice. Trading of any form involves risk and so do your due diligence before making a trading decision.