The Ripple price is surprisingly one of the most underperforming digital asset in the top 10. Days after Bitcoin and ETH ripped higher, the third most valuable asset was in a disarray.
Most of XRP's predicaments is rooted on events surrounding the classification of XRP by United States regulators.
While no one can speculate how Ripple's relationship is with the United States Securities and Exchange Commission (SEC), that the CEO, Brad Garlinghouse now say he prefers to move out given the shambolic state of regulations and the alleged focus on Ethereum and Bitcoin networks hints of a possible friction and perhaps misunderstanding with the regulator.
In his view, the state of crypto and blockchain regulation in Japan, Switzerland, United Kingdom, United Arab Emirates, and Singapore are well defined, providing an environment for the space to flourish.
Still, nothing can't be taken away from the United States.
XRP may be a utility in the United Kingdom but players are watching how blockchain and crypto regulation unfolds in the United States before making firm decisions.
Presently, regulators have only stated their subtle endorsement of Ethereum and Bitcoin as completely decentralized platforms where no agent controls them. On the other hand, XRP, issued by the Ripple Labs, is mostly under Ripple.
Over 50 percent of XRP coins were pre-mined and the for-profit company uses the coin for execution of the On-Demand Liquidity (ODL) solution.
It programmatically sells the coin to partnering financial institutions, and have been accused of deliberately dumping XRP to keep prices lower.
Ripple Price Analysis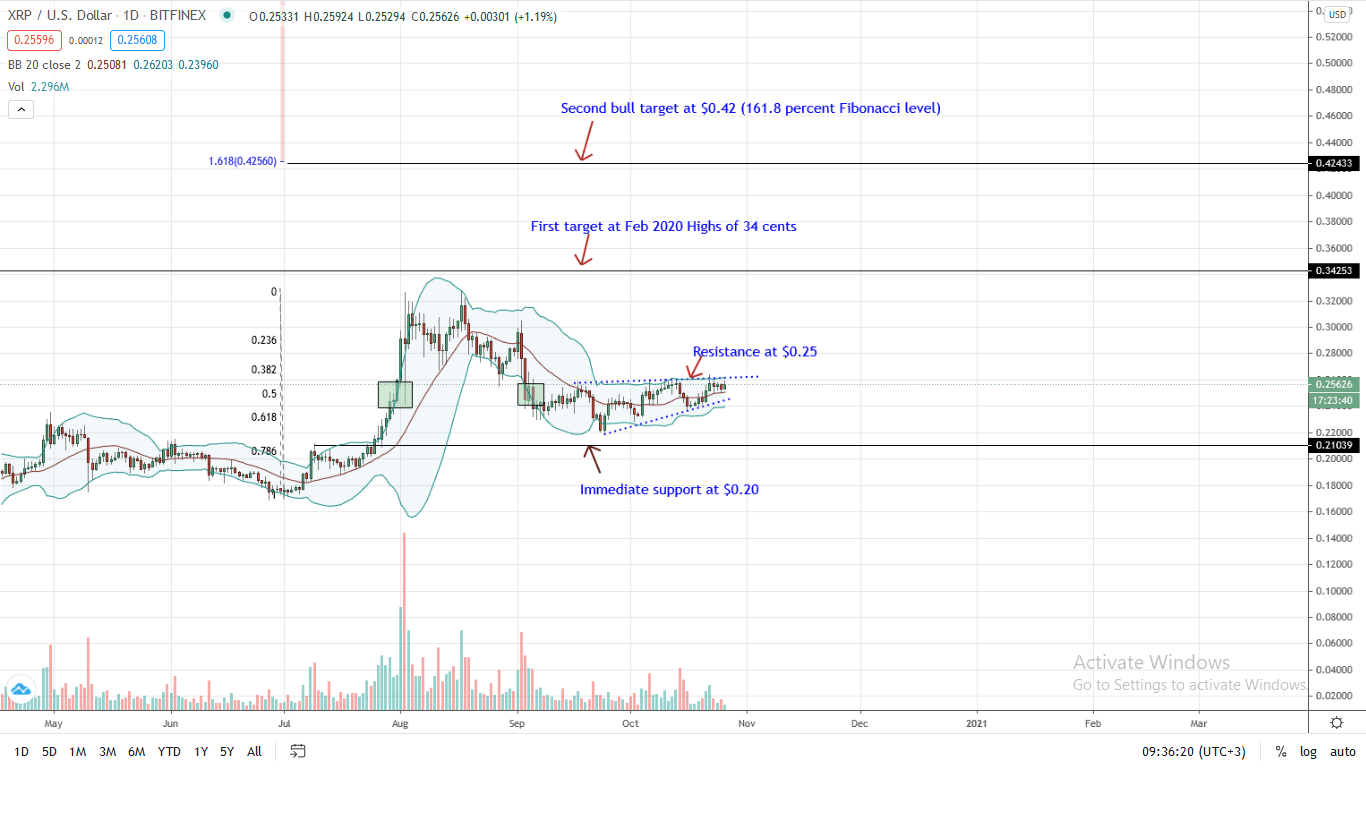 The Ripple price is stable with bearish leaning judging from price action in the daily chart. In the last week of trading, the coin up five percent against the greenback but trails both the BTC and ETH.
The trend is bearish with clear caps at $0.26 and the support trend line.
Although the crypto sphere is bullish and optimistic that prices will recover, the failure of bulls to clear $0.26 means bears are in control.
As it is, prices are trending inside a bear flag with a liquidation level at $0.26 confirming bears of early September 2020.
A sharp close below the support trend line could see XRP prices drop towards $0.20 or lower in a confirmation of Sep 3, a bear trend continuation pattern.
On the flip side, gains above $0.26 confirms the double bar bullish reversal pattern of Sep 23 and 24, and could build the impetus for $0.30 and even $0.34 as buyers retest August 2020 highs.
Chart courtesy of Trading View
Disclaimer: Views and opinions expressed are those of the author. This is not investment advice. Do your research.
---
If you found this article interesting, here you can find more Ripple news