Ripple is a solid project and remains one of the most valuable in the cryptocurrency space, with a slot in the top-10.
Still, in the ongoing case, the court ordered the blockchain firm to submit its records relating to the marketing and sale of XRP.
The SEC, which according to observers is one of the most important litigation cases against a blockchain company that may be subsequential to the whole space, may find support.
The lawsuit would be a precedent-setting court case that's rightly being tracked by law experts and other regulators across the globe.
Ripple has a global reach and is operational in many regions boasting high-profile partnerships with central banks.
The SEC-Ripple Court Case and the Launch of the Ripple Liquidity Hub
Although the On-Demand Liquidity (ODL) product isn't as adopted, payment processors are integrating them for efficient service delivery and cost reduction.
Therefore, the outcome of the case might shake Ripple's operations to the core.
If anything, its verdict might shape the regulatory position of cryptocurrencies in the U.S.—which, boxing in the fact that the country is influential, might cause a Domino Effect in other countries. This would either make or break cryptocurrencies, as we know.
Nonetheless, this isn't preventing them from releasing new products and broadening their base.
For instance, the launch of the Ripple Liquidity Hub to serve enterprises with access to a large stash of cryptocurrencies like BTC, XRP, ETH, among other coins, sets out their intention.
Ripple Price Analysis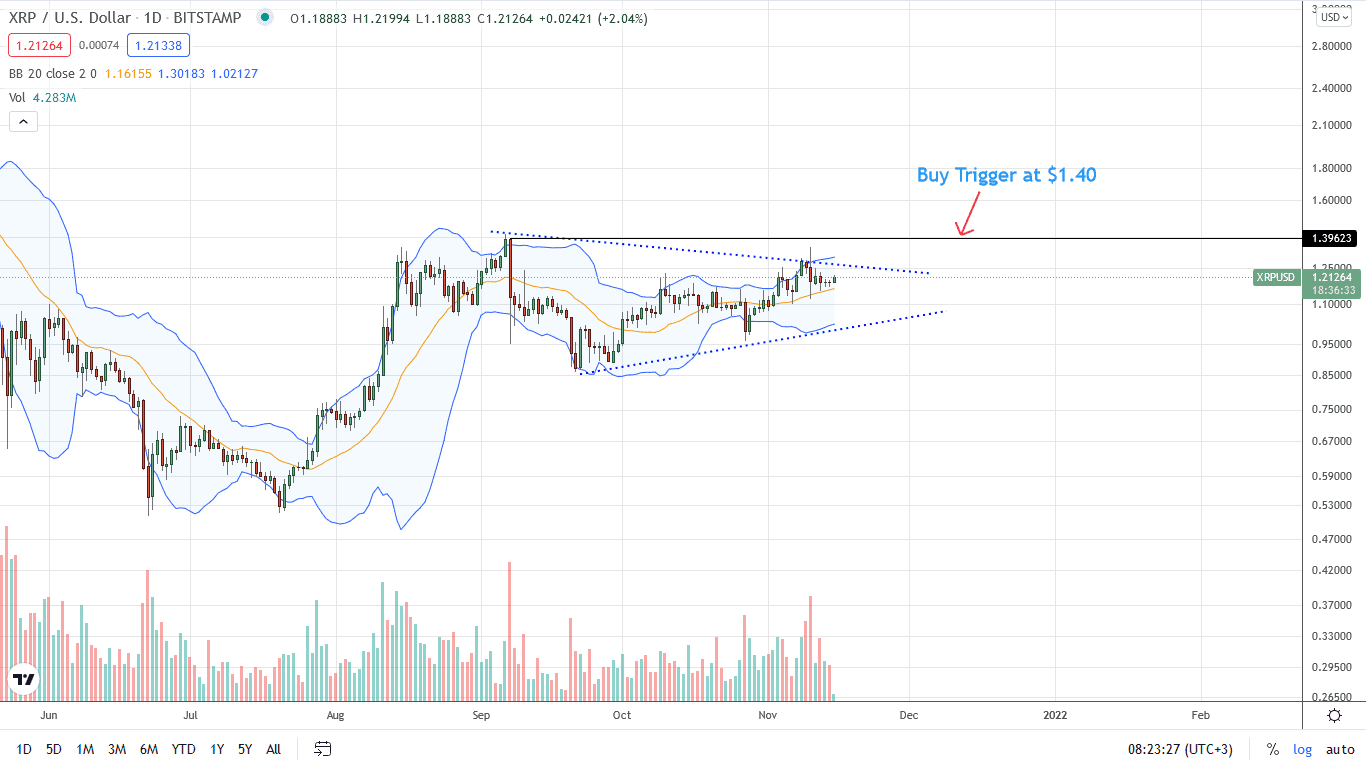 The Ripple price is under pressure at the time of writing. As per the XRP/USD price analysis of the daily chart, it is clear that sellers have the upper hand.
Even amid the confidence among Ripple coin holders, prices are trickling lower with decreasing volumes inside a bull flag.
Nonetheless, the uptrend is valid as long as prices are trending inside the wedge and $1.
Technically, a close above $1.20 and $1.40—October 2021 highs—might be the building block for another leg up to $1.90—or better in the days—or weeks to come.
For this uptrend to be valid, buyers need to shake off sellers of November 1.20 and breach the primary resistance trend line. In that likelihood, the XRP price would most likely fly, aligning with buyers of Q3 2021 to $1.90.
Technical charts courtesy of Trading View
Disclaimer: Opinions expressed are not investment advice. Do your research.
---
If you found this article interesting, here you can find more Ripple news