Fundamentally, the medium-term trajectory of the Ripple price hinge on the outcome of the ongoing Ripple Labs–United States SEC court case.
SEC Lawyers misquoted Judge Sarah Netburn Orders
Encouragingly, Ripple has been registering crucial wins, with the latest being the rejection of SEC's motion to strike back the defendant's motion of lack of due process and fair notice affirmative action.
Ripple lawyers filed its Memorandum of Law, effectively cutting off SEC's lawyers from aiming salvos at Ripple's primary defense against the case.
Their filing of the Memorandum of Law had a significant impact on the Attorney's arguments, who also seemed to have misquoted Judge Sarah Netburn.
A part of Ripple Labs' filing read:
"The ellipses that the SEC inserted remove the word 'both' from the quotation, and the SEC also omits the end of the quotation. Ripple's counsel clearly stated that the discovery is relevant 'both' to the fair notice defense "and the same . . . applies to whether the individual defendants were reckless or had knowledge that XRP would be found to be a security."
CFTC Following the SEC—Ripple Labs Court Case
It would be interesting to watch out the outcome of the court case, especially now when the CFTC—another key regulator is closely following the proceedings of this case.
The result would clearly define SEC's scope, especially in the burgeoning digital asset space.
At the same time, the resulting clarity would pave the path of Ripple Labs to do business compliantly. Once the case ends, Ripple partners will know that the coin is a utility.
Ripple Price Analysis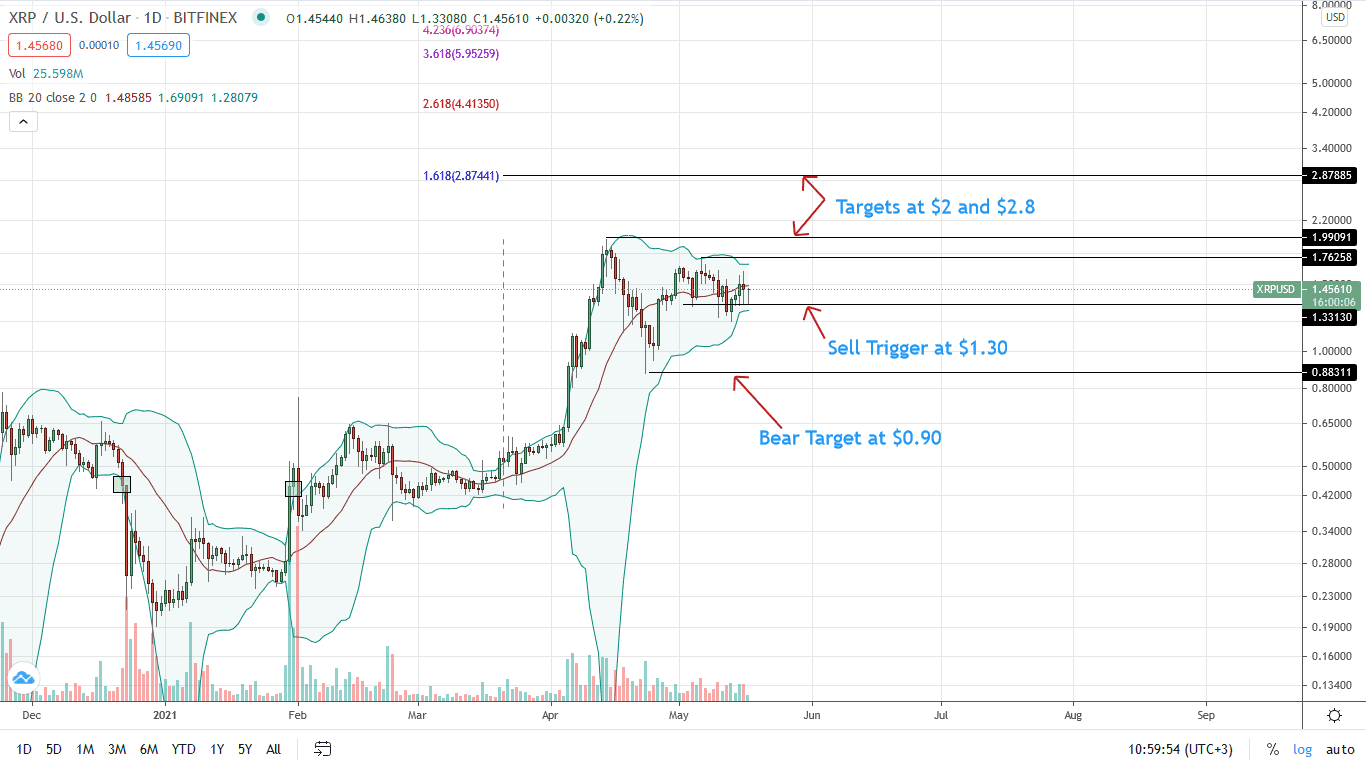 XRP holders are ecstatic after positive developments from the SEC-Ripple court case.
The Ripple price is nonetheless down eight percent week-to-date but gaining versus ETH and BTC on the same period.
Regardless of early Asian session dump, the path of least resistance is northwards and XRP buyers have a chance.
The failure of bears to drive XRP/USD prices below $1.30 reaffirms the presence of bulls and the validity of the three-bar bullish reversal pattern of late April 2021.
Ideally, a high-volume close above May 2021 highs would see XRP/USD rally to $2 and later $2.8 in the medium term.
On the flip side, dumps below $1.30 may see XRP fall back to parity with the USD.
Chart Courtesy of Trading View
Disclosure: Opinions Expressed Are Not Investment Advice. Do Your Research.
---