Advances in cryptocurrency, the quest by private entities to reduce and eliminate inefficiencies—and therefore launching superior products will remain in history, etched as triggers that forced central banks to take steps and toe the line.
Ripple's Flexibility
If it weren't for Bitcoin, Ripple, and other decentralized and customer-facing services, we wouldn't have central bank-backed digital currencies (CBDC).
Some governments and central banks are looking at developing this product while others are already at advanced stages, trialing the CBDC in various cities and municipalities.
Ripple stands out because of its flexibility, providing fitting solutions as per the evolving needs of the end-user.
For instance, like Bitcoin, Ripple allows instantaneous, borderless, and affordable means of remittance to both banks and individuals.
It should be understood that Ripple started out focusing on banks, but this soon changed to what we have. There is Codius which introduces smart contracting and a ground for DeFi via partners like the Flare Network.
The CBDC Private Ledger
In the age of CBDC, Ripple is laying the ground for banks wishing to launch their coins quickly. They are already trialing the CBDC Private Ledger allowing for the reliable, fast, and cheap movement of privately issued CBDCs.
@Ripple pilots a private ledger for Central Banks launching CBDCs
Moving money on the CBDC Private Ledger will be
✅cost-effective
✅reliable & instantaneous
✅10k+ TPS
✅60k+ more efficient than PoW pic.twitter.com/8FIEZJP541

— XRP_Cro (@stedas) July 6, 2021
Of note, Ripple says the CBDC Private Ledger is 60k more efficient than Proof-of-Work consensus algorithms. This advantage stems from Ripple's energy-efficient consensus algorithm.
Ripple Price Analysis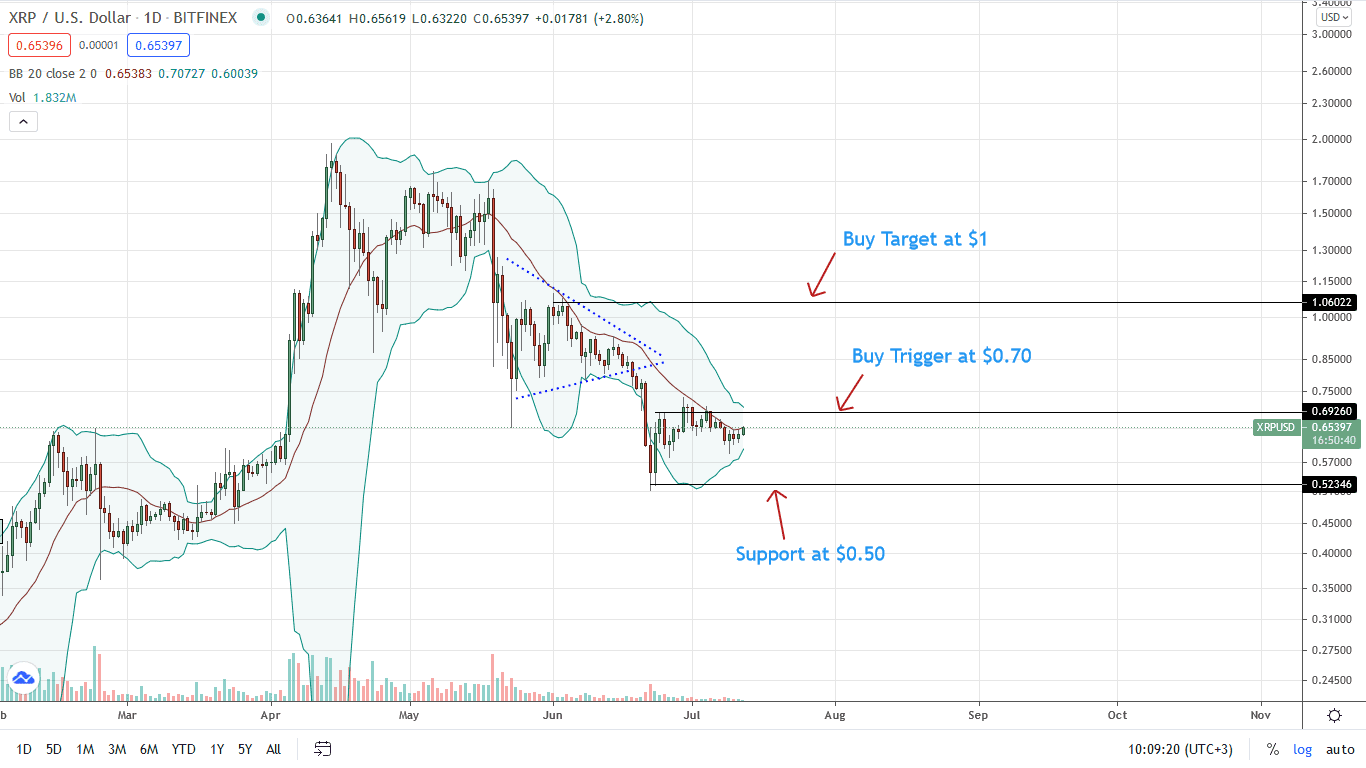 The Ripple price is moving in tight ranges, oscillating below the middle BB.
Technically, XRP prices are down three percent week-to-date while up roughly six percent on the last trading day.
Notable, even though bulls are optimistic, the inability to satisfactorily crack and overcome sellers along the middle BB—the liquidation line, suggests weakness and the absence of conviction among bulls.
Ideally, a close above the 20-day moving average and $0.70 should be with high trading volumes. In that case, XRP/USD could float back towards $1 in a possible buy trend continuation pattern confirming the double bar bullish reversal pattern of June 22 and 23.
On the flip side, if there is a noticeable dump, a break-below after the consolidation of the last trading week, it could mean more sell pressure–a continuation of bears of mid-May and June. In that case, Ripple prices could slide to $0.50.
Chart Courtesy of Trading View
Disclosure: Opinions Expressed Are Not Investment Advice. Do Your Research.
---
If you found this article interesting, here you can find more Ripple news