The Ripple price is trading at over $1.60, adding 48 percent week-to-date, outperforming BTC and ETH.
Technical candlestick arrangements strongly favor buyers. Two weeks ago, XRP prices had cratered, casting doubts on the validity of the uptrend.
Nonetheless, the quick snapback last week places XRP at third, only trailing BTC and ETH.
The SEC—Ripple Court Case
Most of the Ripple and XRP furor stems from the absence of a regulatory framework that helps in crypto assets classifications.
The SEC throwing the wildcard by suing Ripple and some of its executives made the situation even worse. However, for Ripple and crypto fans, small wins are favorable for the entire space.
In the past few weeks, U.S. judges have been making calls that favor Ripple, giving them an upper hand in court. In reflection of this, the XRP price bottomed up before shooting up to spot levels—a reprieve for holders and the projects.
Ripple's CEO Calling for Regulatory Clarity
Bradley Garlinghouse, the CEO of Ripple, is still preaching for regulatory clarity to dispel fear and for general guidance if the U.S. wants to be a leader in blockchain.
Last week, he lauded some Asian countries for the steps taken, telling CNBC's Squawk Box Asia:
"Ironically, here in the U.S., they have not provided that same clarity. It is the only country on the planet that has said XRP is anything other than a currency. The SEC has said… XRP is a security. And so we're now engaged in a court discussion. So far, I feel good about how that's been going, but it's certainly frustrating."
Ripple Price Analysis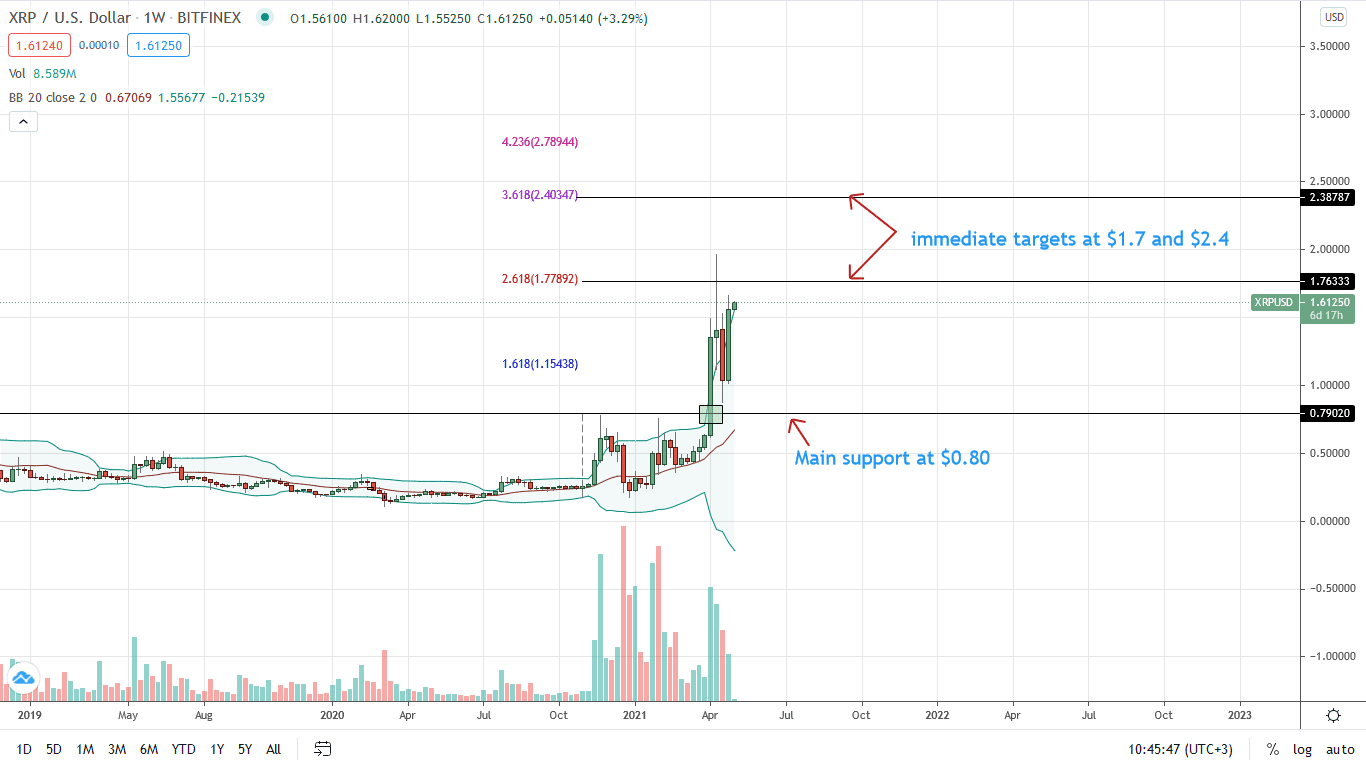 The path of least resistance remains northwards.
Judging from candlestick arrangements in the daily chart, the XRP price is up 48 percent week-to-date but stable on the last day.
Technically, every low within last week's trade range may be a loading opportunity for Ripple traders.
In that case, a sharp close above $1.7 may trigger another wave of loading that may drive the XRP price towards $2.4 and $2.7—the 2 and 3.618 Fibonacci extension levels of the 2018-Q1 2021 trade range.
A reversal and losses below $0.80 may slow down bulls.
Chart Courtesy of Trading View
Disclosure: Opinions Expressed Are Not Investment Advice. Do Your Research.
---
If you found this article interesting, here you can find more Ripple news