The Ripple price is one of the top performers, expanding with the rising crypto tide.
At the time of writing, the XRP price is up 18 percent week-to-date, above the middle BB.
Meanwhile, there is a significant uptick in trading volumes suggesting participation from traders across the board. In all, this is bullish and precisely what the trading fraternity required after deep slides of the last few weeks.
Technically, candlestick arrangements support traders. However, today's bulls needs to confirm attractive price action of July 26 for higher highs and definition of trend.
The Ongoing Court Case Turns and Twists
Possible triggers in the days ahead will be events of the ongoing court case versus the SEC.
A series of wins back XRP supporters over the last six months since the SEC said XRP were unregistered securities. It is a bitterly contested case.
The good news for coin holders is that XRP lawyers seem to have the upper hand, a net positive.
Following Judge Sarah Netburn's directive, Ripple lawyers can depose the former SEC official, William H. Hinman, to know more about the agency's policy decisions.
This is critical since Ripple now faces an enforcement action that directly stems from the SEC advisory on policy.
According to the preceding judge, the public interest is high, advising her decision to allow William's interview.
Ripple Lawyers Pushing For More
Following another application on July 20, Ripple lawyers push for the court to consider comments from two SEC commissioners—Hester Pierce—crypto Mum—and Elad Roisman.
Their comments offer supplemental support, precisely what they need as they argue out the case.
Ripple Technical Analysis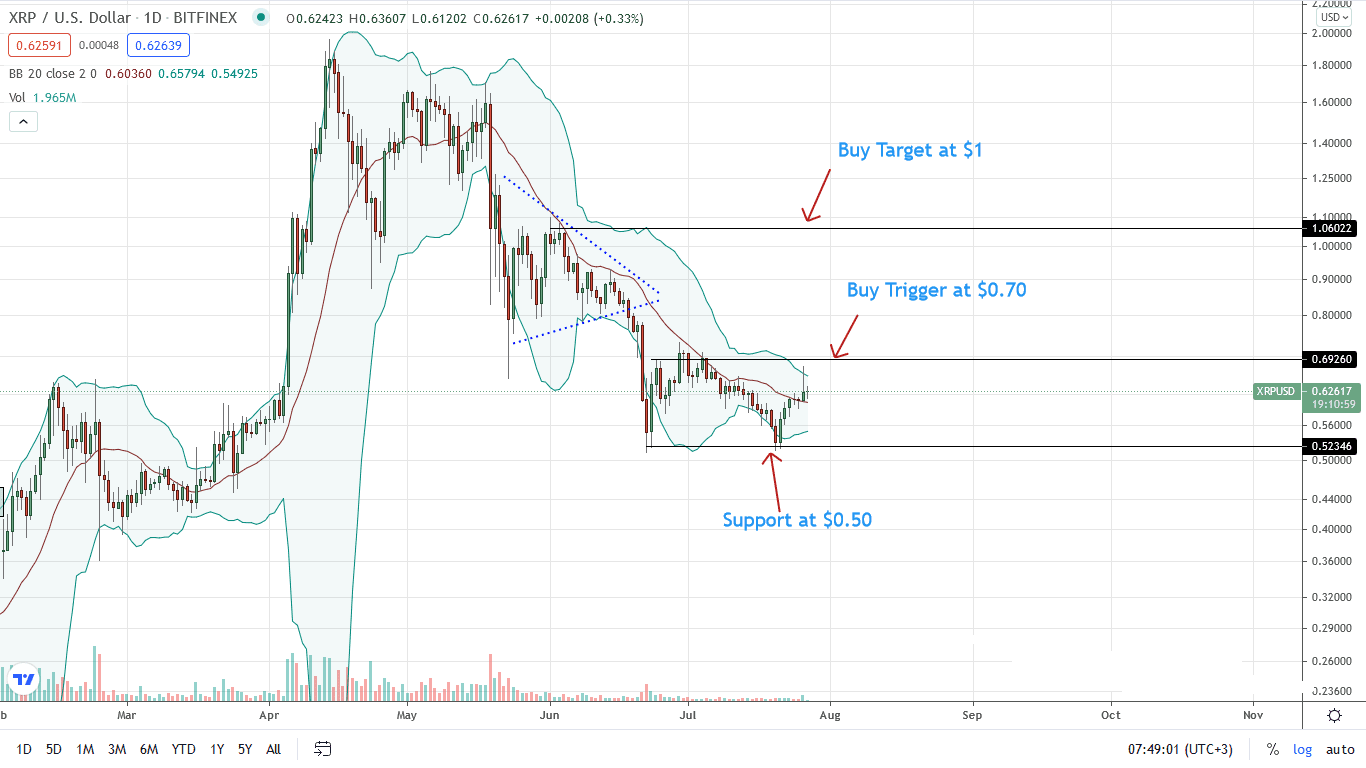 After over two months, the XRP/USD price, for the first time, conclusively closed above the middle BB—a critical resistance line.
At the time of writing, the XRP/USD price is in a bullish breakout pattern—net support for buyers and an opportunity for traders.
Specifically, the upsurge of early this week is a confirmation of last week's double bar bullish reversal pattern. The close above the middle BB is sealed with high trading volumes cement confidence, a possible ground for higher highs in the days ahead.
At present, XRP traders may search for buying opportunities in lower time frames, expecting a close above $0.70, possibly back to $1.
On the other hand, risk-on traders can wait for a surge past $0.70 with equally high trading volumes to ramp on dips with the same target.
Losses below the middle BB cancels the uptrend, opening up XRP for a retest of $0.40 in a bear trend continuation pattern.
Technical charts courtesy of Trading View
Disclaimer: Opinions expressed are not investment advice. Do your research.
---
If you found this article interesting, here you can find more Ripple news