Barely into the second week of the New Year and the crypto market continues to register decent gains despite some pullback over the week.
Specifically, for Ripple (XRP) enthusiasts and fans closely following and keeping up with tabs between Ripple and the United States Securities and Exchange Commission (SEC), there appear to be some positive signals.
Ripple Tried to Resolve with the SEC
For one, Brad Garlinghouse has repeatedly said Ripple tried to resolve with the commission during the Trump administration—subtly admitting that they knew that they were in the wrong and even for their assertions, the XRP could, after all, have been a security all along.
In a tweet on Jan 7, while answering a question on why they didn't settle with the SEC, he said:
"Can't get into specifics, but know we tried – and will continue to try w/ the new administration – to resolve this in a way so the XRP community can continue innovating, consumers are protected, and orderly markets are preserved."
XRP is an Exchange Token in the UK
Faced with setbacks now and contending with SEC's smashing hammering, the XRP price fell in the better part of H2 December 2020.
Encouragingly, prices have since steadied, recovering and rallying to above $0.25. This follows news from the United Kingdom where the HM Treasury classifies XRP as an exchange token—a utility, not a security as perceived by the Americans.
In a report published by the Department for Business and Finance, they categorically stated that XRP is an exchange token—an unregulated coin whose users predominantly use it to move value from one zone to another.
Ripple Price Prediction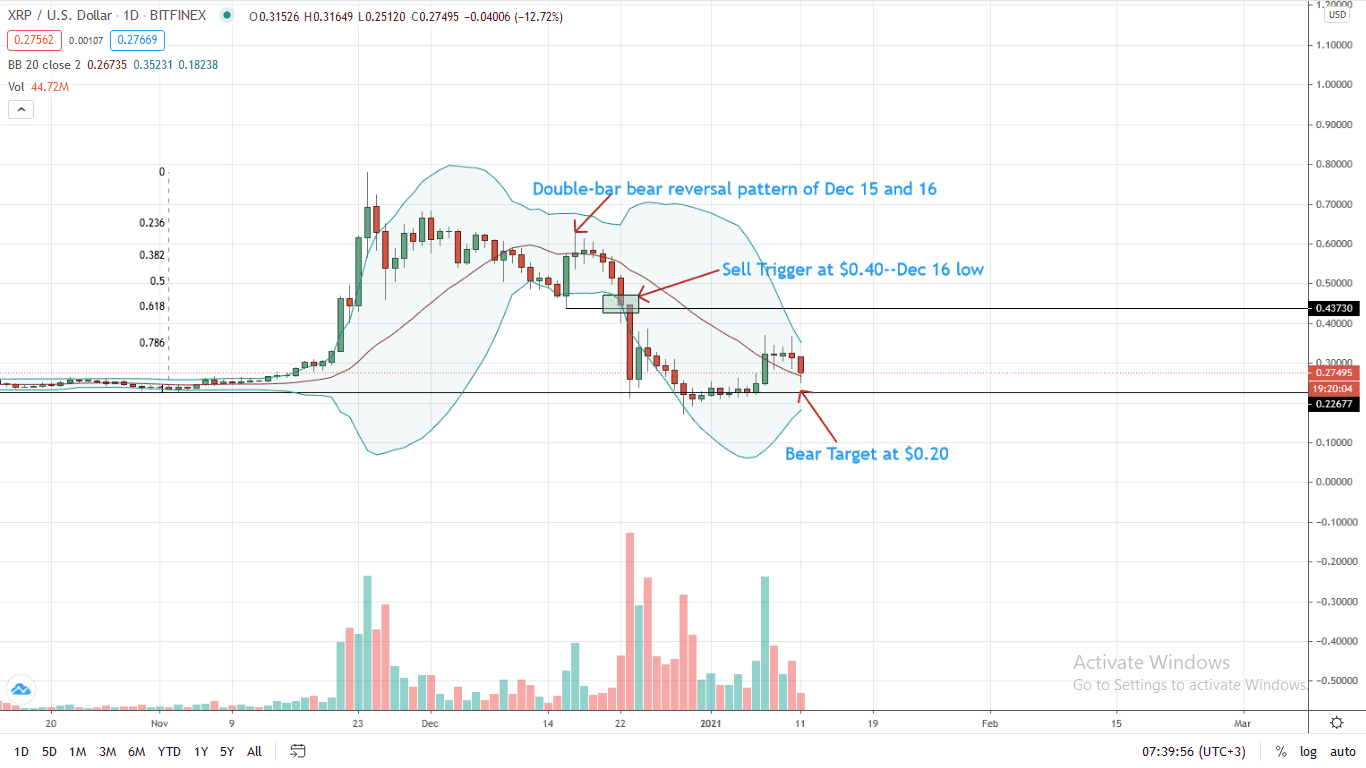 Week-to-date, the XRP price is up double digits against the USD and BTC, surging 22and 17 percent, respectively.
Changing hands at $0.27 as of writing, the XRP/USD price is bouncing back from the Dec 2020 pits. In a bullish breakout pattern, the XRP price may add to their immediate term gains as long as the $0.25 support holds. As it is, bears still have controlled since XRP prices are trending inside Dec 23 bear bar.
From an Effort versus Analysis point of view, sellers are in charge now that even amid the pullback from $0.20, the Jan 7 bull bar has relatively low trading volumes.
Therefore, there must be a sharp close above $0.40 with high trading volumes for buyers to be in the driving sear, preferably exceeding those of Dec 23.
In that case, the XRP/USD price can reach $0.60.
On the flip side, dips below Jan 7 bar could see the XRP price drop below $0.20 towards $0.12—or worse.
Chart Courtesy of Trading View
Disclosure: Opinions Expressed Are Not Investment Advice. Do Your Research.
---
If you found this article interesting, here you can find more Ripple news