XRP, the native currency of the XRPL, is on an absolute tear.
As a result of the super gains of last week, supporters expect nothing but a moonshot.
The cause of last week's rally was the development around their case with the SEC and odds of it being disqualified.
On the one hand, last week's legal winnings coupled with the main value proposition of the coin as an agent that could disrupt legacy remittance gives XRP an edge over competing platforms. As it is, Ripple lawyers want the case dismissed.
In their argument on Apr 16, the failure of SEC lawyers to divulge details of their communication with other regulators shows their contempt of court orders and a violation of Federal laws.
Gary Gensler Sworn in as SEC Head
At the same time, analysts are closely watching how the new SEC chair, Gary Gensler, will react. Gary understands how crypto and XRP works.
Although his entry is a net positive for the sphere, the chair won't immediately move to begin initiating moves that will see the case dismissed.
Still, it is interesting how Gary will handle cryptocurrencies and blockchain as a technology, considering how it has grown in stature over the months.
Ripple Price Analysis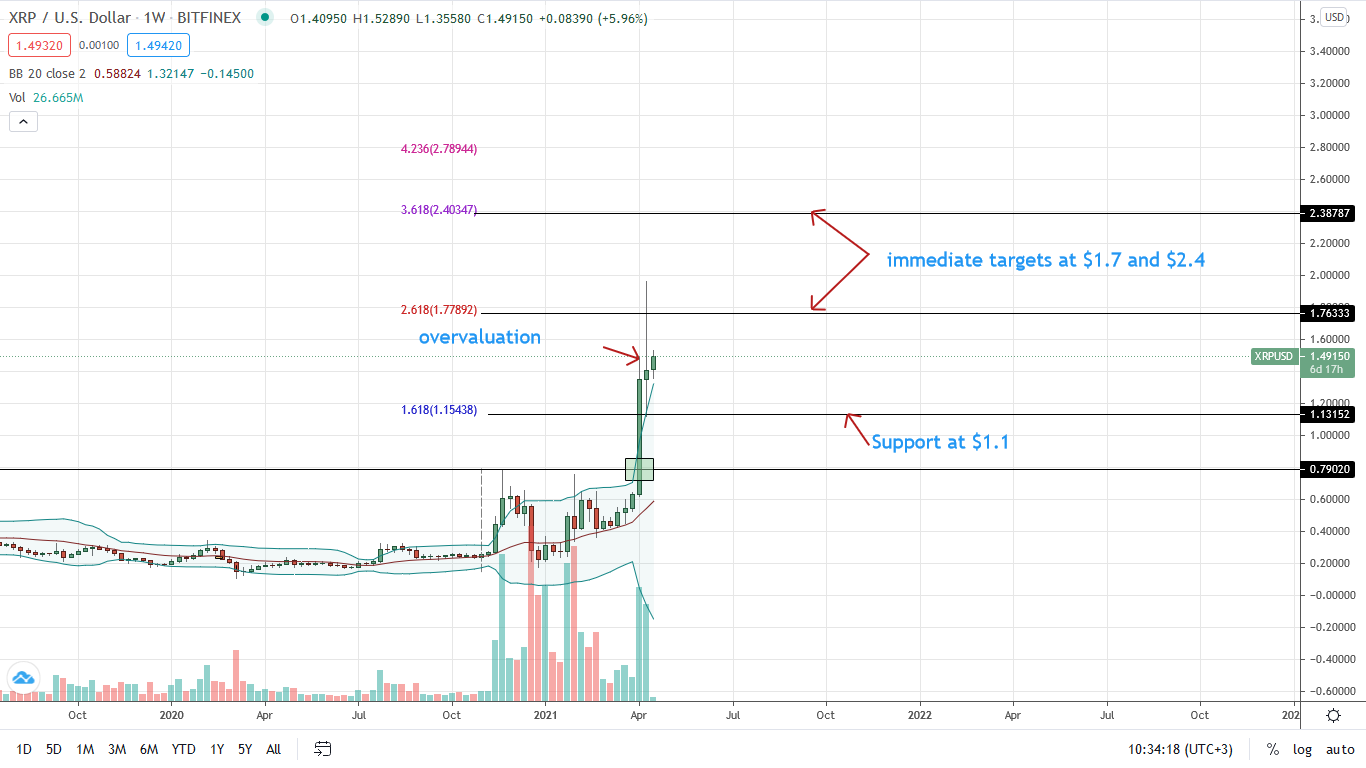 The Ripple price, over the weekend, cratered, losing 15 percent on Apr 18 before recovering to spot rates above $1.45.
Last week's bar closed with a long upper wick and an inverted hammer pointing to liquidation in lower time frames.
However, what's interesting is the sharp rebound in the early Asian session. Nonetheless, despite the optimism around Ripple and the progress of the case, XRP appeared overvalued if candlestick arrangement leads. The inverted hammer of last week closed above the upper BB.
This is a rare pattern.
Therefore, for the correction of this over-valued and stretched XRP price, odds of the XRP/USD falling in light of the triggers of Apr 18 in the next few weeks are high.
From now on, every pullback higher could be a selling opportunity for aggressive bears. In this regard, XRP sellers can target $1.1 and $0.80, the 1.618 Fibonacci extension level of the 2018-2021 trade range, and Q1 2021 highs, respectively.
Sharp gains above last week's highs nullify this outlook.
Chart Courtesy of Trading View
Disclosure: Opinions Expressed Are Not Investment Advice. Do Your Research.