The ongoing lawsuit and SEC's claims of classifying Ripple's native currency, XRP, as a security temporarily shredded the coin's valuation.
Ripple's Valuation at Pre-SEC Levels
A few days before SEC suing Ripple and core members of its board of directors, XRP was trading at around $0.60. It was boosted by ongoing developments around the Flare Network and the probability of adding XRP as collateral in the fast-evolving, disruptive DeFi ecosystem.
Fast-forward, two weeks later and after the bombshell pronouncement, XRP's prices slumped to as low as $0.17 at some point in December.
As if that wasn't enough, several exchanges, among them, Coinbase and Binance, said it was suspending the trading of the digital currency until after the case is settled and clarity found. Less than four months later, though, the XRP price has recovered, paring losses versus the greenback and it back to early December 2020 valuation.
The Ongoing SEC Case Favoring Ripple?
Trading at over $0.65, the coin is perched at seventh in the market cap leaderboard. Interestingly, at this valuation, Ripple—the blockchain-based remittance company, has also severed its relationship with MoneyGram and has the upper hand against the SEC.
They have successfully forced the agency to submit documents and other communication materials used to examine and classify ETH and BTC as utilities.
Ripple lawyers assert that XRP bears the same characteristics as the two and isn't an investment contract that whose ownership signifies a share of Ripple's revenue.
Ripple Price Analysis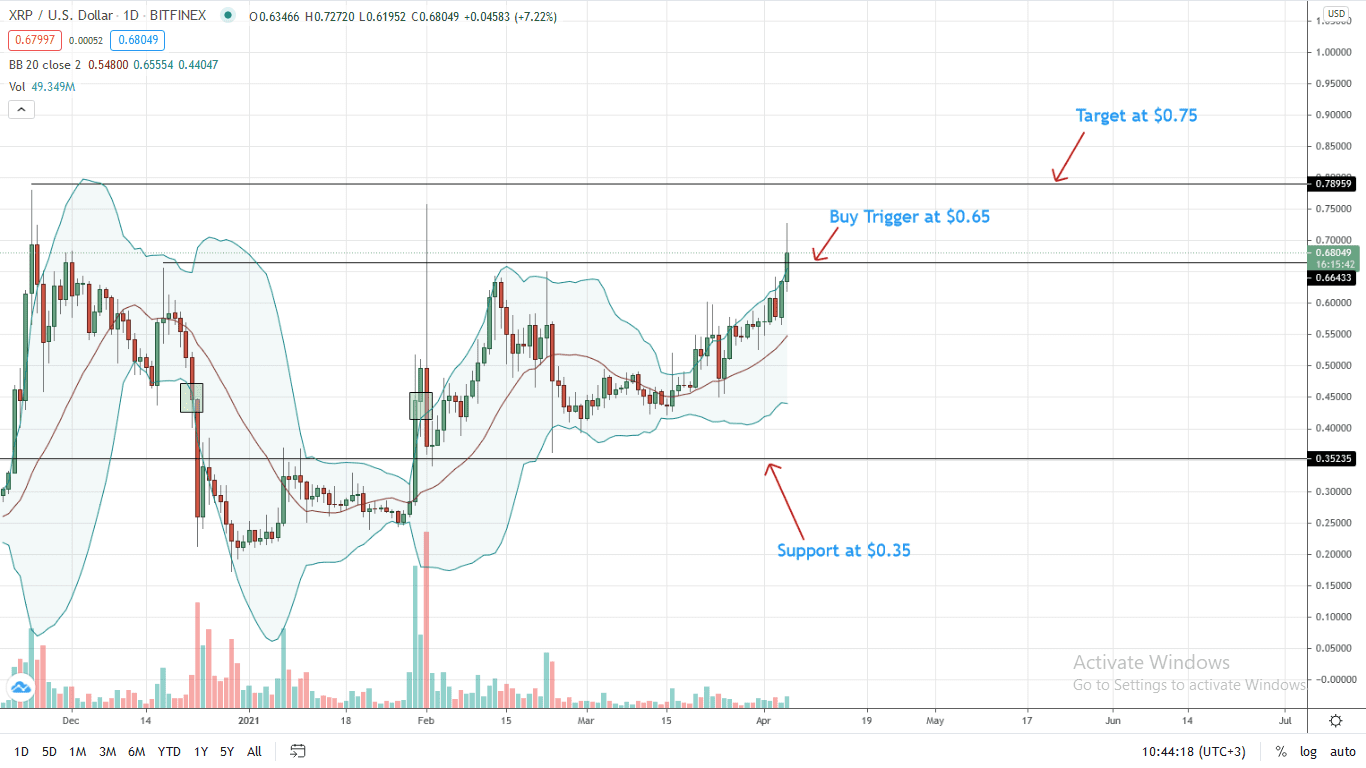 Week-to-date, the Ripple price is up a massive 25 percent, buoyed by solid fundamentals.
From the daily chart, XRP bulls have shaken off late March losses and are grinding higher on increasing volumes.
Ripple buyers are firmly in control after early Apr 5's super gains above $0.65. The mark is a reliable sell-wall that has been broken, laying the foundation for the XRP/USD price soar to $0.75—unwinding late Feb 2020 losses and retesting 2020's highs.
Accordingly, with firm fundamentals, aggressive traders might find an opportunity to buy the dips with targets at $0.75. Already, candlestick arrangement and alignment along the upper BB suggest strength and rising momentum.
Chart Courtesy of Trading View
Disclosure: Opinions Expressed Are Not Investment Advice. Do Your Research.
---