After weeks of indecision, the Ripple price is stable despite the United States Securities and Exchange Commission (SEC) assertion. Ripple Labs' failure to register with the agency, the SEC claims, meant XRP—a digital asset and cryptocurrency, must be compliant with the US Federal Securities law.
---
It has been catastrophic to holders as the token's price tanked following the agency's decision. Still, Brad Garlinghouse, the CEO of Ripple, has said they will go all heads-out and are determined to win the case that goes into pre-trial conference beginning from late February.
The Ripple-SEC Lawsuit
Even so, considering the glacial nature of legal processes, it is highly likely that hearings will begin in the second or third quarter of the year. From a neutral perspective, the SEC's move is a net positive for the currency since many factors determine the token's pricing.
Even if Ripple owns a big chunk of the token, adopting their products, especially On-Demand Liquidity (ODL), a solution that uses XRP, is paramount.
However, its adoption rate depends on banks that must comply with FinCEN and the SEC's binding laws. The absence of regulatory clarity can spell doom, preventing use in an asset that may be considered a security by authorities.
XRPL for Stablecoins
In separate news, the open letter from the Office of the Comptroller of Currency (OCC), ostensibly giving the green light for banks to issue stablecoins via public chains, presents another opportunity for Ripple Labs.
They are now exploring how the XRPL can be used to issue stablecoins.
Ripple Price Analysis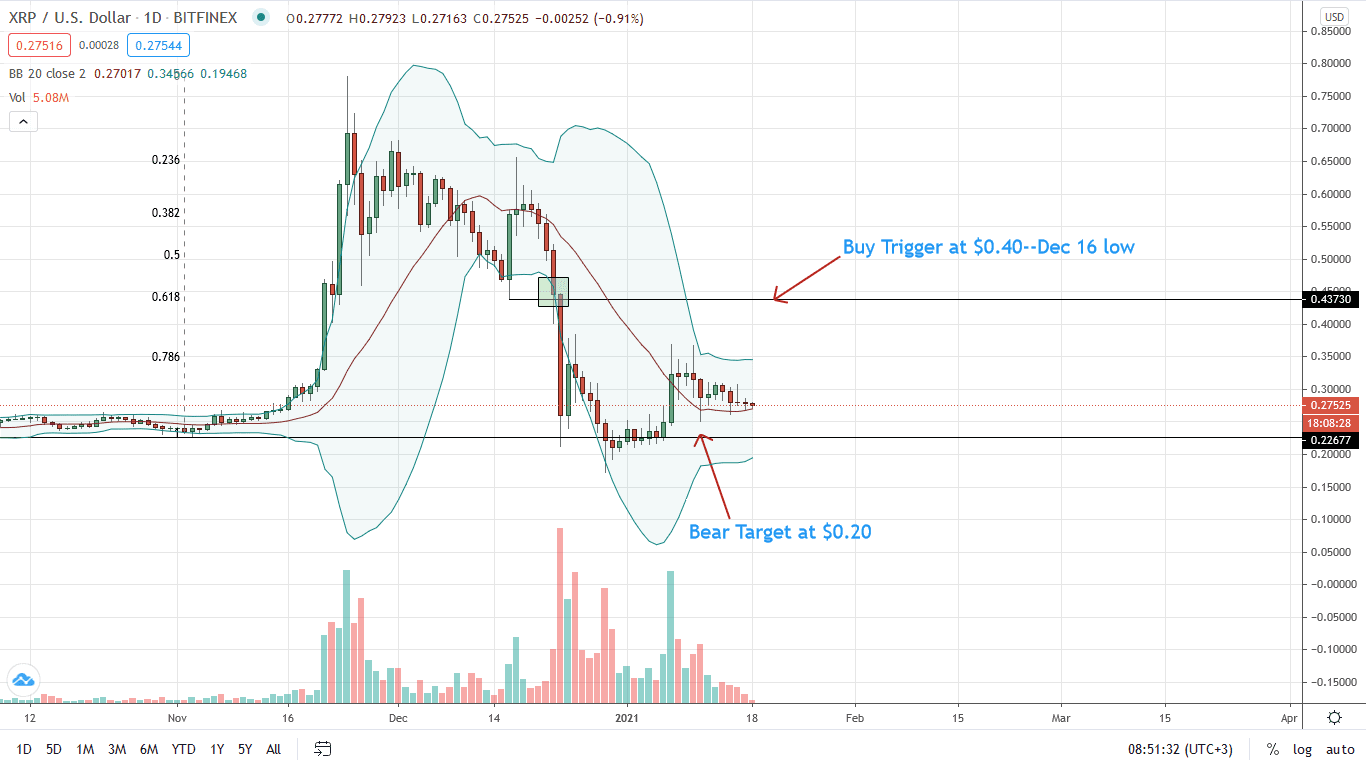 The XRP/USD price remains bearish, printing lower lows for the better part of last week. Week-to-date, the coin is down 14 percent, ranging inside the early January trade range.
Although there are hints of revival in the daily chart, bears are in control. Technically, for XRP prices to edge higher, a close above Jan 7 trade range could see the coin rally to $0.45.
For now, there are odds of that happening since prices are within Jan 7 high low (a bull bar) with comparatively low trading volumes.
From volumes analysis, a close above $0.35 opens up with high trading volumes opens up the coin to highs of the bear bar of Dec 23. If thereafter bulls come on top, blasting above $0.45, bulls may expand towards $0.65 in a bull reversal pattern.
Conversely, sharp losses below 2021 lows of around $0.20 confirm sellers of Dec 23, nullifying bulls' attempts of Jan 7. If participation is high, the XRP/USD price might slump to $0.16.
Chart Courtesy of Trading View
Disclosure: Opinions Expressed Are Not Investment Advice. Do Your Research.
---
If you found this article interesting, here you can find more Ripple news