The Ripple price firm, even though it is sliding versus major currencies like BNB and Cardano who posted massive gains last week. Of note, traders are closely watching how the SEC Lawsuit will pan out.
There are many more months of what promises to be a defining moment for Ripple and other projects that investors are doubtful whether they are utilities or investment contracts.
Ripple Case Entering the Discovery Phase
The case is entering a discovery phase. Odds of settlement before trial, according to SEC and Ripple's representatives, remain low. Accordingly, the case will go to trial, and the two will face each other.
Ripple lawyers have already filed a request for documents to determine what made the agency re-classify ETH tokens as utilities. Unlike Ripple Labs, Ethereum raised funds through an ICO.
Ripple Labs, the official issuer of the XRP coin, didn't crowdfund.
Instead, Ripple builds its business model around XRP, adding the solution to its product offerings. Through its On-Demand Liquidity (ODL) platform, users can instantly send funds across borders and without a middle man.
Mary Jo White: The SEC is Dead Wrong
Meanwhile, there has been positive development with the former SEC chair, Mary Jo White, saying the regulator is dead wrong. She told Fortune that their decision was a blunder in alleging that the U.S. Fintech company was dispensing and selling unregistered securities.
She says:
"There's no way to sugarcoat it. They're dead wrong legally and factually.
Also, that the SEC decided to sue Ripple in December is telling:
"As a former U.S. attorney and SEC chair, you know that when it takes that long to figure out a case, you probably shouldn't be bringing it. It's not something I would do walking out the door."
Ripple Price Analysis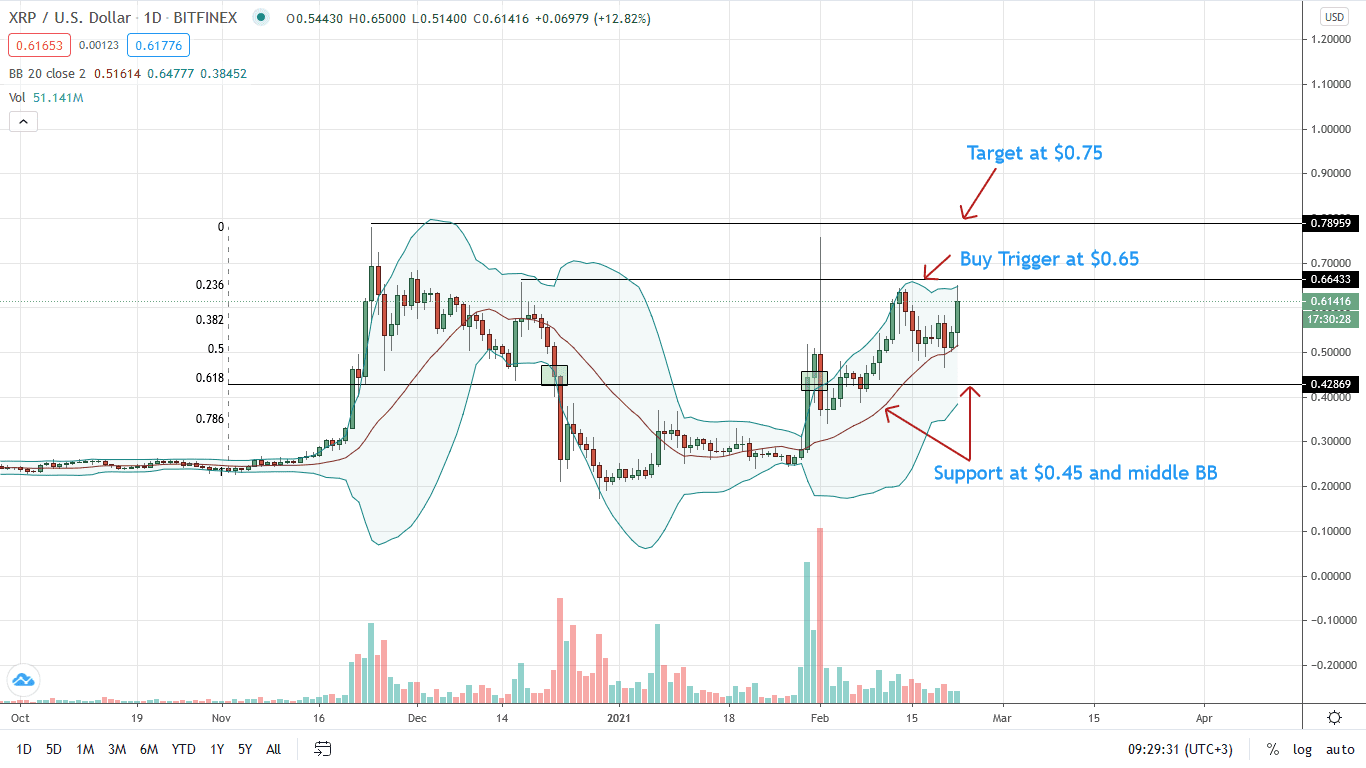 The Ripple price uptrend is firm, adding 16 percent on the last day versus the greenback.
XRP/USD prices are, nonetheless, in range mode, held within a $0.20 zone with caps at $0.65 and $0.45 on the lower end.
However, from the chart, $0.65 remains a resistance and the buy trigger. On the lower end, the choppy price movement finds support at the middle BB, the 20-day moving average. The flexible support line has been shoring bulls for the last three weeks.
For bears, a break below the 20-day moving average and $0.45 may see XRP/USD prices dip to $0.30 in a retest.
Consequently, that will confirm the bears of Feb 1 and the inverted hammer of Feb 1.
On the flip side, a high-volume breakout above $0.65 confirms bulls of late Jan 2021. Immediate targets will be $0.75 and later $0.85. However, buyers' ideal target will be $1 in a move that must be with high participation as XRP prices surge to new 2021 highs.
Chart Courtesy of Trading View
Disclosure: Opinions Expressed Are Not Investment Advice. Do Your Research.
---
If you found this article interesting, here you can find more Ripple news