The Ripple project is multi-faceted. On one hand, it is a full-fledged project providing a base for financial institutions to connect and even send value trustlessly.
Ripple's Remittance Effort Lauded
On the other, it is a for-profit company geared to turn returns for their token holders. While Ripple is distinct from XRPL and Ripple Labs–the issuer of the XRP coin, there are notable connectors that have been a source of debate for a while now.
Still, the CEO of MoneyGram–Alex Holmes, in an interview with CNN's Julia Chatterley, lauded Ripple's efforts in remittance. He said, for their intervention, the money transfer firm is growing, reversing their fortunes.
The XRPL ledger is open source. It is continuously improving because of the community of developers and Ripple Labs.
Focus on CBDC and the XRPL
As a layer for the next-generation Internet of Value, its robustness, decentralization, and security in anticipation for more clients in days ahead matters. Ripple executives have reiterated their objective of being the base infrastructure for connecting banks but also providing solutions for stable coin and CBDC issuers.
This may include central banks trying to try out CBDCs and better manage their monetary policies.
Towards this end, Ripple, in an advert said it was looking to hire a Senior Director for Central Bank Engagements in their efforts to carve out market share in the potent CBDC space.
One of the Director's roles is to "define and lead Ripple's strategy with central banks, build relationships with and educate central bankers around the world" while also "securing and managing partnerships with central banks to build and deploy projects."
Ripple Price Analysis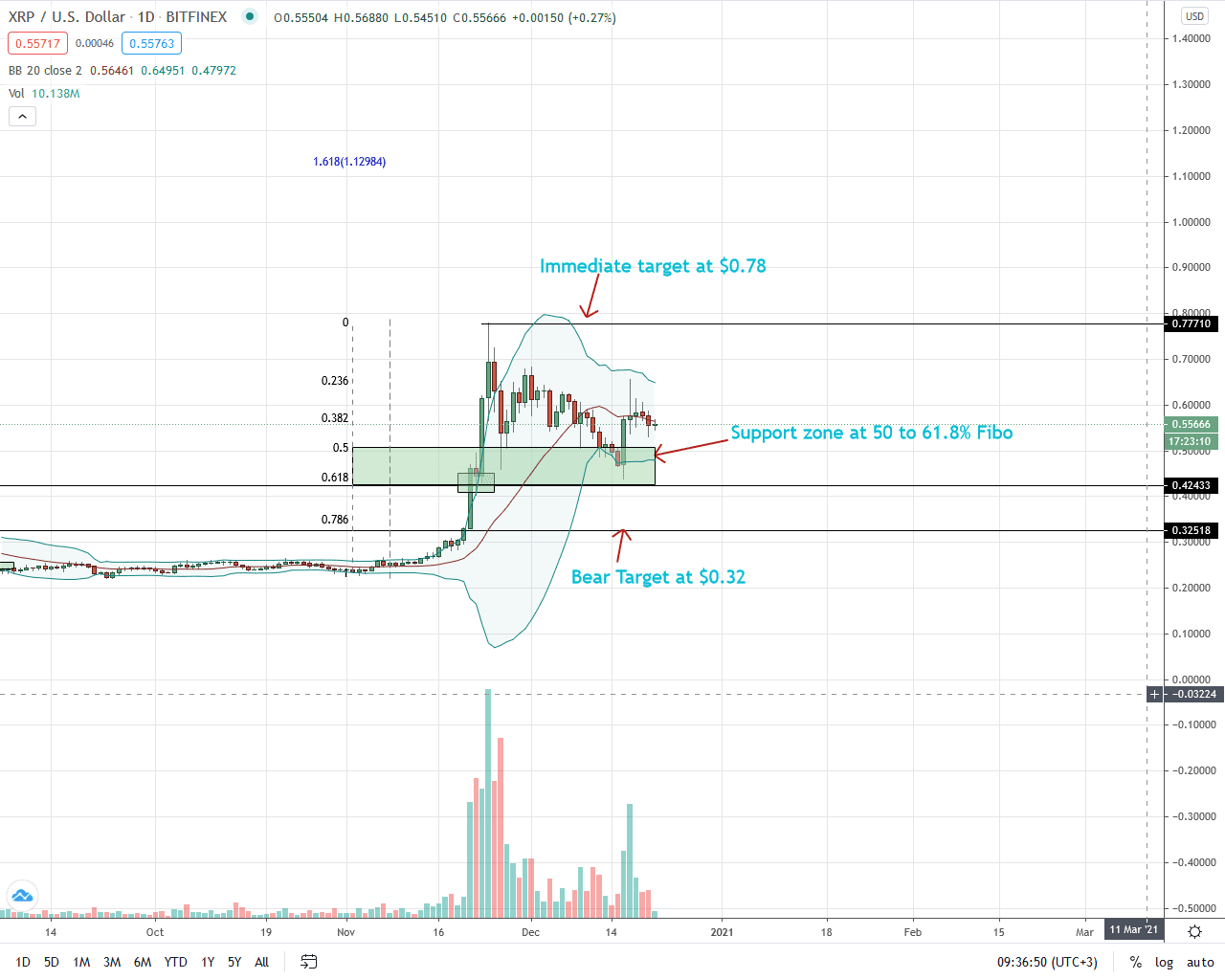 The Ripple price is down three percent on the last day, but up nine percent in the last week of trading.
From the daily chart, the path of least resistance is northwards.
After a period of lower lows, bulls are flowing back. Evident from the daily chart is a sharp reversal from the support zone. The bull bar of Dec 16 was noticeable with high trading volumes confirming a double bar bullish reversal pattern. Furthermore, the swing high was from the 50 and 61.8 percent Fibonacci retracement level of the November 2020 trade range.
As such, every low is potentially a loading opportunity in the immediate term. Buyers–as long as prices are trending inside Dec 16 bull bar, can ramp up with the first target at $0.78—the November 2020 high.
A sharp reversal below Dec 16 lows, complete with high trading volumes, will invalidate this bull projection.
Chart Courtesy of Trading View
Disclosure: Opinions Expressed Are Not Investment Advice. Do Your Research.
---
If you found this article interesting, here you can find more Ripple news