For Ripple believers, it has been two months of pain. The XRP price tanked from over $0.75, sinking to sub $0.20 before recovering to spot rates.
Behind this is the case brought forth by SEC's lead, Jay Clayton, at the tail-end of his tenure. That XRP, in SEC's assessment, is a security, came as a shocker to Ripple, causing weak hands to liquidate their holdings.
At the same time, exchanges scrambled, declaring that they will be suspending the trading of XRP until there is regulatory clarity. This may happen at a tentative time in 2021 or next year, depending on how fast the SEC and Ripple's lawyers battle it out.
The Court-Case Matters for XRP and Crypto
This court case will ultimately guide clients who want to trial a new payment system away from SWIFT–which is slow and relatively expensive although dominant and used by more than 11k banks.
Specifically, the integration of XRP in their operations and On-Demand Liquidity (ODL) would propel prices higher since the token is designed to facilitate near-instantaneous capital flow.
A Regulatory Dawn?
There are changes with Joe Biden taking over from Donald Trump. The former president was a crypto critic, following his comments after Facebook laid out Libra plans—a project that's since been downsized and renamed.
However, with Gary Gensler heading the SEC, Dr. Janet Yellen leading the Treasury, and former Ripple executive Michael Barr likely to take over at the OCC, odds of better regulatory clarity on matters crypto in the next four years is highly likely.
Ripple Price Prediction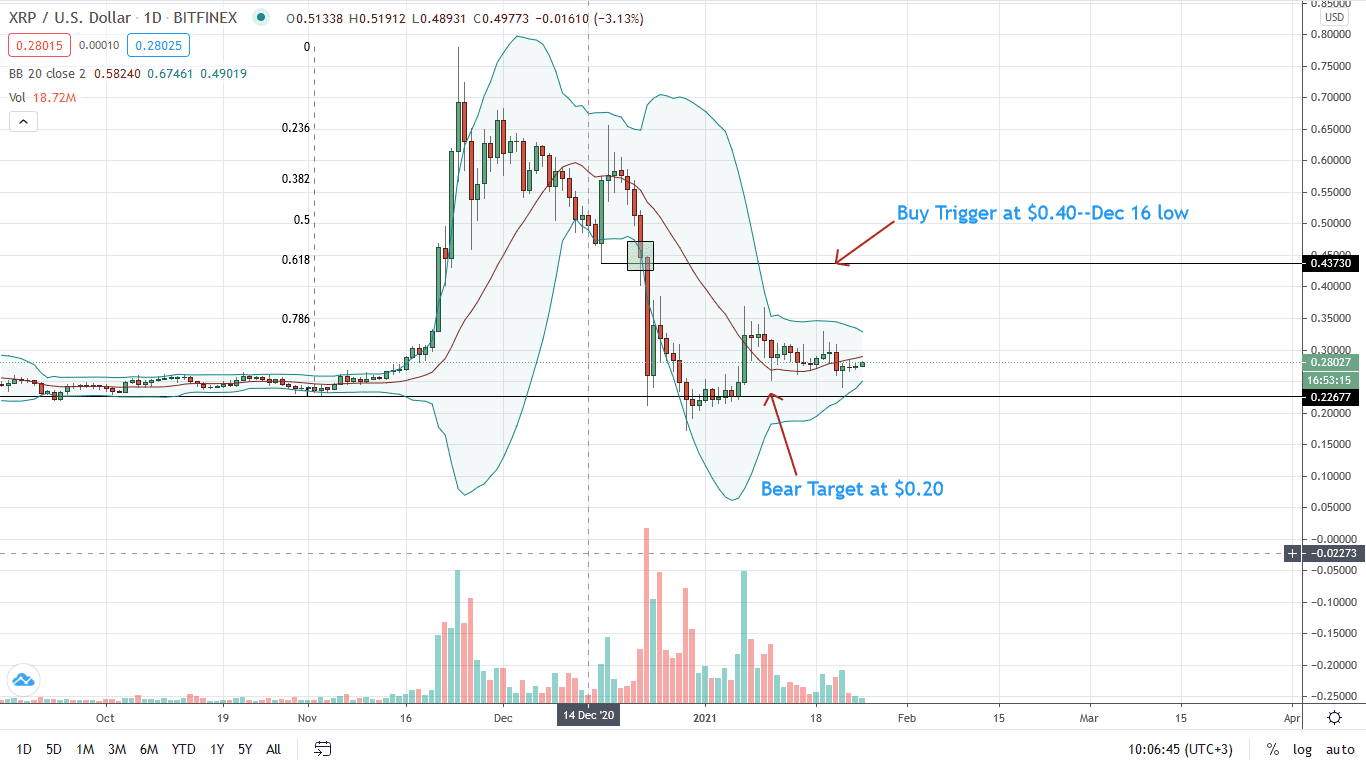 The Ripple price continues to range, moving within inside Jan 7 bull bar.
While the fundamentals and the uncertainty weigh negatively against XRP, technical candlestick arrangement suggests strength.
From an effort versus effort point of view, buyers are in the immediate term in charge. Still, this will largely depend on the breakout direction. Whether Jan 7 buyers will be successful in unwinding losses or bears of Dec 23 will flow back, compounding XRP holders' losses.
In any case, a break above the current consolidation at around $0.30 and Jan 7 high of $0.35, ideally with high trading volumes, will support buyers aiming at Dec 23 highs of $0.45.
Conversely, losses below $0.25 and Jan 25 low of around $0.23 will confirm bears of Dec 23. The XRP/USD price may sink to as low as $0.17 (Dec 2020 lows) in a trend continuation pattern.
Chart Courtesy of Trading View
Disclosure: Opinions Expressed Are Not Investment Advice. Do Your Research.
---
If you found this article interesting, here you can find more Ripple news