The Ripple price is stable above $0.50 but slowed down by determined bears.
Although the crypto trading atmosphere is changing after sustained periods of lower lows, several fundamental factors could fast-track the revival of XRP prices from the current pits.
Ripple on a Winning Streak
Chief among that is the possible revival of prices if the U.S. Judge determines Ripple to be on the right and XRP is a utility, not as the SEC judges.
So far, Ripple is on a winning streak as the judge, on several occasions, has favored the blockchain-based company.
On Thursday, William H. Hinman was ordered by Judge Sarah Netburn to answer several questions as public interest in the ongoing court case is high.
Furthermore, there are significant policy decisions that the case tags, consequential for the markets.
Former Corporate Division Head of the SEC Deposed
Comments from William, who was the head of SEC's Corporate Division, will illuminate the reasoning behind some of the agency's policy trajectory, especially those touching around the classification of digital assets.
Although there are no official communications, SEC officials mainly classify Ethereum as a utility even though it minted coins, selling them to the public to fundraise their development efforts.
Ripple lawyers point out the agency's bias when they classify XRP as investment contracts and not ETH, which raised funds by offering its coins to the public.
Ripple Labs, the issuer of XRP, didn't conduct an ICO but transferred a big chunk of its coin to Ripple–an independent company that promotes the adoption of the XRPL.
Ripple Price Analysis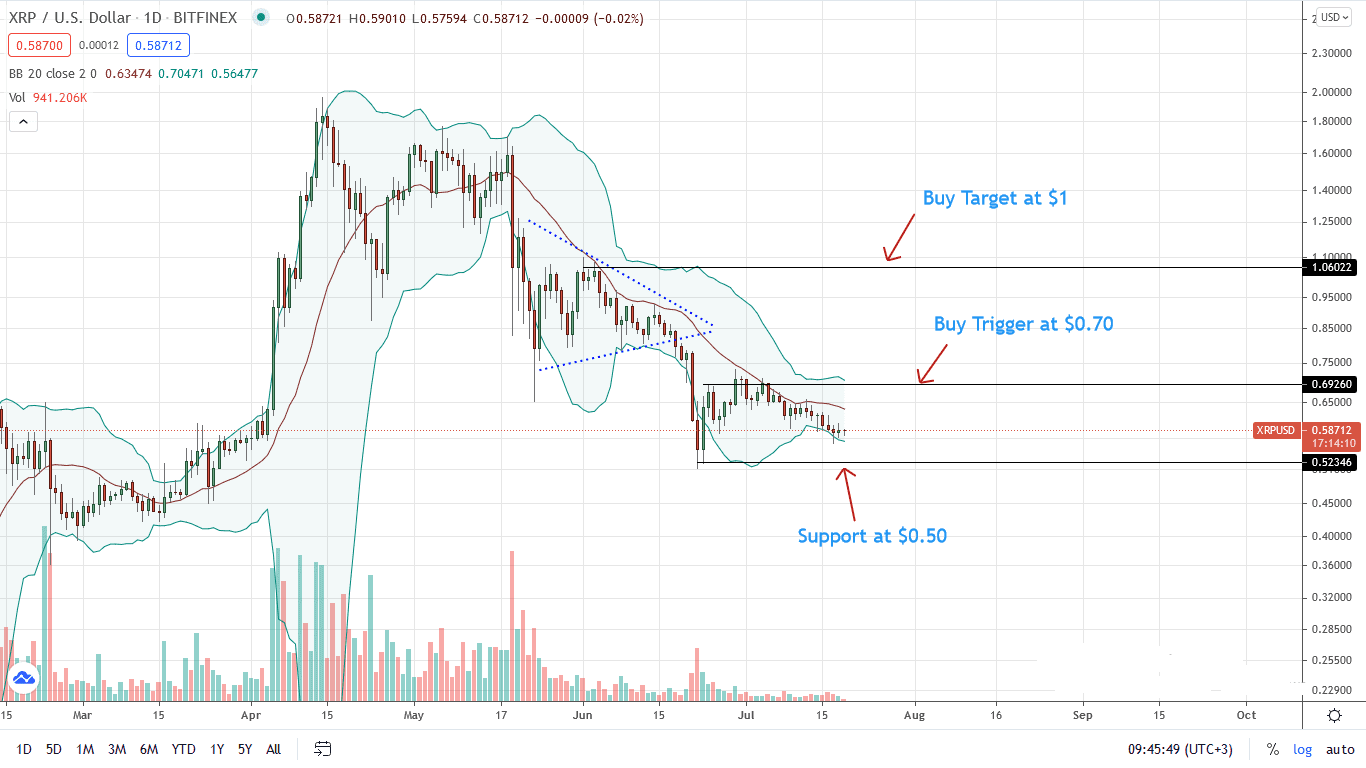 XRP is down seven percent on the last week of trading, caving in to selling pressure.
Notably, XRP prices are below the primary resistance line—the middle BB. Since mid-May, this has been the situation when XRP tanked below the 20-day moving average, marking the peak of the H1 2021 rally.
However, since XRP/USD prices are trending above $0.50 and prices are posting higher highs relative to the lower BB, there could be loading opportunities in lower time frames. This position is further cemented by the failure of sellers to unwinding gains of the double-bar bullish reversal pattern of June 22 and 23.
Ideally, a close above $0.70 would signal demand and a possible expansion to $1. In light of the current situation, aggressive XRP bulls can load the dips targeting $0.70, aware that losses below $0.50 invalidate the uptrend, opening up XRP for a possible drawdown to $0.40.
Technical charts courtesy of Trading View
Disclaimer: Opinions expressed are not investment advice. Do your research.
---
If you found this article interesting, here you can find more Ripple news