The future of finance is interoperable and open. That's why Ripple is working with government regulators on different fronts for the actualization of this objective.

The Role of Regulation
Aware of the role Distributed Ledger Technology (DLT) will anchor in the future and how central banks will play a crucial role in a new and modern global infrastructure through Central Bank-Backed Digital Currencies (CBDC) ensuring continuation from the legacy system to the digital sphere, Ripple and its partners from the University Blockchain Research Initiative (UBRI) and the National University of Singapore (NUS) now say only interoperability is the cornerstone of long-term success.
The digital sphere, must, therefore, include a link that connects the traditional to the digital.
Explaining in a recent webinar, Ross Edwards, the Ripple Global Head of Client Solutions said:
"If we consider the big, long-term picture of CBDC, currencies will be digital…this will allow for more efficient payment systems, greater financial inclusion, and increased utility with new, innovative services. If a Central Bank doesn't have a long-term holistic strategy for CBDCs, they risk the future prominence and relevance of their currency, both domestically and internationally."
Ripple Use-Case in the Trillion-Dollar Forex Market
In a separate interview, Breanne Madigan, the Global Head of Institutional Markets said Ripple and Bitcoin serve different niches of the market.
While users can benefit from the store of value aspect of Bitcoin, the high throughput of the XRPL can serve as a use case in the multi-trillion-dollar Forex Market.
Underpinning the XRPL is the XRP that Asheesh Birla also is their main focus for 2021. According to the General Manager, their primary focus next year will be to aggressively market the solution.
Ripple Price Forecast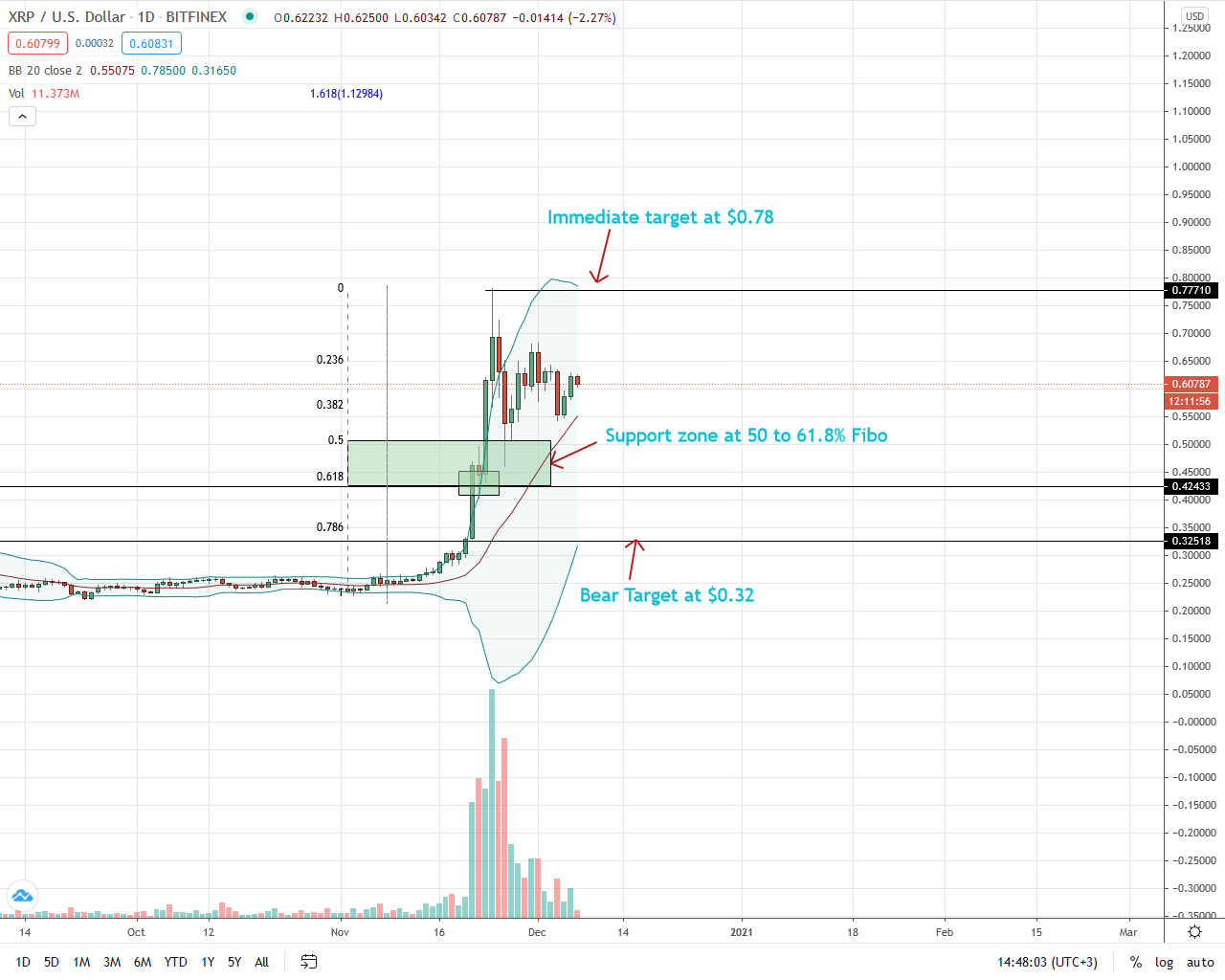 The Ripple price is consolidating. Trading within a 13 cents range with caps at $0.68, bulls are in control.
At the time of writing, the Ripple price is stable on the last day of trading but slightly down week-to-date, losing two percent.
From the daily chart, regardless of the ranging price action, every low is a loading opportunity for aggressive traders.
As long as prices are trading above the middle BB and above the 50 percent Fibonacci retracement level of the Nov 4 to Nov 24 trade range, bulls are in control. From the Fibonacci extension tool, the first bull target at the current arrangement is the $1.20—the 161.8 percent level.
However, this will only be possible if there is a break above the immediate resistance of $0.68, opening doors for $0.78—Nov 2020 highs. Ideally, the break above $0.78 ought to be with high trading volumes increasing odds for a rally to $1.
Preferably, the breakout volumes should exceed those registered on Nov 24 (data from Bitfinex)
Chart Courtesy of Trading View
Disclosure: Opinions Expressed Are Not Investment Advice. Do Your Research.
---
If you found this article interesting, here you can find more Ripple news