The performance of Ripple in the daily chart is decent. Nothing impressive thus far, but buyers are encouragingly inching higher, closing October on the stronger feet.
This strength could stem from the general state of the crypto market, the solid Bitcoin, and individual fundamental events influencing XRP prices.
At the time of writing, XRP is steady versus the greenback.
Although prices are consolidating, Ripple bulls are overly solid, rejecting any bearish pressure as per the daily chart's XRP/USDT candlestick arrangement.
Ideally, a close above $1.20 would most likely be the base for a move higher. Before then, the resistance against selling overtures in the past few days means there are opportunities for savvy, bullish traders.
Is it Time for Coinbase to Re-List XRP?
Already, there are hints of XRP expanding in the days ahead. The comment from Coinbase CEO Brian Armstrong that the ongoing court case between Ripple and SEC is turning out better than expected has been interpreted positively.
The Ripple case seems to be going better than expected. Meanwhile the SEC is realizing that attacking crypto is politically unpopular (because it harms consumers). https://t.co/ePLnbqNLwU

— Brian Armstrong (@brian_armstrong) October 26, 2021
Brian said the SEC is beginning to realize that attacking crypto is politically unpopular.
Days after the SEC declared XRP as an investment contract, Coinbase suspended the XRP trading. Other exchanges followed suit, shaving the total liquidity of the coin.
However, this would change if Ripple prevails over the agency in a possible settlement. This would ultimately be a big boost for the coin, even lifting it above immediate resistance.
Ripple Price Analysis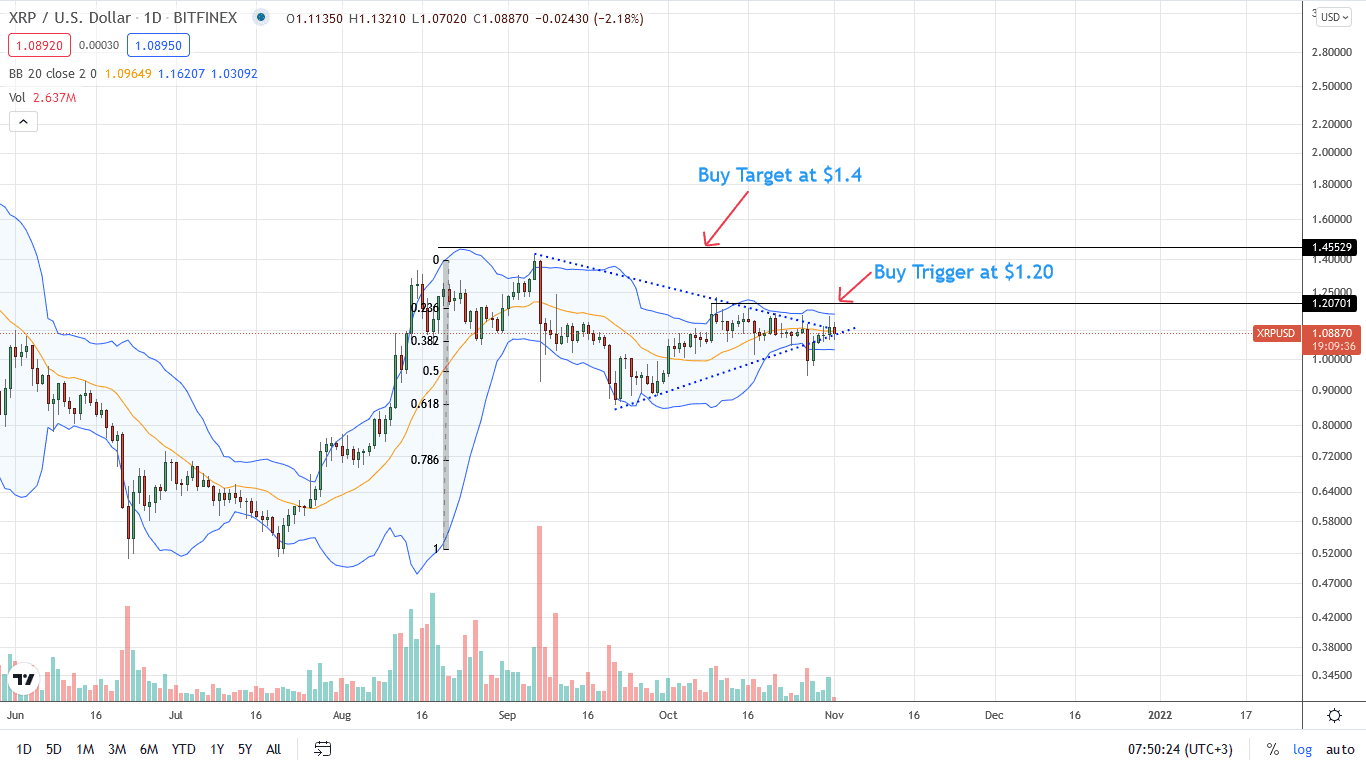 The XRP price is stable versus the greenback when writing though bullish week-to-date.
As per the daily chart's XRP/USDT technical analysis, there are attempts of higher highs. The immediate resistance line lies at $1.23. Even so, the October 27 bar still defines the short-term trend.
Notably, Ripple bulls are yet to satisfactorily reverse losses, as visible in the daily chart.
This could nonetheless change if there is a push higher in the days ahead. A close above $1.20 would most likely be a launching pad for a race back to $1.90 in an encouraging buy trend continuation pattern. Ideally, the close above $1.20 should have high trading volumes, exceeding those of October 27. This will nullify bears from an Effort-versus-Results perspective.
Meanwhile, deep losses below October 27 bear bar, rewinding weekend's gains may see XRP crumble back to September 2021 lows of around $0.85.
Technical charts courtesy of Trading View
Disclaimer: Opinions expressed are not investment advice. Do your research.
---
If you found this article interesting, here you can find more Ripple news