The Ripple price is relatively stable, sustained by upbeat bulls expecting the blockchain-based payment company to come on top in the ongoing SEC case.
From price action over the last few weeks, the SEC case is, nonetheless, the main impediment. It is capping bulls even though most Ripple proponents maintain that the regulator is unjustified to press against the efficiency-leaning company.
Thus far, Ripple is perched at seventh in the market cap leaderboard, trailing new entrants like Polkadot.
SEC and Ripple Lawyers to Hold a Conference on Apr 6
However, developments in the last few days are a net positive for the XRP price. For instance, Sarah Netburn, the U.S. Judge, directed Ripple and SEC lawyers to have a "telephonic discovery conference" on Apr 6 to discuss a motion filed by Ripple lawyers on Mar 15.
Therein, Bradley Garlinghouse and Chris Larsen had asked the judge to compel the SEC to provide internal documents that will indeed go on to prove that XRP is a security.
This because of the failure of SEC's lawyers to produce documents as requested by Ripple to determine whether BTC and ETH, two leading cryptocurrencies, are securities.
Is XRP a utility like BTC?
Already, most officials from leading regulators in the U.S. believe that the level of BTC and ETH distribution makes them utilities.
It is regardless of the fact that Ethereum carried out a successful ICO where proceeds were used to build the platform.
On the other hand, Ripple and XRPL are working on decentralization. Like BTC, they didn't conduct an ICO.
Ripple Price Analysis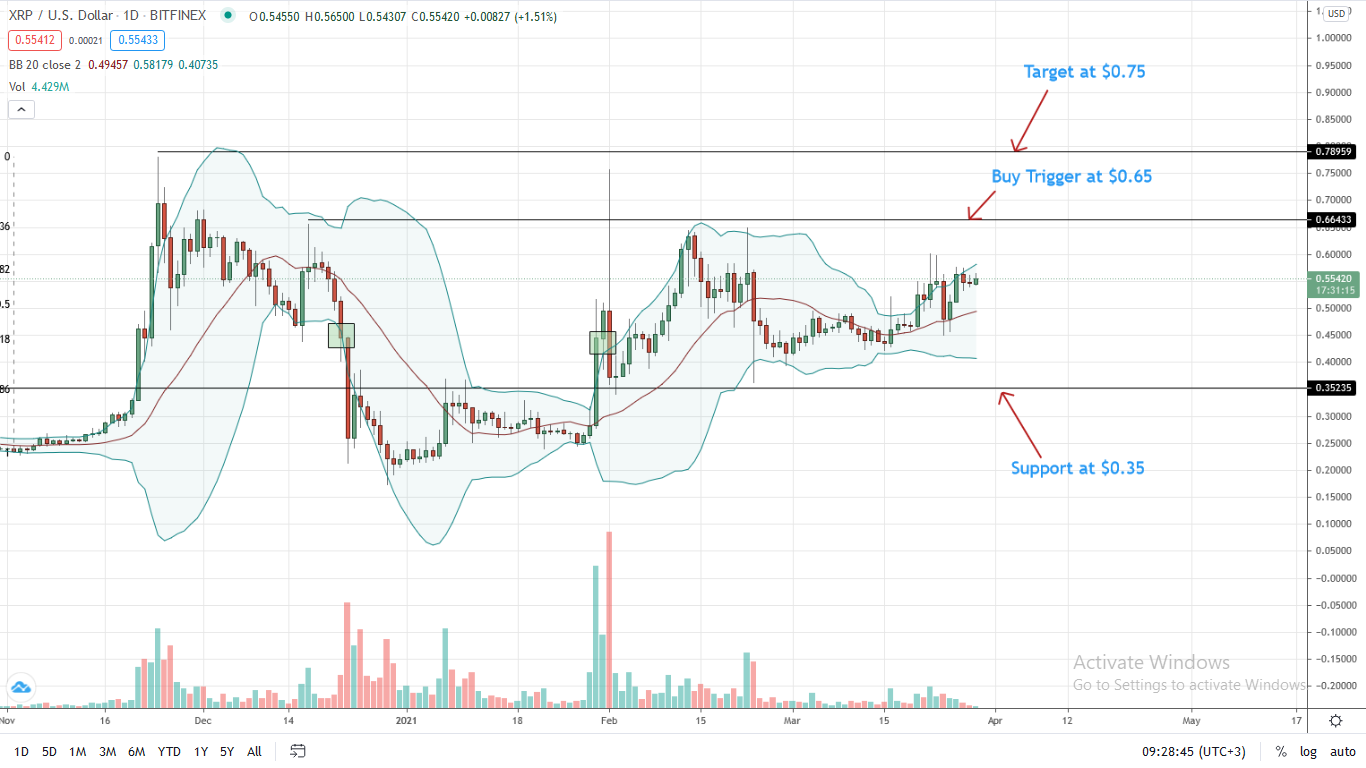 The Ripple price is firm, stabilizing versus the USD and adding 10 percent in the last week of trading.
From the daily chart, the XRP/USD price is "all over," consolidating within a narrow $0.18 zone with caps at around Mar 2021 highs of $0.60. Even still, buyers are still not in control.
The recent wave of higher highs has relatively low trading volumes compared to those of late Feb 20201.
Besides, buyers haven't successfully thrust XRP/USD price above $0.65—the immediate resistance level and buy trigger. Eventually, a close above $0.65 confirms the presence of buyers and could see the XRP/USD price rally to $0.75—2021 highs and $0.80—Sept 2018 highs.
On the flip side, support is at $0.42—Mar 24 lows. It is the immediate sell trigger. If XRP/USD prices collapse below this mark, sellers may push prices towards $0.35.
Chart Courtesy of Trading View
Disclosure: Opinions Expressed Are Not Investment Advice. Do Your Research.
---
If you found this article interesting, here you can find more Ripple news