Leading Asian cryptocurrency exchange OKEx has finally published the very first updates regarding its crypto withdrawals. In a sudden announcement on their official blog, OKEx revealed that it plans to reopen unrestricted withdrawals by November 27. As a reminder, the exchange has previously suspended withdrawals on October 15.
The blog post reveals that a private key holder of the exchange's main funds has been assisting authorities in the past weeks during an ongoing investigation. Now that the investigation ended, the holder has returned to his normal business routine and is able to support and confirm withdrawals on OKEx. Moreover, the exchange claims that the investigation concluded that OKEx has not taken part in any illegal activities, as rumors claimed.
With everything becoming normal again, OKEx plans to enable withdrawals again by November 27. While the withdrawal function may go online before then, OKEx shared next Friday as the last date for doing so. Before reopening withdrawals, the OKEx security team will conduct a strict security check of the hot wallet system to ensure the safety of user funds. The exchange repeats that it maintains 100% reserves of all its deposited funds, reminding users that they can withdraw all of their assets if they wish.
As a token of gratitude and to reward all users who decide to keep trading on OKEx, the exchange will launch a loyalty program. OKEx will reveal the details concerning the rewards campaign in the next few days.
"OKEx has many years of experience safely operating digital wallets, assets, and transactions with no major security incidents. We maintain our commitment to ensuring that OKEx will always be a transparent and credible blockchain services company."
OKEx reminds traders of its 'unhackable' hot wallet system
In the announcement, OKEx also reiterated the functioning of its hot wallet system that backs the exchange's funds. In the schema below, we can see that user funds are protected by a series of risk management systems and multi-signature services. This system includes multiple big data risk management systems and other notable protection mechanisms which ensure complete safety.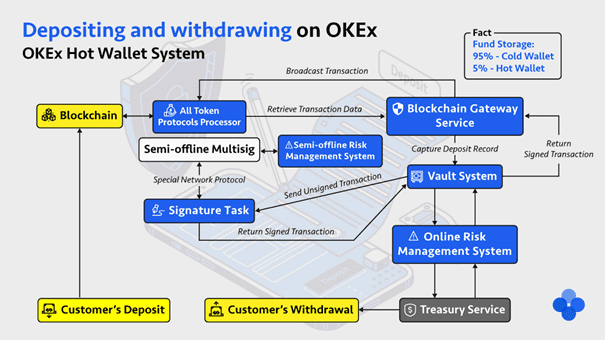 While the hot wallet system is sufficiently complex to protect the exchange's wallet in the event of a hack or an employee attempting to steal funds, the team has failed to foresee specific scenarios. In this case, OKEx was unable to reach a major private key holder and was not able to provide a contingency plan for this situation.
Due to that reason, the team decided to temporarily disable all withdrawals until the situation is resolved. Now with the private key holder becoming available again, OKEx is ready to function again in its full capacity.
In previous weeks, users have continued to use the exchange despite being unable to withdraw any funds. The community has even seen considerable whale activity, with anonymous individuals depositing thousands and thousands of Bitcoins. We presume that these whales had insider information and that they were reassured that the exchange would continue functioning again in the near future.
As a reminder, markets have severely reacted to the first news of disabled withdrawals in October. Following the original announcement, Bitcoin fell almost by 3%. Moreover, the native OKEX token has also plunged by 15%. Nevertheless, both cryptocurrencies have recovered ever since. We also note that in the case of OKEx, Bitcoin has reacted far less drastically compared to news of CFTC's court case against BitMEX.
---
If you found this article interesting, here you can find more Blockchain and cryptocurrency news