Blocknet and NIX
Privacy, speed, scalability and smart contracting capabilities. Those are features that most blockchains strive to provide but in futility. However, at NIX platform, the project leaders are after serving the needs of the cryptocurrency community.
Amazingly, NIX never had an ICO like most blockchain projects. Presently, they have a partnership with Blocknet.
In their arrangement, Blocknet has developed their DEX API on the NIX platform which is a next generation, private centric and multi-layered, scalable platform from which anonymous dApps can be operated from, private swaps can be done and more importantly, smart contracts can be ran from.
Flare, Ghost Protocol and Hardware Wallet
Unique, in NIX there is even an option of further privacy with addressless transactions thanks to the Ghost Protocol that is easy to use, incorporating a Ghost Vault and 2-way Ghosting.
Additionally, NIX has a partnership with Flare and in Q2 2019, they released the first version of the Flare multicurrency hardware wallet. The wallet has high reliability and security packed meaning the user has full control of their keys all the time.
Privacy Swap Proof of Concept
They followed that up with a privacy swap proof of concept which was announced in late Aug 2019. Therein, the team successful swapped KMD and NIX pairs, and demonstrated to the world that true private DEX coin swap is possible thanks in part to the Ghost Protocol.
NIX/BTC Price Analysis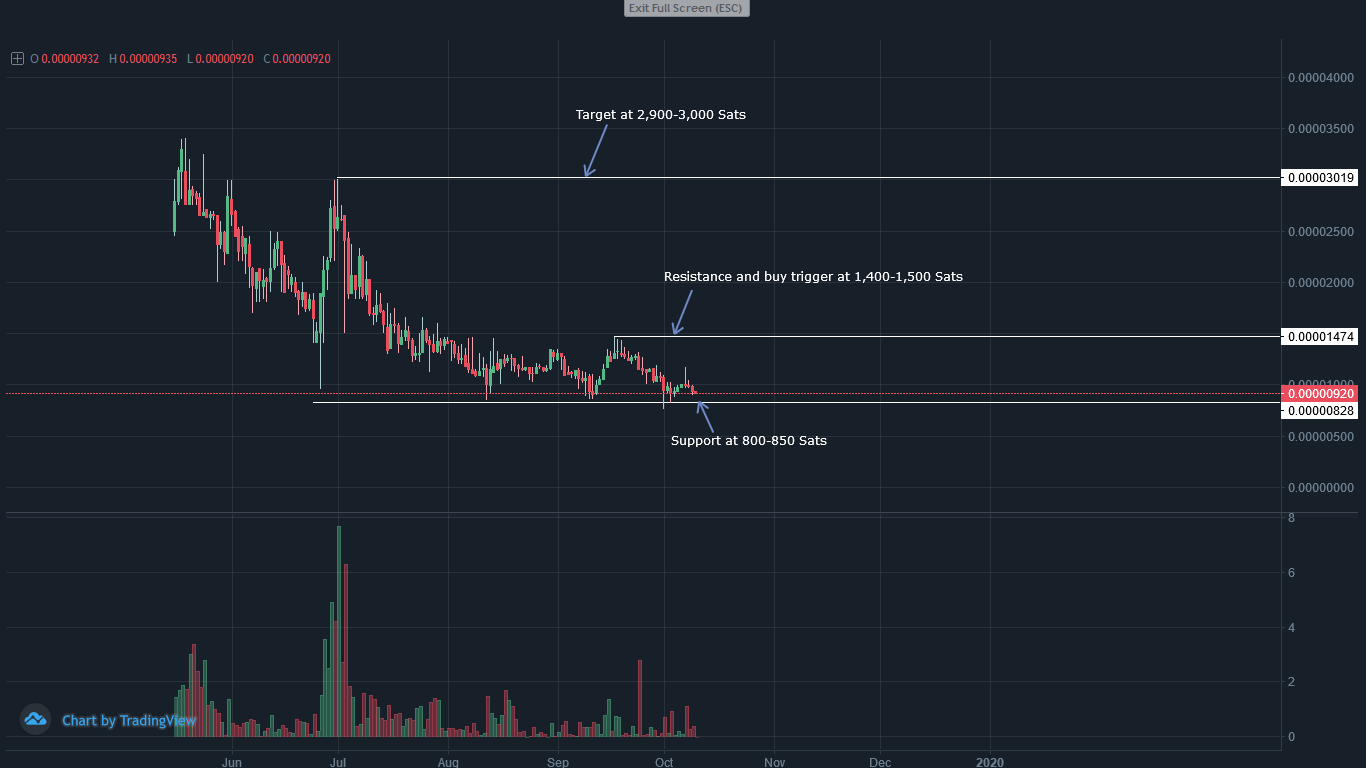 Trading at 7 cents against the USD, NIX is up 5.6 percent in the past 24 hours. However, the performance against ETH and BTC is abysmal. In the last week for example, the NIX is down 9.2 and 3.4 percent respectively.
Even so, NIX is largely consolidating against the BTC. As mentioned in previous NIX/BTC price analysis, the best course of action is patience. That means waiting until either NIX surge past the immediate resistance at 1,400-1,500 Sats before placing buy orders with first target at 3,000 Sats, or prices tumble below 2019 lows at around 800-850 Sats.
If the latter is the case and it prints out at the back of high trading volumes ideally exceeding 2.8 BTCs, then NIX could slide to new all-time lows as BTC bulls wreak havoc to NIX.
Conversely, and it is ideal, it would be a reprieve if there is a rebound from spot levels to July highs.
Chart courtesy of TradingView-KuCoin.
Disclaimer: Views and opinions expressed are those of the author and is not investment advice. Trading of any form involves risk. Do your research.