Privacy Concerns
Even supporters of Bitcoin are a tad bit wary about the privacy of the network. That's why there are rapid developments around Schnorr Signatures, Tap Root and others. Of course, it will be amazing if all these are accomplished in the world's most valuable digital asset platform. Already, attempts to improve throughput via off chain solution has, despite criticism and security concerns, fairly successful.
Why NIX?
However, there is also an opportunity for investors and privacy-centric investors and companies to leverage a network that has been designed to be private from the very beginning. Truly decentralized and scalable with privacy smart contract integration, sidechain utilities and easy to use, NIX is also steady on their roadmap.
Privacy Coin Swap Activated and Automated
Four months after successfully integrating the Sigma Protocol, a privacy set that is completely trustless, private and scale over and above other privacy protocols in the network, NIX, together with the Flare team, in their proof-of-concept, has successfully demonstrated what they described as the "first automated privacy swap ever made" between the NIX and KOMODO pairs.
By leveraging NIX's Ghost Protocol inside Komodo's AtomicDEX, transactions will be completely untraceable and making privacy coin swaps a reality. Further, with this demonstration, the Ghost Protocol can now be used for DEX trading.
An extract from NIX's Medium post read:
…NIX's automated Privacy Swap technology introduces an intermediary swap which is conducted through the NIX network and allows users to break cross chain address history linkage.
NIX/BTC Price Analysis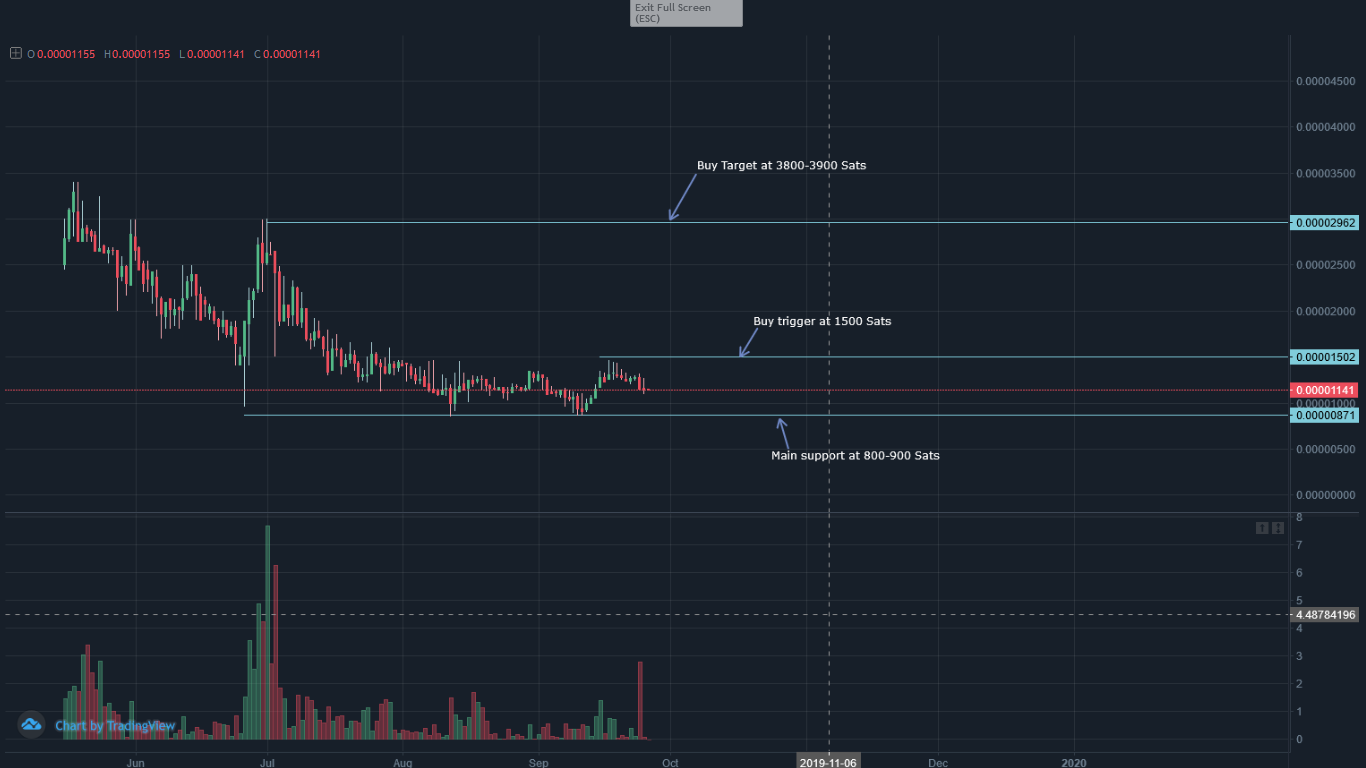 NIX is impressively steady against BTC and stronger than ETH in the last week. Even so, it has registered sharp, double-digit losses against the USD within the same period. NIX is in range mode against the BTC, and moving inside a 700 Sats zone, bears have the upper hand in the immediate term.
Of note is the spike in trading volumes-around 2.8 BTCs on Sep 24. Although prices have since absorbed that, it could set the ground for more sell pressure. Even so, as prices range, the best course of action is to stay on the sidelines.
Aware that price surge above 1500 Sats would spur demand for NIX with first target at around 3800-900 Sats, any high-volume dip below our support zone at 800-900 Sats could see NIX print new 2019 lows against the BTC.
The way the chart is set up suggests that NIX could find support at around 1000 Sats, failure would see NIX dip to 900 Sats in a bear trend continuation phase triggered by Sep 24 ecstatic demand for BTC.
Disclaimer: Views and opinions expressed are those of the author and is not investment advice. Trading of any form involves risk. Do your research.