Sigma, Ghost Protocol and Off-Chain Governance
NIX means privacy, scalability and interoperability. It is fast, secure and supports anonymous dApps. In fact, with NIX, there is private and anonymous swapping of supported coins. There are even options of adding what the platform describes as the "best in-class privacy layer to any blockchain".
But it doesn't end there. NIX is the first Proof-of-Stake blockchain to implement Sigma into the Ghost protocol. That meant more usability, security and scaling capabilities.
Sigma is a ZK privacy protocol whose integration with Ghost meant a 94 percent reduction of on-chain block sizes and the removal of a trusted set-up previously needed in Zerocoin.
Note that this is a month following the launch and implementation of the off-chain governance beta. The Off-chain governance is a structure that will actively support the funding of active invested stakeholders in the NIX platform.
FAFT's Travel Rule Could Force Exchanges to Delist Privacy Coins
However, all this could mean nothing if regulators are forced by a claim by Financial Action Task Force's (FATF) that criminals are moving from the actively monitored Bitcoin to privacy coins. However, according to David Jevans, the CEO of Cipher Trace, criminals are actively using popular coins, and not privacy coins, because of their brand and ease of cashing out.
His company found that 95 percent of what is considered criminal is actually executed via privacy coins, not BTC and ETH. He therefore warns that any effort by regulators to deanonymize will have unintended consequences, pushing activity to mainstream privacy coins.
FATF are exerting pressure on exchanges to delist privacy coins due to Travel Rule that requires exchanges to collect data details.
NIX/BTC Price Analysis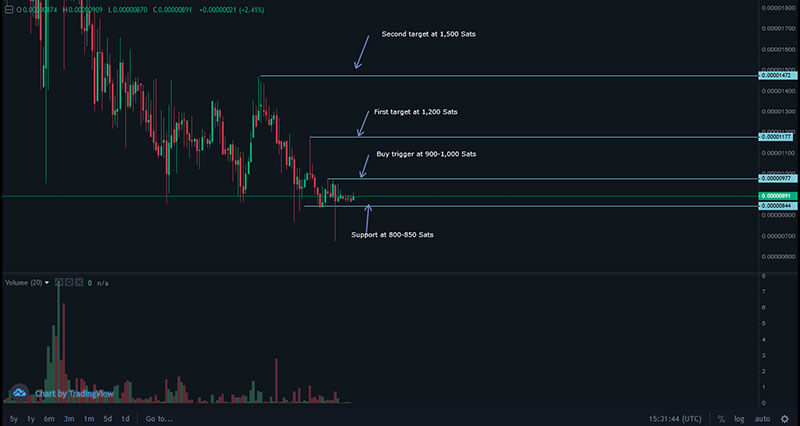 At the time of writing, NIX is in a down trend. At $0.057241, the coin is down double-digits against the USD, BTC and ETH. Notable is that it is capitulating against the BTC, down 89 percent in the last year.
With light trading volumes in the last weeks, prices are largely unchanged. On average, NIX/BTC draws less half than 1 BTC at KuCoin but on Oct 17, the huge bear candlestick with a long lower wick indicating bulls drew 1 BTC in trading volumes and is therefore the anchor bar.
Unless otherwise prices edge and a close above the immediate resistance level with high trading volumes-exceeding 1 BTC- after a week of accumulation, bears are in control. For new 2019 lows, NIX bears must force prices below the 800-850 Sats support line with above average participation as price action syncs with Oct 17 liquidation.
On the other side, triggers above 900-1,000 Sats round number should trigger the first wave of buyers aiming at 1,200 Sats and even 1,500 Sats.
Before these trade conditions are met, the best course of action is for traders to hold their triggers and exercise patience.
Chart courtesy of Trading View-KuCoin
Disclaimer: Views and opinions expressed are those of the author and is not investment advice. Trading of any form involves risk. Do your research.