Through a partnership with OpenNode a payment-processing platform running on Lighting Network, a new Political Action Committee group supporting Andre Yang in his presidential candidacy will be accepting bitcoin donations. By partnering with OpenNode, PAC can take advantage of lighting wallets to receive Bitcoin donations from donors for far lower fees. OpenNode charges only 1 percent as processing fees compared to credit card entities, which charge four times higher.
Although scheduled to run for only 21 days, the PAC made up of a dozen Bitcoiners will be making history as the first platform that affects presidential elections. To succeed in their new endeavour, PAC just launched Humanity Forward Fund (Humanity FWD). Through Humanity FWD, PAC hopes to receive any amount of donations without any hurdles.
"Through super PAC, presidential candidate Andrew Yang will receive large amounts of donations without locking out individuals who want to support his candidature with the little that they have." Afnan Rahman CEO OpenNode. "Furthermore, PAC allows all the donations sent to go into the actual donations kitty rather than go to offset miner fees."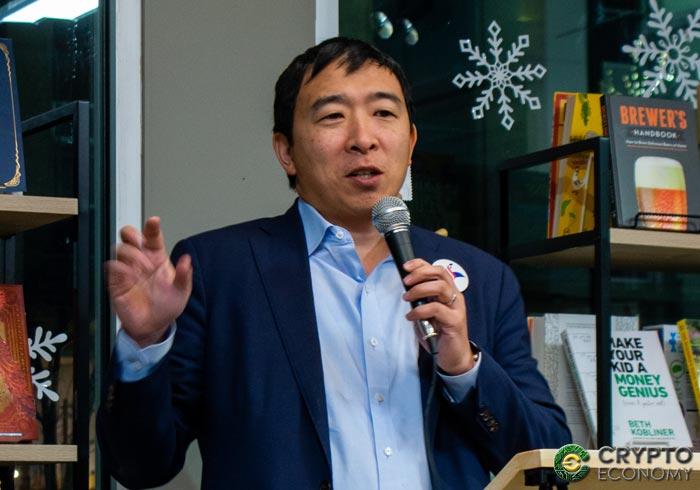 PAC Will Only Accept Bitcoin Donations in 21 Days
Although donors only have 21 days to send in their Bitcoin contributions, donations in fiat currency will still be accepted via the platform. However, the group hasn't decided how they will handle the amounts once received. It hasn't been determined if Bitcoin received will be converted into fiat immediately or not.
While the above opens up doors to receiving donations in Bitcoin, it also comes with some regulatory requirements. Regulations in place will require PAC to record and keep updating Bitcoin's volatility data for every donation. While Yang goes on with his campaign, his sentiments about the crypto sector are positive and might lure some crypto enthusiasts into supporting him. Per info on his website, he promises to advocate for proper regulations to bring clarity in the sector to help promote innovation in the space.