Cryptocurrency prices witnessed a sharp drop after Binance signed a nonbinding agreement to buy FTX's non-U.S. unit to help cover a 'liquidity crunch' at the rival exchange, in a stunning bailout that raised fresh concerns among investors about cryptocurrencies.
The global cryptocurrency market cap tumbled 8.73 per cent in the last 24 hours to $899.69 billion. However, the total trading volume rose about 69.19 per cent to $199.66 billion. Bitcoin (BTC), Ethereum (ETH) along with top crypto tokens were trading in the red. The Binance FTX deal triggered a bloodbath in the crypto market with cryptocurrency giant FTX's native token FTX Token (FTT) dropping nearly 75 per cent.

Bitcoin Tumbles to $17
According to CoinMarketCap, Bitcoin (BTC) declined more than 10.43 per cent over the last 24 hours to currently trade at $17,710. The bellwether token tumbled down from its psychological level of $20k sending affecting the entire crypto market. BTC fell 11.35 per cent over the past 7 days. However, Bitcoin's dominance noted an increase of 0.62 per cent over the day to 39.18 per cent.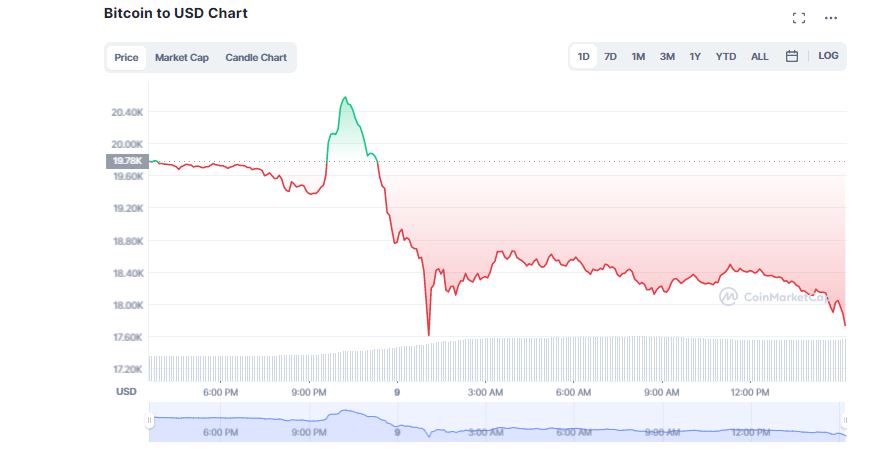 Edul Patel, CEO and Co-founder, Mudrex said,
"Bitcoin reached a yearly low at $17,166. Despite the US Fed's interest rate increase, BTC has maintained an impressive performance by keeping the bar above the $20,000 level, but it dropped significantly on Tuesday."
The Crypto Market Swims in Red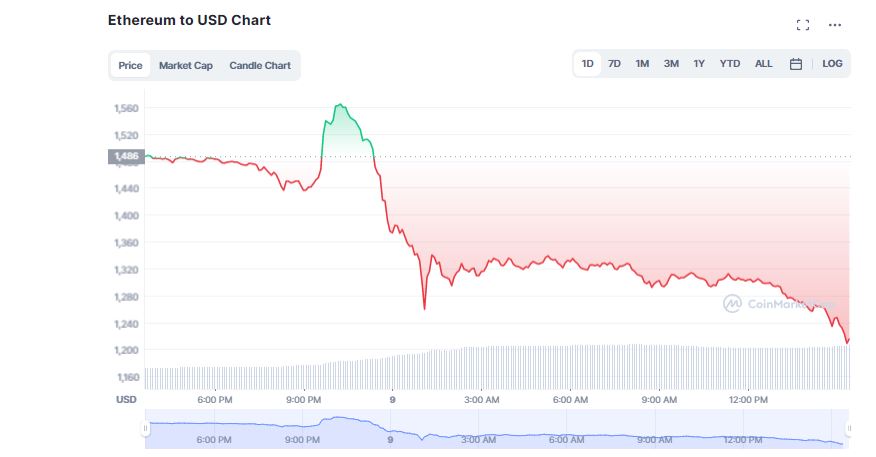 On the other hand, Ethereum (ETH), tanked more than 15 per cent over the last 24 hours to $1,263. The second largest cryptocurrency fell more than a massive 19 per cent in the last 7 days. It seems Binance's takeover of Sam Bankman-Fried's FTX amidst worries over FTX's liquidity and solvency problems raised questions about the health of their balance sheet as they had repeatedly borrowed their own FTT token as collateral. In a statement, Sathvik Vishwanath, Co-Founder, CEO Unocoin noted,
"The Binance FTX deal has sparked contagion worries that again spooked investors after a year of crypto contagion due to the collapse of the Luna ecosystem."
Meanwhile, major altcoins recorded double-digit losses in the past 24 hours, reacting to the moves made by FTX and Binance. Solana (SOL) shrank a whopping 37.64 per cent in the last 24 hours to $17.72. In the same time frame, Polygon (MATIC) fell more than 21 per cent.
Popular memecoins Dogecoin (DOGE) and ShibaInu (SHIB) fell 17.61 per cent and 10.92 per cent, respectively. Other crypto performance also declined as Binance USD, Avalanche, Tether, XRP, Terra, Tron, Litecoin, Uniswap, ApeCoin, Cardano, Stellar, Chainlink, Polkadot prices were trading with cuts over the last 24 hours.

Binance FTX Feud Rattles Crypto
Several experts were stunned by the sudden move raising new concerns about the risks investors face in the crypto market. The deal comes after the in-house token of crypto exchange FTX slumped, losing one-third of its value and dragging down other considerable digital assets, amid talk of pressure on FTX's financials.
This afternoon, FTX asked for our help. There is a significant liquidity crunch. To protect users, we signed a non-binding LOI, intending to fully acquire https://t.co/BGtFlCmLXB and help cover the liquidity crunch. We will be conducting a full DD in the coming days.

— CZ 🔶 Binance (@cz_binance) November 8, 2022
Pascal Gauthier, CEO and chairman of crypto security firm Ledger argued that the move is a legitimate reason to worry noting,
"People have a legitimate reason to worry about the security of their digital assets if one of the world's largest centralized exchanges ends up in financial difficulties."
Dan Raju, CEO of Tradier, a financial services provider and brokerage reiterated that liquidity crunch issues continue to haunt the digital assets industry. He added,
"It's scary to think that FTX, which is one of the largest crypto exchanges in the world, was bitten by liquidity concerns and Binance, their biggest rival, is coming to their rescue. This will make for some strange bedfellows."
Shivam Thakral, CEO of BuyUcoin explained that it was a day of rapid developments for the crypto market as the founders of the world's biggest exchanges Binance and FTX entered into a public spat. He said,
"Binance announced that it would acquire the rival FTX which rattled the crypto market and resulted in Binance-led selling pressure. The investors are unsure if the Binance-FTX deal will go through which led to a larger sell-off across crypto assets."
Following the Binance FTX feud, United States Senator, Cynthia Lummis specified the need for clearer crypto regulations. She remarked the recent events that have transpired between FTX and Binance are the clearest example yet of why we need clear rules of the road for digital asset exchanges in the United States.