Slovenian firm Hranilnica LON will officially become the first regulated bank in the world to sell bitcoin directly from its existing ATMs.
During a press conference on September 25th, LON presented its integrated bitcoin service at its ATMs that are installed and located throughout the country. Thanks to this LON customers can now buy bitcoin directly from their ATMs by purchasing bitcoin coupons.
LON announced:
"Bitcoin coupons from now on can also be purchased at our classic ATMs. We are the first and currently the only ones in the world who can do this."
In most regions such as USA, South Korea, Japan and Europe, bitcoin trading platforms require users to comply with strict Anti-Money Laundering (AML) and Know Your Customer (KYC) policies, complicating the verification process of accounts of bitcoin trading.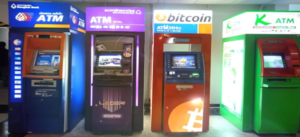 In some countries, including South Korea, the AML and KYC verification processes are significantly more complex and inefficient. South Korea's bitcoin trading platforms require traders to submit relevant bank documents, personal identification and face-to-face interviews to increase daily trading limits.
In South Korea, Taiwan and the Philippines, bitcoin service providers, including Coinplug and Coins.ph, allow customers to purchase bitcoin coupons available at convenience stores such as GS25 and 7-Eleven.
However, the Coinplug and Coins.ph applications that allow users to purchase bitcoin in the form of coupons at convenience stores require users to verify their identities. In contrast, LON allows anyone to use their ATMs to purchase bitcoin coupons without prior verification and complex processes.
LON is an important savings institution in the Slovenian financial sector. The LON announcement of the direct purchase of bitcoin attracted significant media coverage, further increasing the demand for the cryptocurrency.
The Slovenian cryptography market is growing at a rapid pace with friendly regulatory frameworks imposed by the government.
In general, central banks and governments in Europe are very open to bitcoin. In early September, the Bank of Finland issued a research paper that encouraged economists to study the "wonderful bitcoin structure," the world's first truly decentralized and peer-to-peer financial network.
See here Report of the Bank of Finland: Bitcoin is a revolutionary currency system
A growing number of central and commercial banks are beginning to show their optimism and openness towards bitcoin and its technology. As more financial institutions like LON integrate bitcoin into their service schemes and offer services around the digital currency, adoption of bitcoin will increase at a rapid pace globally.