Litecoin Foundation, the non-profit foundation behind one of the leading altcoins by market capitalization Litecoin has partnered with Bibox Exchange as Ternio, a blockchain company to enable cryptocurrency payments through Ternio's debit card. Ternio already provides its users a debit card called The BlockCard, which is a physical debit card.
This partnership will see the three entities launch a special edition BlockCard that will only be available for spending Litecoin [LTC], Bibox's and Ternio's native cryptocurrencies BIX and TERN tokens respectively.
"The soon to be released debit card will enable users to spend the value of their cryptocurrency either online or in physical store locations, anywhere in the world where major credit cards are accepted," a notification by the Litecoin Foundation states.
According to the notification, the special edition BlockCard will be integrated into the Bibox Exchange as well as the official Litecoin wallet, LoafWallet. Through their partnership, the three institutions "want to give crypto holders the ability to spend cryptocurrency with the same ease as traditional credit cards." The new card will be usable across the world where the main payment cards are accepted. Customers will be able to make deposits for all kinds of cryptocurrencies but will only be able to spend the above-stated three cryptocurrencies.
Bibox will reportedly act as the custodian of the customer funds deposited to the BlockCards leveraging its platform that supports more than $200 million worth of cryptocurrency trading volume every day. According to the notification, the card will be launched in the United States before being rolled out to other users outside the US.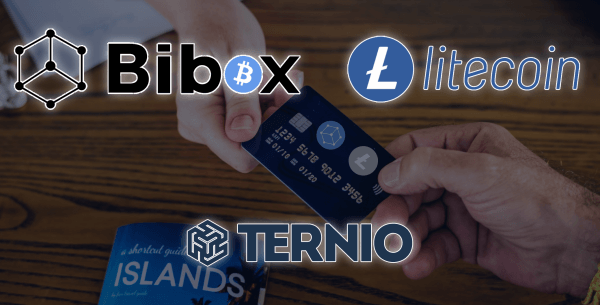 "This is an exciting partnership for us as it furthers the Litecoin Foundation's mission to create more use cases for spending Litecoin in everyday life," said Charlie Lee, the creator of Litecoin and Managing Director of the Litecoin Foundation. "Leveraging Ternio's BlockCard platform with Bibox's exchange engine gives Litecoin holders unparalleled access to use their LTC at merchants around the world."
Aries Wang, the Co-Founder of Bibox was equally as excited by the prospect of the partnership stating that his company has always positioned itself at the forefront of crypto adoption.
"By partnering with the Litecoin Foundation and Ternio we are able to leverage Bibox's robust exchange platform to help bring consumers more options to spend cryptocurrency with unprecedented ease," he added.
The BlockCard adds to the several payment cards that currently support Litecoin and allow users to spend their crypto similar to how the rest of the population uses fiat currencies. Coinbase's Eurozone based payment card is now supported in six European countries and Litecoin is among the supported assets. 2gether, another Eurozone focused payment card and mobile App also supports Litecoin and a host of up to nine cryptocurrencies.