Litecoin prices may be down 65 percent from November 2021 peaks and flimsy at spot rates. However, factoring in fundamentals, proponents are adamant that the coin is undervalued and has far more upsides.
Litecoin has been operational and with 100 percent reliability—like Bitcoin—surviving multiple bear markets while remaining cheaper to transact on, unlike alternative transactional layers than Bitcoin.
Over the past few months, the network has also been a medium for gamers like the LiteBringer. Its developers launched on Litecoin because fees were negligibly low and the network faster, with lower block confirmation times. This feature is attractive for gamers.
The MimbleWimble Extension Block (MWEB) Upgrade
Litecoin developers plan to activate smart contracts and support NFTs via the Omnilite upgrade in the days to come. Following the signaling of the MimbleWimble Extension Block (MWEB) enhancement in late January 2022 to RC, the upcoming upgrade will also include the activation of Taproot, significantly improving Litecoin's privacy and on-chain scalability.
David Burkett, the lead developer behind MWEB, is optimistic that this improvement will make Litecoin even more attractive, drawing in billions in transactional dollars. The network will be more attractive with better scalability, privacy, and integration with third-party platforms, especially in payment.
Notably, over the years, Litecoin has been received positively, finding support whenever BTC is added as a base currency in payment platforms or exchanges.
Litecoin Price Analysis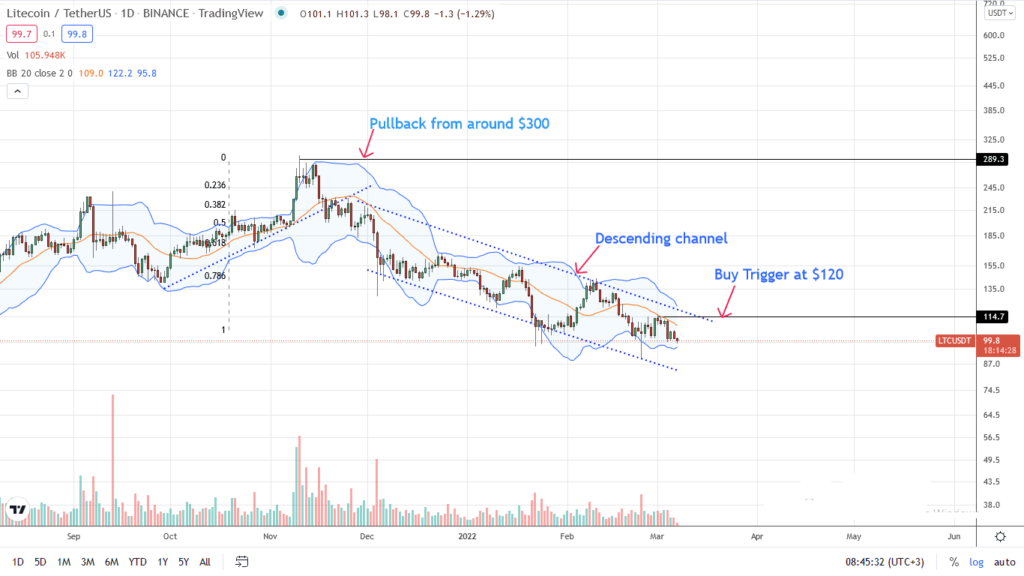 Litecoin is down 65 percent from November 2021 peaks at spot rates and on the brink of crashing below a critical support line at around $100.
There are a series of lower lows along a descending channel with LTCUSDT prices capped within this tight range.
At present, sellers appear to be in control. The coin could post more losses if there is a close below the $100 psychological round number and support—which also flashed with H2 2021 lows.
Risk-averse traders may take a "wait-and-see" approach for trend definition before committing. A close above $120 could see buyers flow back, subsequently driving LTC back to February 2022 highs of $150 in a bullish breakout pattern above the channel.
On the flip side, LTC would likely crash if it falls below $100 towards $70.
Technical charts courtesy of Trading View
Disclaimer: Opinions expressed are not investment advice. Do your research.
---
If you found this article interesting, here you can find more Litecoin news