JPMorgan's 2023 e-Trading Edit asked 835 institutional traders about their plans for the trading of digital assets in 2023. Seventy-two percent of institutional investors, according to the survey, do not anticipate trading crypto in the near future. To put it simply, they aren't fully convinced that this type of trading is right for them.
More Education is Needed?
JPMorgan's e-Trading is a report that analyzes the year ahead and makes predictions for the market based on its experience. As part of the annual e-Trading survey, which covers the most hotly debated topics in the e-Trading world, traders across asset classes and regions will share their views in January 2023.
In general, traders seem to be somewhat skeptical about the year 2023 as a whole. It is predicted that the 'Recession risk' will be the most important factor affecting the markets in 2023. Immediately following is the term 'Inflation', which is closely followed by the term 'Geopolitical conflict'.
As well as this, investors believe that innovative technologies will play an increasingly important role in 2023. Over the course of the next three years, 53% of traders predicted Artificial Intelligence technology will play an important role in shaping the future of trading, followed by API Integration and Blockchain, according to the survey.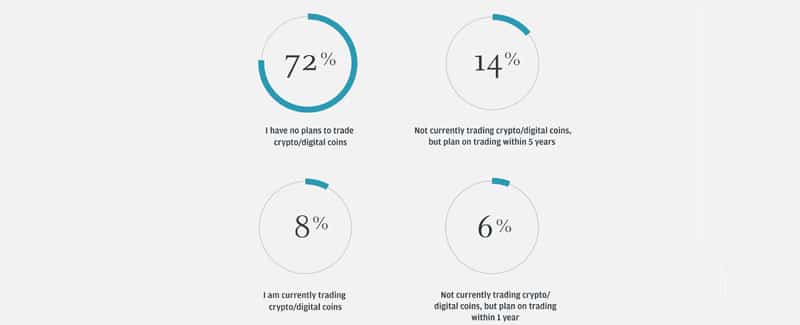 The report also discusses electronic trading as one of the hot topics. There are several sectors in which electronic trading volumes are expected to increase over the next year, followed by 'Crypto / Digital Coins', 'Commodities', and 'Credit', which will see the most growth. Additionally, 100% predicted that electronic trading activities would increase in the future.
With regards to the crypto and digital asset sectors, 72% of traders surveyed said they do not have any plans to trade crypto and digital coins in the near future, with 14% predicting they will be trading in the next five years.
A good portion of the traders in the above statement is optimistic about the long-term value of the crypto market, as shown in the next part of the statement. I think we need more education in the market for most institutional traders since most of them do not have any big plans to enter the market any time soon.
On the other hand, one could argue that it is just a survey from a specific group of people. It is well known that many retail investors are waiting for the bull run before investing in the market because they are more confident that they will be rewarded.