The outcome of the recent legislation in China is still hurting the market, and Chinese exchanges may get hit worse than others. OKEx and Huobi are two of the most prominent exchanges in China.
They have experienced harsh situations after the Chinese government issued some limitations on cryptocurrencies. Some data shows that these two exchanges are losing their market supremacy in the Chinese market. Zzz (@SplitCapital) recently tweeted about this move in the market and thought the aforementioned exchanges are losing their supremacy in China.
Big Changes in the Market Structure
China has always been a great power in the cryptocurrency market. Most of the Bitcoin miners as well as crypto actors are located in this country. The regulations and government news have always affected the market. Although the cryptocurrency market is more decentralized than other financial sectors, the government decisions may result in big changes in it, too. The most part is because traders (mostly institutional) react to regulations and get worried about investing in assets.
The most recent news from the Chinese government came to the headlines some weeks ago and resulted in a kind of market crash. Many miners turned their devices off, and almost all the cryptocurrencies lost value. But the effect wasn't limited to price actions. Financial institutions and cryptocurrency exchanges that mostly served Chinese citizens felt the hit, too.
OKEx and Huobi are two of the most popular crypto exchanges in China. The recent data source from @skewdotcom and published by @SplitCapital shows these exchanges are losing their market supremacy. This information may have many meanings. One of the most obvious ones is that people are migrating from these exchanges because of the worries about regulators. Another data from @SplitCapital, published on Jun 30, shows that OKEx and Huobi are experiencing a decrease in Bitcoin holding while one of their biggest competitors, Bitfinex, is just crushing it. According to the latest tweet:
"There's been a lot of discussion about what China's role in crypto will be in the long run but not enough talk about what's already happened to the market structure. Below is a depiction of OKEx + Huobi's market supremacy across the last 3 months. Losing relevancy fast."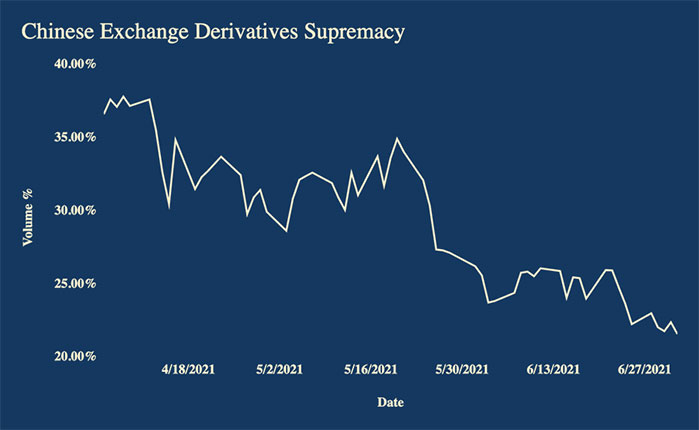 The recent data and report suggest that China's role in the crypto market isn't limited to the price of crypto assets. Although OKEx and Huobi are apparently organizations in jurisdictions outside of China, they feel the effect of Chinese regulations because most of their users are Chinese citizens. All of these create the same question as below that can China affect the crypto market completely and dominate it?
---
If you found this article interesting, here you can find more Blockchain and cryptocurrency news