Latest Ethereum [ETH] News
Months after a lull, Ethereum [ETH] bulls now have to contend with a resurgent competitor. Ripple [XRP] bulls are back—and angling to "flip" Ethereum [ETH] to second place. With a market cap of $24,148 million, Vitalik's platform is $6 billion more valuable that Ripple [XRP] with a market cap of $$18,176 million at the time of press. All the same, both platforms are instrumental to the development of the blockchain as a new, efficient and disruptive tech.
Because of first mover advantage, developers are gravitating towards Ethereum and Solidity, keen on developing the platform and since Vitalik said Ethereum 2.0, aka, Serenity, will be rolled out in a timely manner, the developers are working overtime.
Even so, it is what Serenity represents that Joseph Lubin is raving on. In his view, the eventual launch of Ethereum 2.0 in two years would see the network scale and that means resulting demand could push ETH prices 1000X.
On a deeper level, the deployment of Serenity and Casper is out of necessity. Samsung could launch their token via the platform. Already, Amazon said the network is decentralized and meanwhile, Microsoft through its Azure Blockchain Service looks to assist enterprises create, develop and blockchain services via the Ethereum blockchain.
These three corporations have multi-billion valuations and their decision to settle on Ethereum means more than an eye to see. It is an endorsement, a thumb of approval and for Ethereum [ETH] holders, prices may surge 1000X as Joseph Lubin, an insider projects.
ETH/USD Price Analysis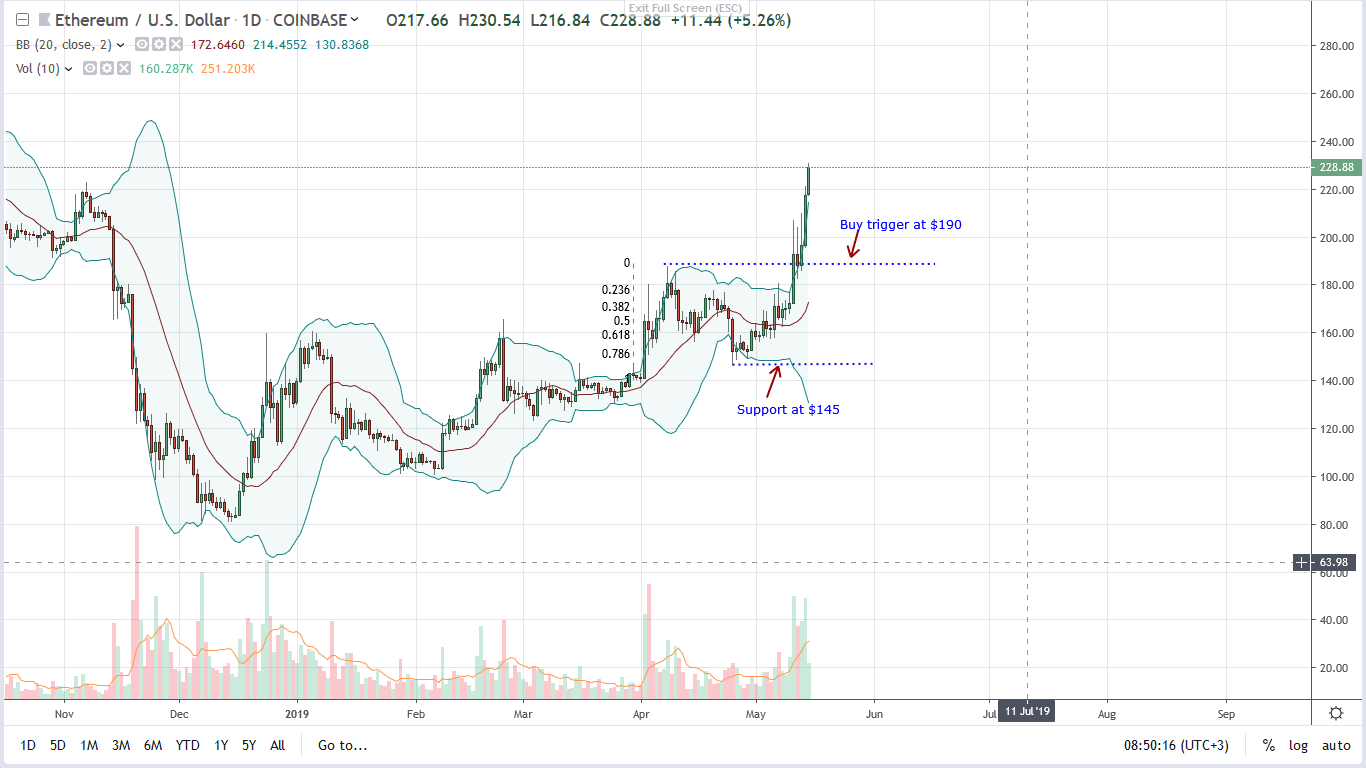 Up 33.9 percent in the last week, ETH is within a bullish breakout pattern after buyers drove prices above $170 and later $200. As a result of this, ETH is trading above Q4 2018 highs cancelling the bear breakout pattern of Nov 2018 meaning buyers are technically in charge.
Unless otherwise there is a slid below the psychological $200 mark towards $170 in a retest, risk-off traders should ramp up on dips with targets at $250 and later $300. After all, behind the past six weeks rally, momentum remains high.
Note that ETH bull bars are banding along the diverging upper BB and firm above $190, our buy trigger level, in a trend continuation phase. Moving on, we expect bulls to step up and unless there is a counter bar erasing enormous gains of May-11 with equally high volumes—458k according to streams from CoinBase, below $170, our upbeat outlook is valid.
Chart courtesy of TradingView—CoinBase
Disclaimer: Views and opinions expressed are those of the author and aren't investment advice. Trading of any form involves risk and so do your due diligence before making a trading decision.