Latest Ethereum [ETH] News
That the platform is more than a smart contracting network is true. Over time, it is increasingly becoming clear that not only is Ethereum a reliable, communal platform where developers can at their volition launch dApps, but it is a platform that governments and regulators have their eyes on.
The US SEC for example gave a clean bill of health reassuring investors that investing on the platform's native coin is not channeling hard-earned money into an investment contract. ETH is indeed valuable and save the economic abstraction question that would deal a blow to the coin, ETH is desirable. It gets better.
The CFTC, the main Option and Futures market regulator agency in the US may be warming up for Ether [ETH] derivatives. Obviously, as funds and entities align themselves in readiness for a regulated product deriving its value on an asset that would probable disrupt traditional set-ups, HNWI and other heavy weights won't pass up the chance.
That is why, analysts argue that ETH is technically undervalued and unlike Bitcoin's futures launched in fever pitch, any nod from the CFTC will be timely. The launch will coincide with a bottoming and a mature market made up of investors who had to weather through the long crypto winter of 2018.
ETH/USD Price Analysis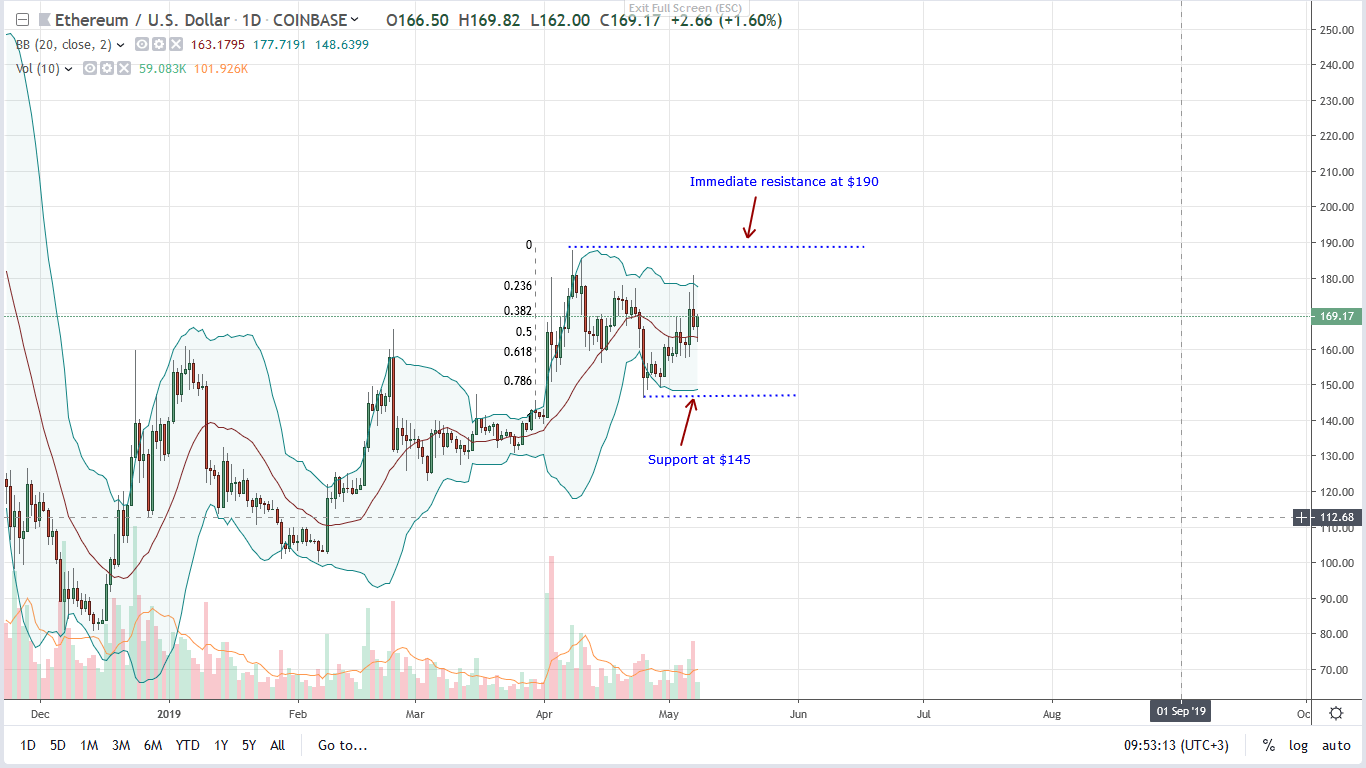 Price wise and Ethereum [ETH] is down 4.4 percent in the last day but still up 5.9 percent in the last week. Still, bulls are yet to build up momentum and comprehensively close above Q4 2018 support, now resistance at $170.
Assuming that happens, then we expect the next wave of higher highs to drive prices above $190 as the market warm up for $250 in the next few weeks. And good news is, it is easy to see why. First, the wave of bulls that drove prices to $190 came under liquidation as ETH retraced towards the $160 zone. Although gains of Apr-2-8 were not wiped, the drop was deep as ETH sunk 78.6 percent according to the Fibonacci retracement tool on Apr-2-8 high low.
But, since there is a strong reaction at that level as bulls flow back, it is likely that ETH will inch higher and ideally, risk-off, aggressive type of traders should aim at $190 or Apr-2019 highs. After that, it all depends on how prices will react at $190. Ideally, what we would like to see is a bull trend continuation towards psychological $200 but pumping prices are high transactional volumes exceeding 160k of Apr-25.
Chart courtesy of TradingView—CoinBase
Disclaimer: Views and opinions expressed are those of the author and aren't investment advice. Trading of any form involves risk and so do your due diligence before making a trading decision.