After an impressive run-up earlier this year, Chainlink [LINK] has failed to demonstrate a promising direction. As a result, the crypto-asset fell out of the leaderboard and was hanging by just one rank in the top 15 by market value.
Chainlink's oracle service has continued to onboard new partners and the integrations have not slowed down. In fact, its popularity has increased considerably this past few quarters. But that has not been reflected in its native token LINK's price action. It was down by more than 12% over the past week and was found exchanging hands at $25.90, at the time of writing.
After slipping a crucial support area of $29 on the 16th of November, LINK saw a significant drawdown as compared to its peer altcoins. Investors have remained stuck below the resistance barrier of $27. As the bearish regime engulfed the market, is a revival nearby?
Chainlink [LINK] Daily Chart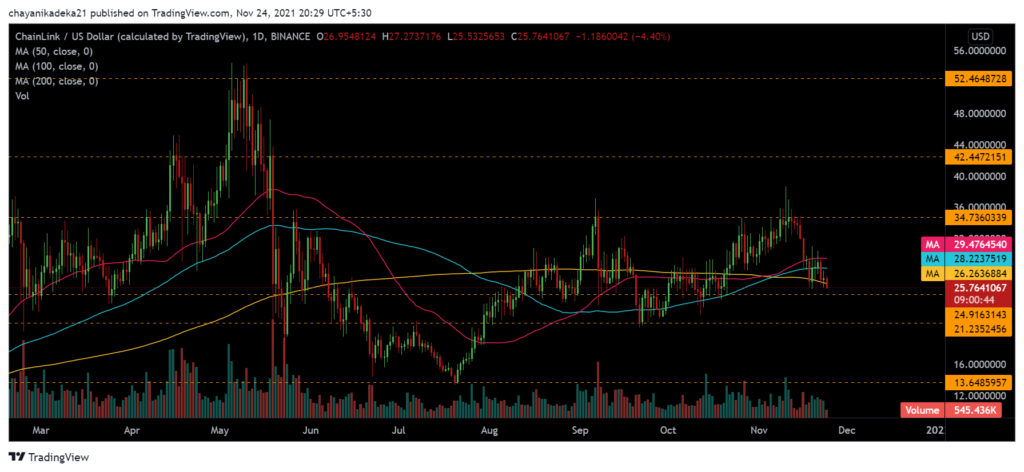 Following the latest pullback, the LINK candles slid below the 50 DMA [Pink] and the 100 DMA [Blue]. If the 200 DMA [Yellow] manages to breach the LINK candlesticks, a damaging drawdown near its immediate support may transpire.
On the brighter side, the uptick in volatility and the moderate trading volume may help in staying clear of such declines.
Analyzing what's ahead for LINK]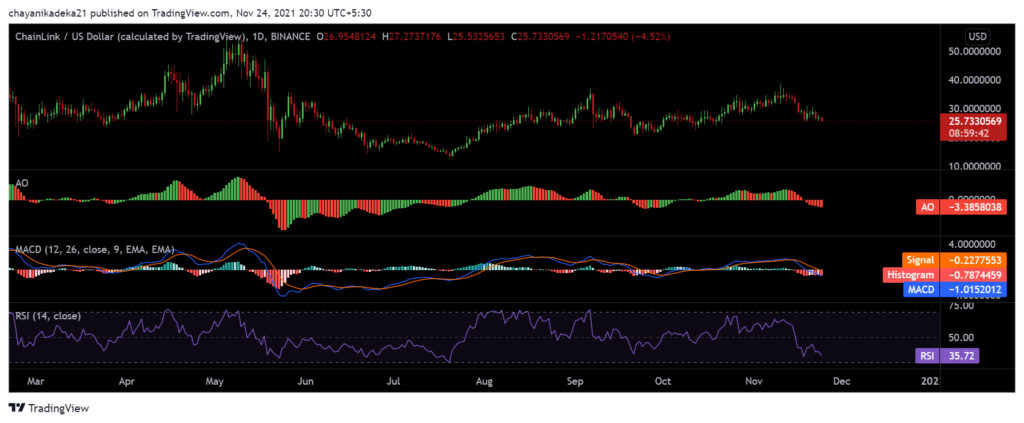 The technicals are fairly bearish. The red closing bars of Awesome Oscillator [AO] have remained quite persistent even as the bearish momentum has weakened. Hints of MACD undergoing bullish crossover were invalidated. To top that, the Relative Strength Index's [RSI] recovery attempts stalled as fell close to 35 points indicating high sell pressure in the market.
There might not be any respite for LINK investors just yet. In short, it is highly unlikely that the crypto-asset will reset back to the May levels any time soon.
Chainlink's Exponential Growth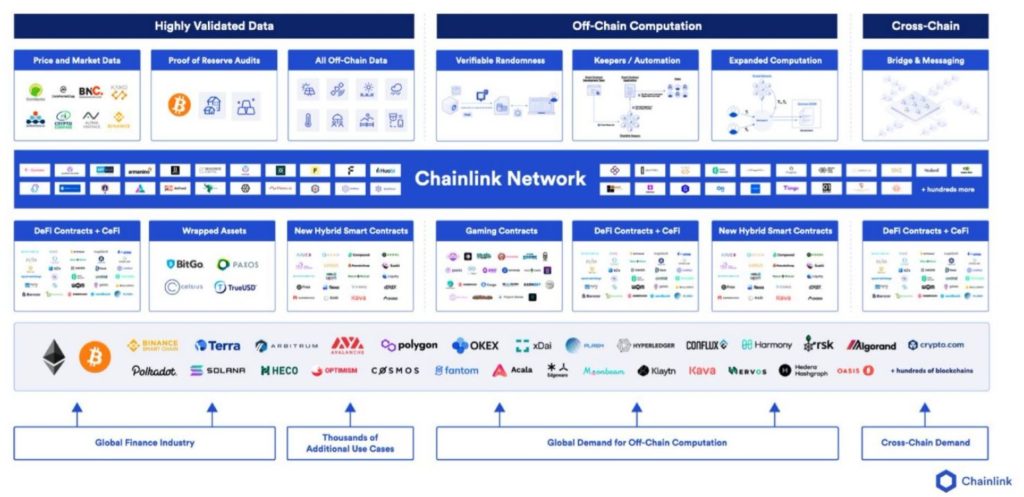 Earlier this month, the total value [TVL] secured by the Chainlink network has exceeded a whopping $75 billion. Its massive growth trajectory has been tied to the emergence of decentralized finance [DeFi] which triggered the exponential growth of oracle services. Besides, Chainlink was also gearing up to explore Metaverse. Since last year, the smart contract value secured has been amplified by a factor of ten.
While talking about Chainlink's application beyond validated data, protocol co-founder Sergey Nazarov tweeted,
"As Chainlink's decentralized services expand beyond validated data e.g. Keepers/Off-chain Compute & CCIP, the Chainlink economy grows in both the value secured ($80Bn+) and the fees generated from that security. Super-linear staking is being worked on to increase security & fees."