Chainlink price mays start to grow more because of the latest activity from whales who are accumulating more LINK tokens. The latest data shows that LINK whales are buying and holding more tokens and increasing their shares of LINK tokens from the total distribution. We have seen in the chart history that this kind of increase can result in more price jumps for the token.
Accumulating MORE
Whales always have considerable effects on cryptocurrencies. They hold lots of a token and can affect the price charts with their buy and sell orders. Besides, their incentives and behavior over their tokens can mean a lot for the market. Almost every major cryptocurrency has whales. They own a considerable portion of the supply chain. Considering Chainlink, whales holding 1M to 10M LINK tokens currently hold 18.01% of the total supply.
When whales start to sell their holdings, we can predict price declines in the market. A lot of a token will be sold, and it can push the price down considerably. On the other hand, when the whales continue holding, and the age of the held tokens rises, we can expect optimism over a token. Buying more tokens on the whales' side is another sign that can be good for the price chart.
According to the latest analysis by Santiment, Chainlink whales are accumulating more tokens:
"There are currently 64 addresses that hold between 1M and 10M $LINK. In just the last 4 days, these whale wallets have added 1.89% of the #Chainlink supply to their cumulative bags. They're now up to 18.01% of the total supply, a new #AllTimeHigh held."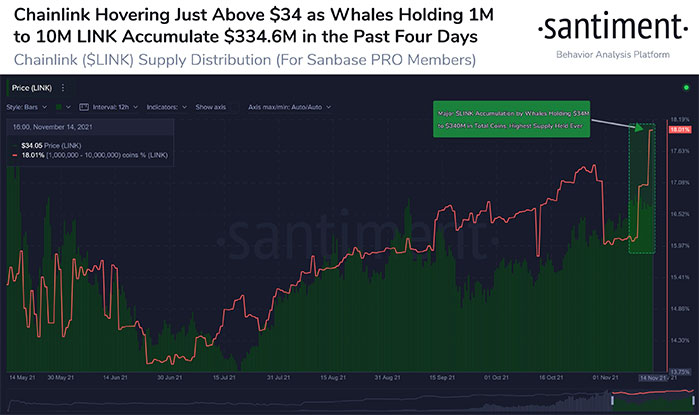 As you can see in the chart, when the amount of accumulated tokens in the hand of whales increases in the Chainlink charts, the price goes up. Now, the metric is showing an ATH, and the price is showing some uptrend momentum. As a result, we can expect more price jumps for this token because whales won't sell their newly-bought tokens without profit.
LINK is currently trading at about $34 after hitting an all-time high of $52 in May and crashing to about $13 since then. If the current estimates become true about this token, we can expect it to jump again and move toward the last ATH in the coming months. Its oracle solution is still a popular blockchain product and even can record new ATHs in the future.
---
If you found this article interesting, here you can find more Chainlink News