Bitcoin has shown many potentials for investment and saving money value in the last decade compared to US Dollar. An increasing number of investors have flocked to Bitcoin (BTC) since the cryptocurrency's debut, believing that the flagship digital currency can serve as a hedge against inflation.
After losing up to 97.58 percent of its purchasing power relative to Bitcoin in the last five years, the United States Dollar (USD) was worth as little as $1.01 on February 15, 2022. As a result, when comparing the value of one dollar to the value of one bitcoin, one dollar is now worth only 0.000023 bitcoin, according to Finbold.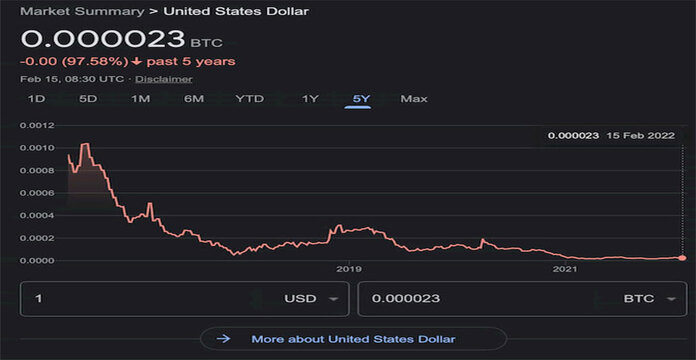 The purchase of satoshis demonstrates that the value of the US dollar has declined as a result of the government's constant money production. Even if Bitcoin has been put to the test as a viable alternative to the dollar, the reality remains that inflation has already lowered the value of the United States currency by 85 percent over the last 50 years.
In contrast, the value of Bitcoin has remained relatively stable, despite the fact that it is impossible for the average investor to acquire a single unit of the cryptocurrency; as a result, most investors opt to purchase fractional shares of the world's most valuable digital asset.
US Dollar Trying Very Hard
As a result, the quantity of satoshis that can be purchased with the US dollar has continued to drop, in contrast to the increase in the value of Bitcoin, as the purchasing power of the dollar has diminished.
It is worth noting that, according to a recent analysis, the number of satoshis that could be purchased with one US dollar decreased from 10,656 to 2,638, or a 75.24 percent decrease between February 1, 2020, and February 1, 2022.

Obtaining this quantity is accomplished by multiplying the price of Bitcoin in dollars by 100,000,000, which is the value of satoshis in the Bitcoin currency system. Contrary to substantial market volatility, the fall in the number of bitcoins that one dollar can buy has been related to Bitcoin's over 300 percent price growth over the preceding two years, despite periods of significant market volatility in the past.
BTC is currently selling at $44,400 per coin. Furthermore, with a total market capitalization of $831.5 billion, Bitcoin has a total market share of 42.3 percent of the entire cryptocurrency market.